If you're looking for a sweet treat to bake, then butter pecan shortbread bars are the way to go.
Also known as butter pecan shortbread cookies, the delicious and easy recipes for these are going to be perfect for holiday baking.
This is one of our favorite recipes and we're going to share recipes with you! In the article below, you'll find our easy to follow recipe notes.
Follow carefully and you'll be able to bake your own butter pecan shortbread cookies!
Butter Pecan Shortbread Bars
Today we will be looking at how you can make your own butter pecan shortbread bars.
Different Shapes
These pecan shortbread bars are very versatile, meaning that they can be made into all kinds of different shapes.
If you want rectangle bars, you can have them!
On the other hand, you could have round slices instead, or even use a cutter to make other shapes.
Whatever you're in the mood for, you can have it. The easiest method, though, is to use a baking dish.
Holiday Baking
The pecan shortbread bars are also versatile in that they can be enjoyed all year round.
However, the best time to be baking and enjoying them will be the holiday season!
How Do They Taste?
Pecan shortbread bars have a delicious taste, as you may have guessed from our recommendation.
They have a brilliant texture to them, with a soft and fluffiness to them, crumbling gently and richly into your mouth.
Other Variations
You can also make a whole variety of different shortbread bars, with their own flavors.
However, today we will be focusing on the pecan desserts version.
It isn't quite a pecan pie, but you can add toasted pecans onto it to give a bit of crunch to the softness of the shortbread bars.
By having crunchy pecans, it adds an extra kick with the nutty flavor.
It doesn't just have to be pecans, though! You can use other nuts instead.
Pecan Shortbread Cookies Shortbread Bars – The Ingredients
Despite the great taste, pecan shortbread bars actually require quite few ingredients. They are:
Chopped Pecans: One And A Half Cups (245 Grams)
You will not only need pecans, but toasted pecans.
By toasting your pecan topping before it goes into the dough, it will give it even more flavor.
Don't worry, pecans aren't difficult to toast!
Vanilla Extract: One Teaspoon
Vanilla extract will give your pecan shortbread bars even more flavor.
Melted Butter: One Cup
You should get unsalted butter for this, then soften it to make the mixing easier.
Salt will be added later, so don't worry about getting salted butter instead.
Cornstarch: One Tablespoon
Cornstarch adds to the texture of the pecan shortbread bars.
Granulated Sugar: Two Thirds Of A Cup
Since we're using cornstarch, you'll want to use granulated sugar.
Other recipe notes tell you to use powdered sugar, but that won't combine well with cornstarch.
Granulated isn't brown sugar – so you're not using light brown sugar or dark brown sugar. Instead, it's white.
Salt: Half A Teaspoon
Adds flavor, since the unsalted butter isn't.
All Purpose Flour: Two Cups
Flour is essential to baking, so this is a must!
Pecan Shortbread Cookies Shortbread Bars – The Recipe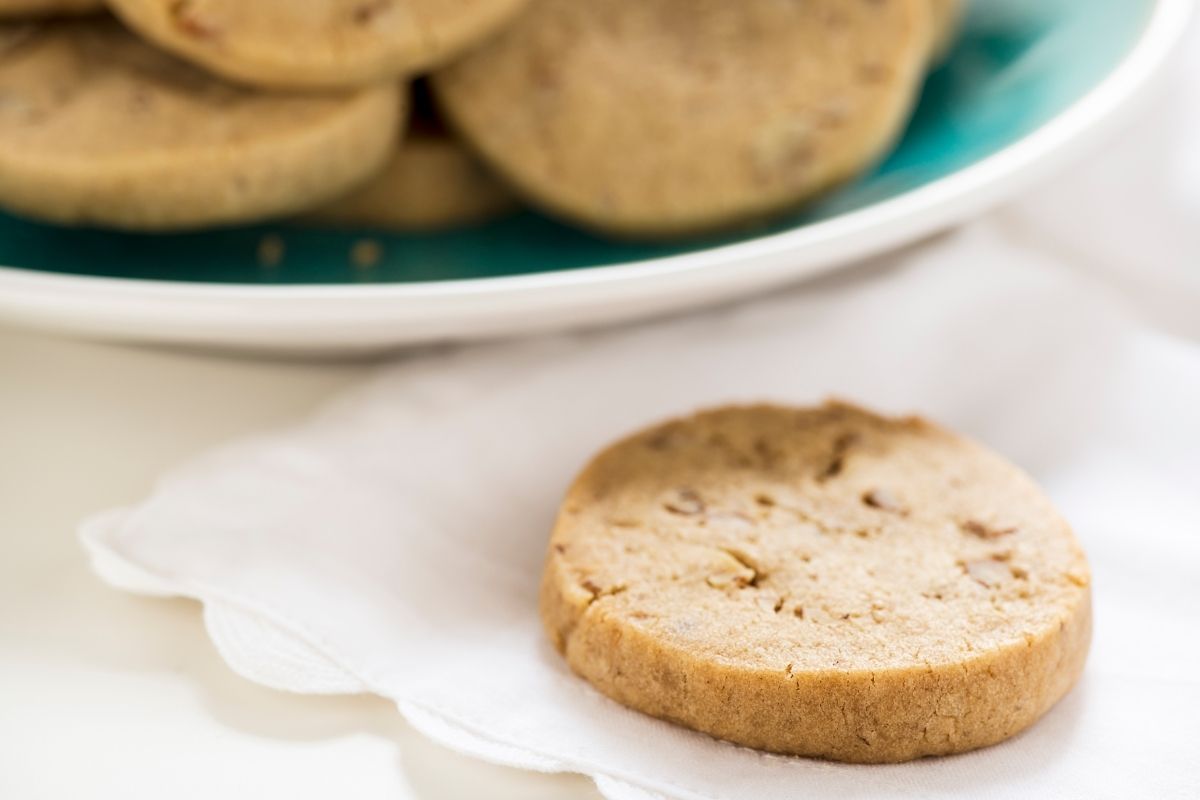 Now you've got the ingredients, it's time to get onto the full recipe. Follow the recipe below carefully, and ask for help if you're not experienced.
Step One: Toasted Pecans
To begin, you need to toast the pecans. Put them in a skillet and hold it over a medium low heat.
They burn quickly, so stir them a lot and stop after fewer than five minutes.
Step Two: Mixing
Then take a large mixing bowl and combine butter and granulated sugar in it. Mix them together, either by hand or with a mixer.
Step Three: Adding
Put the salt, vanilla extract and cornstarch into the mixture. Then add flour. Finally, stir the toasted pecans into the mix.
You now have a pecan mixture! You will have a pecan topping, but the chopped pecans will also be nestled throughout the pecan shortbread.
Step Four: Shortbread Dough
Push the shortbread dough into your baking pan.
Make sure to line the baking pan with aluminum foil beforehand, and spray the foil with nonstick cooking spray.
Parchment paper is good too. Be careful when you press the dough into the prepared baking pan, you need to dough evenly.
Step Five: Baking
Preheat oven to 350 degrees Fahrenheit, then put the prepared pan into the oven.
Leave it for 30 minutes. If you want extra crunchy pecans and crunch bars, then leave it for 35 minutes. The tip should be golden brown.
Step Six: Cool Completely
When the butter pecan shortbread is finished, you must leave it to cool completely.
When they are cool, you can slice them with a sharp knife (be careful!), or pack them into an airtight container.
With that being said, they actually keep well at room temperature.
Storing Butter Pecan Shortbread
You can store your butter pecan shortbread safely in an airtight container. If you want them to keep for even longer, put them in the freezer.
Other Varieties
As we mentioned earlier, you can make many different shortbread bars – they don't have to all be pecan!
You can try other nuts, like walnuts, or you can even have chocolate chips instead.
If you stick with nuts, always briefly toast them first. For chocolate, you obviously aren't toasting that!
Additionally, you can enjoy your shortbread with dessert sauces. We recommend maple syrup!
Too Crumbly?
If your shortbread comes out crumbly, it could be because you didn't mix it for long enough.
Alternatively, you may have added too much flour – or too little butter.
Final Thoughts
These are delicious and simple treats! If you're an inexperienced baker, get some help and be careful.