While you may not think so at first, making your own pie crust is not only very simple but also pretty rewarding to do.
There are endless options out there for flavors and crust types, including pretzel crust, sugar cookie crust, quiche crust, Oreo crust, cracker crust, and of course, shortbread crust.
With so many options out there, you are guaranteed to find the right flavor and recipe for you.
If you want a simple recipe that doesn't use an oven, then you should try out this no-bake shortbread crust recipe that we show you below.
Maybe you don't want to use your oven because you want to spend more time outside and put in less work in the kitchen, or perhaps you have a preference for dishes that can be refrigerated during the warmer times of the year.
If this is the case then the recipe below is perfect for you.
The fact that this is a no-bake shortbread crust is one of the many reasons why it is such a popular recipe.
It is also very easy to make, has a buttery flavor, and is sweet without being overly sugary; so, it provides a wonderful base for cheesecakes, pies, bars, and tarts, among other types of sweets.
This recipe for Shortbread Crust produces a thick crust with a lovely texture and can contain filling without becoming mushy. You can try it for yourself by following the directions below.
These easy-to-make pie crusts do not require any baking and can be assembled with just four ingredients that you probably already have in your home.
This uncomplicated recipe for a shortbread crust that does not require baking works well for cheesecake, pies, bars, and tarts. This homemade pie crust can be created in just five minutes, which is another benefit of the recipe.
This easy-to-make shortbread crust may be stored in the freezer for subsequent use, and it can be prepared ahead of time with very little work.
No-Bake Shortbread Crust Recipe
Ingredients
Shortbread Cookies (10 ounces) – You can use whatever brand you want, or if you're feeling extra adventurous, you can even make your own
Salted Butter (6 tablespoons) – You can use unsalted if you want or if that is all you have, but salted adds just an extra little bit of flavor
White Granulated Sugar (2 tablespoons) – For a sweet flavor
Brown Sugar (1 tablespoon ) – For a sweet flavor
The Method
In addition to being fast and uncomplicated to create, this recipe calls for only a limited amount of ingredients.
Put all of the ingredients into the bowl of a food processor, and then sit back and watch as the machine does all of the "work." In just a few minutes, you will have a tasty shortbread pie crust ready for filling!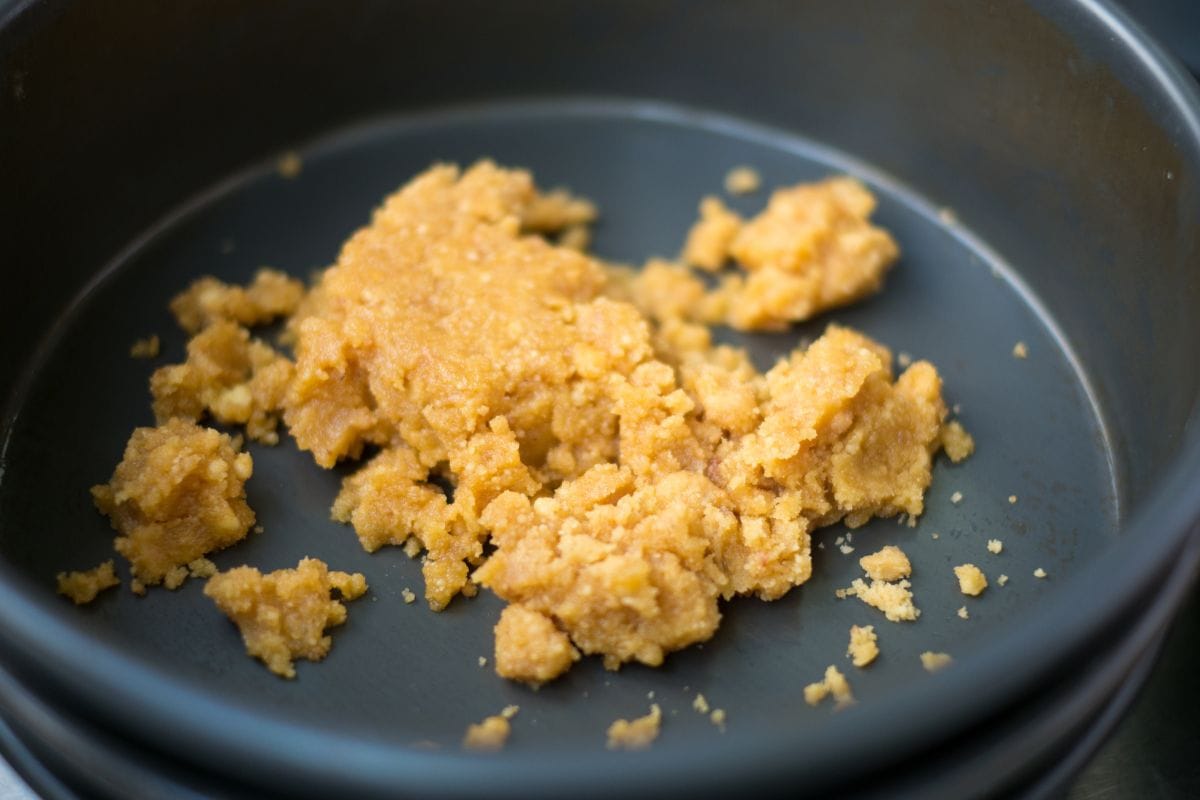 Here is a step-by-step guide on how to make this recipe.
Utilizing a food processor, reduce the shortbread biscuits until they have the consistency of a paste.
Butter and sugars should be combined in a food processor and given a good whirl.
Place the mixture in a greased pie dish and stir until it is evenly distributed.
After allowing it to cold for a minimum of 10 minutes, fill it with whatever you want.
And just like that, you are all done! it is that easy.
Frequently Asked Questions
Have any questions about shortbread pie crust? Find the answers here!
Am I Able To Freeze The Shortbread Pie Crust?
The preparation of this pie crust takes just about five minutes, but you can make it ahead of time and keep it in the freezer so that you will always have pie crusts available when you need them!
Placing the pie dough on a plate, wrapping it in plastic wrap or foil, and putting it in a freezer bag are all necessary steps to freeze the pie crust.
In a freezer, you can store the pie crust for up to 3 months.
What If I Don't Have A Food Processor? Can I Still Make This Recipe?
To make this pie crust, you just need your hands and a little bit of muscle; a food processor is not required at all.
After using a rolling pin or a mallet to break up the cookies in the bag, add the remaining ingredients, press the mixture into a pie dish that has been greased, and then set the dish in the refrigerator.
What Kind Of Pan Should I Use?
When preparing pies or cakes that do not require baking, it is always essential to use the proper pan to guarantee that the crust ends out looking as good as it possibly can.
It is strongly suggested that you make use of either a springform pan or one of those disposable pie pans that can be bought in supermarkets. Either option will work well for this recipe.
While disposable pie plates work well, if you make a lot of pies then you will soon get annoyed at having the expense of buying these all of the time.
If this is happening to you, you can try using aluminum foil to line a cake pan and using the same foil to remove the pie from the cake pan at the end.
While this works well, be prepared for a few divots in your crust that aren't "perfect." Despite this, the pie will continue to have an attractive appearance and will preserve its form.
If you want the greatest results with this specific recipe, you should be sure to choose a pan that has a spring-form middle.
Summary
This simple and easy no-bake shortbread pie crust recipe is ideal if you are suddenly craving a pie, as it takes just minutes to make.
It can be used with a variety of fillings, as it is strong enough to not get soft with whatever you put in it.
Give this recipe a go the next time you are craving something sweet!