Orange dream bars are the quintessential summer dessert, who doesn't love oranges?
The orange flavor and sugar brings so much joy to the taste buds and is a fan favorite among many, the recipes available.
They're a great alternative to the lemon bar if you don't like the tart or acidity, and they'll quickly become a sweet dessert that the whole family loves, especially in the summer.
Because it's such an easy recipe and easy to eat, they're great for events too, which makes them perfect finger food for weddings or a baby shower!
It's such an easy recipe that provides a sweet and smooth flavor, if you love lemon bars then you'll definitely love these sweet dream bars.
We've curated the perfect citrus recipe so that you can start making these ASAP!
Keep reading to learn the recipe for these orange dream bars.
What Are Orange Dream Bars?
If you've ever had a lemon bar, then they're essentially the same.
They're made with freshly squeezed orange juice or oranges paired with orange zest which creates a beautiful flavor that is complemented by the butter crust.
The thick shortbread crust provides a wall to the smooth filling in the middle, orange dream bars are a real taste of summer that are quick and easy to make.
The prep time is super quick, so let's begin, shall we?
How To Make The Crust For The Orange Dream Bars
The crust is the first thing that you'll be making, so it only makes sense to start with this.
The ingredients are super simple, and you should have them lying around in your kitchen.
What You'll Need
1 cup unsalted butter (you should preferably use unsalted butter, but it's completely up to you)
2 cups all purpose flour
1 cup confectioners sugar
Preheat the oven to 350 degrees first.
Make sure that the unsalted butter is completely cold, it'll make it much easier to do this step, definitely stay away from melted butter.
To start, cut the butter into cubes and leave it to one side for a second.
Next, in a large bowl start adding the confectioners sugar and flour, and then add the cubes of butter that you've just cut up.
Once all these ingredients are in you'll want to either use your hands or a food processor to break up each individual piece of butter until it is sufficiently coated with the sugar and flour mixture and that it is no bigger than the size of a pea.
As soon as you've finished with the mixture, take the mixture you've just made and pour it into a 9×13 prepared pan that is lined with parchment paper.
The parchment paper is just to ensure the crust doesn't stick to the pan, you can use butter or nonstick cooking spray if you prefer, but just make sure that you don't use too much of the nonstick cooking spray.
Press the mixture flat into the pan using your hand, then use a cup to really flatten it down, make sure that you've got the most even layer possible.
Place into the oven and bake the mixture for 15 minutes or until the edges are starting to brown against the pan.
How To Make The Filling For The Orange Dream Bars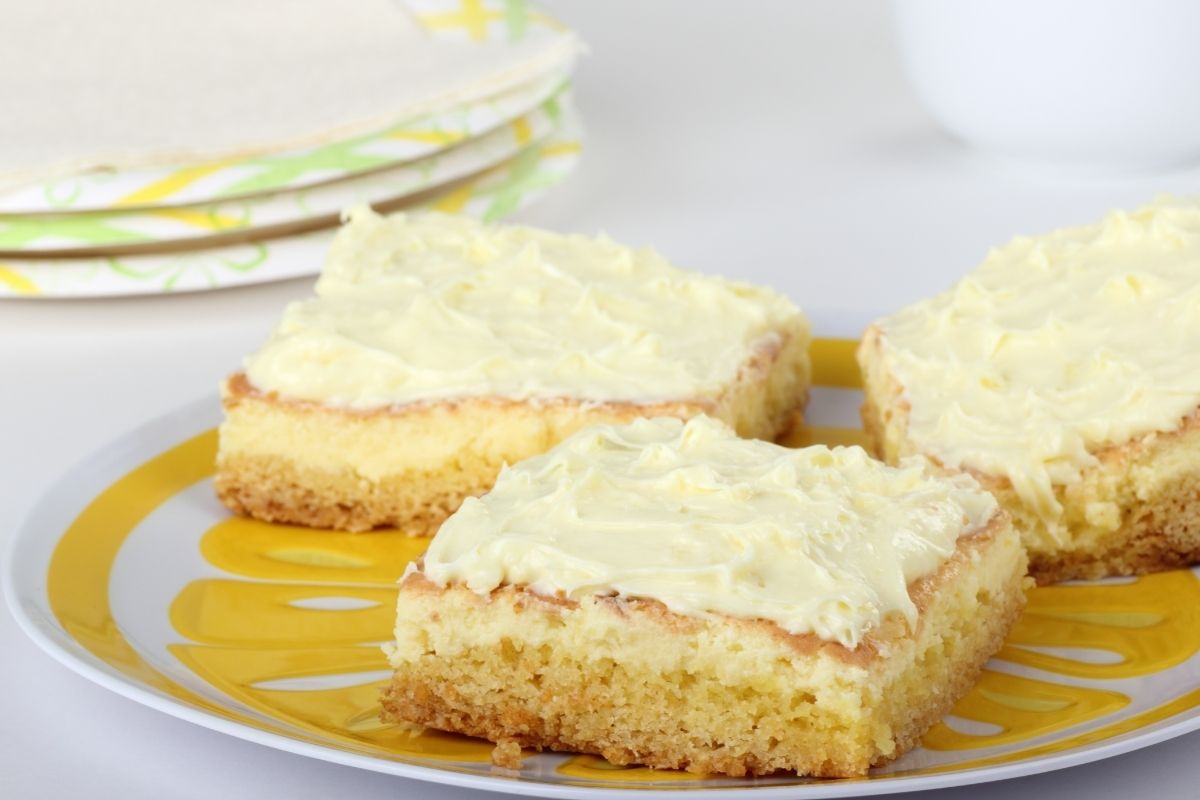 This is the most important step, as this is where all of your flavor will come from.
You should prepare the filling whilst the crust is baking.
What You'll Need For The Filling Ingredients
1/4 cup all purpose flour (you can use gluten free flour if you prefer)
2/3 fresh orange juice
4 eggs, use large eggs if possible
1 1/2 cups granulated sugar
2 teaspoons of orange zest (you can add more zest if needed)
Use confectioners sugar for dusting
The amount of oranges that you need will depend on how big your oranges are, but you'll need about 2/3 cup of fresh squeezed juice.
Add the eggs to a medium bowl and whisk, then add all purpose flour, granulated sugar, orange juice and orange zest.
Whisk this mixture until it's as smooth as can be and there's no lumps remaining.
Once the shortbread crust has finished baking, remove it from the oven and carefully pour the filling ingredients over the hot crust.
Once the filling has been poured, place the pan back into the oven and bake further for 20 minutes.
After it's done baking, remove it from the oven and let the dream bars cool completely until they're room temperature, then refrigerate the dream bars for two hours before serving.
If you want to decorate them, you can add whipped cream on top of them, drizzle some powdered sugar across them, or even add some more orange zest to add an extra powerful and sweet flavoring.
How To Store Orange Dream Bars
These orange bars can be kept at room temperature for several hours, but if you're not planning to finish off the entire pan within the day, then they should probably be stored.
If you know that you're going to be storing them, only cut off the bits you need from the parchment paper in the pan.
It'll make it much easier to store and will give it a crisp cut when serving the orange bars.
To store them, place plastic wrap on top of the dream bars, followed by a layer of foil and place the dream bars into the refrigerator.
They can be stored here for several days.
Nutrition Serving
Serves 12 people.
238 calories per serving (12g)
Final Thoughts
These creamy, sweet orange dream bars are a perfect recipe for any event, season or time, but they're especially perfect for summer due to the freshly squeezed orange juice.
There's so many different recipes out there, that you can even incorporate cream cheese filling, cookie crust or graham crackers into them!
These different recipes are equally as good but nothing will beat an original orange dream bars recipe.