Do you love focaccia bread? Maybe you want to make your own but the thought of kneading sends shivers down your spine?
Perhaps kneading is something you physically cannot do and want to know if there is a recipe for focaccia bread that doesn't require kneading? Well, you have come to the right place!
Finding the right focaccia bread recipe can be challenging.
After all, there are so many out there, all claiming to be the best, how do you know which focaccia recipe is right for you?
The last thing you want is to make a bland and tasteless focaccia bread!
There is no worse feeling than spending hours in the kitchen, only to take one bite and be disappointed. So what can you do?
Well, you can stick with us! Today we have the best no knead focaccia bread recipe! Keep reading to find out how to make this delicious focaccia bread and everything else you need to know!
What You Need To Make No Knead Foccacia Bread
So what do you need to make this delicious no knead focaccia bread? You will need the following list:
2 tsp of yeast – we opted for instant yeast as you can mix it easily with your dry ingredients
14g of salt – not all salt has the same level of saltiness! We used Diamond Crystal Kosher Salt in this recipe. If you are using table salt you will want to halve the quantity of salt.
600g of flour – we used a mixture of all-purpose flour and bread flour (300g of each) to give this focaccia a slightly chewy texture.
1 tsp of sugar – the teaspoon of sugar used will give the yeast something to eat. Swap for honey if you aren't fussed about the bread being vegan.
20g of olive oil – opt for some extra virgin olive oil to use in the dough and to drizzle on top. It helps to provide the focaccia bread with its amazing flavor! Keep some extra oil for you to grease the pan with too!
535g water – ideally lukewarm water. If the water is too hot, it can kill the yeast, so be sure to avoid that!
Toppings – finally top the bread with any toppings you like. We love rosemary, some olive oil, and garlic, but you could add anything you want!
How To Make No Knead Focaccia Bread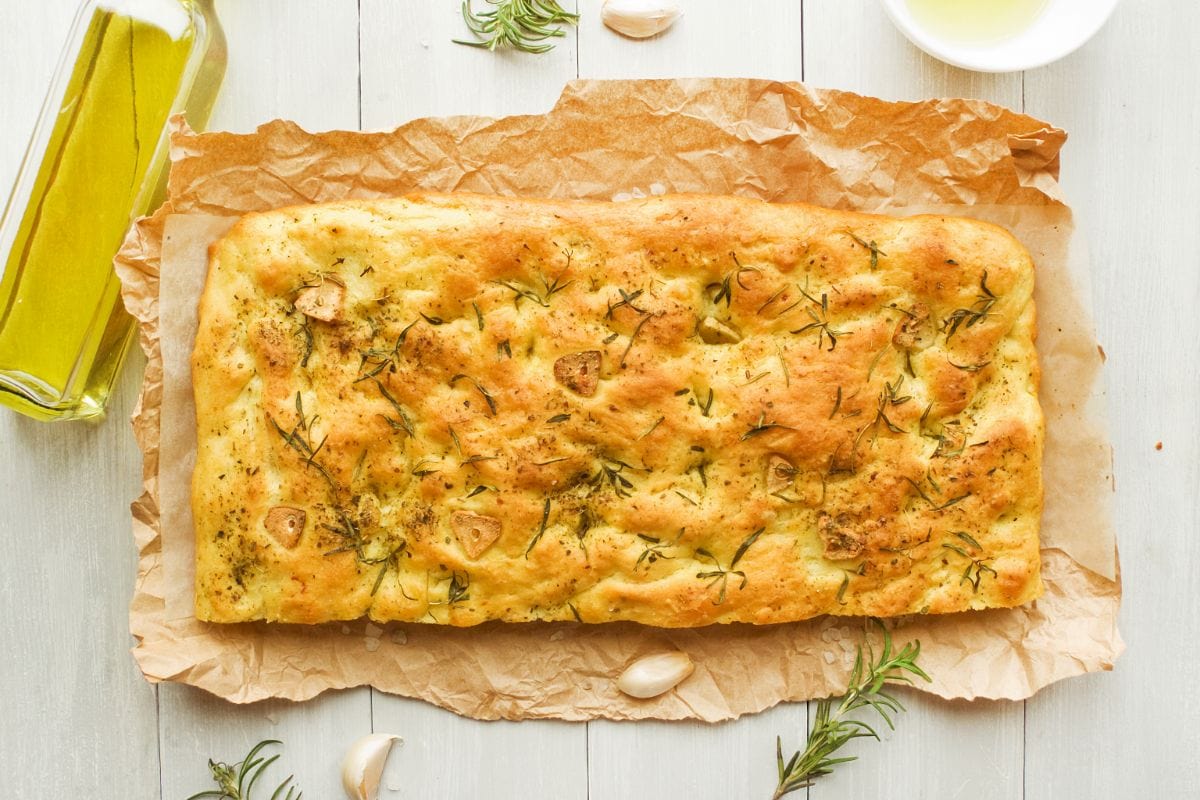 Now that you have your ingredients, let's get into making this no knead focaccia bread! The recipe is super simple to follow, and will have you enjoying this delicious bread in no time!
Step 1 – Combine Your Dry Ingredients
To start, take a large bowl and combine your flour, salt, sugar, and yeast. Add the extra-virgin olive oil and water and mix the mixture with a spatula. You will want a shaggy dough with no dry parts.
Your dough at this point should feel wet and sticky, so don't panic! It is supposed to look like this to give you fluffy focaccia!
Step 2 – Cover
Next, cover your bowl with a tea towel and leave the mixture to stand for five minutes.
Step 3 – Stretch And Fold
Wet your hands and take a section of the dough. Stretch it up and fold it on itself.
Move the bowl 90 degrees and repeat the process. Do this twice more until you have gone around the entire bowl.
Next, do one more set of four stretches and folds around the bowl.
You should have done the stretch and fold routine eight times before covering the bowl with a tea towel for another two minutes.
Step 4 – Repeat The Process
Repeat the process in step 3 two more times so that the focaccia bread has been stretched and folded for three rounds, with a 2-minute break between each round.
Step 5 – Coat Your Dough
Next, drizzle the dough with some olive oil. Turn the dough over and drizzle it with oil again.
Cover your bowl with plastic wrap or a lid and leave it in the refrigerator overnight.
It can be in your refrigerator for a minimum of 12 hours, but no longer than 2 days.
Step 6 – Line The Pan
Take your 9″ x 13″ non-stick pan and drizzle olive oil on the pan. Take your risen dough and coat it in the oil in the pan.
shape the dough into a rectangle. You can do this by pressing down on the dough and tucking the edges and corners in if you need to. Leave the dough for five minutes to relax.
Step 7 – Spread The Dough
Spread the dough towards the edge of the on using your oiled fingers.
The dough doesn't need to reach all the way, it just needs to spread out more.
Add some more oil to the surface of the dough so it doesn't dry out.
Step 8 – Cook The Bread
Leave the pan in a warm spot without any cover. It will rise and should double in size.
The focaccia bread should be puffy and jiggly to the touch. This can take two to four hours.
you can tell when it is ready to bake when the sticky dough has a small indentation when you press it and springs back up.
Preheat your oven to 450 degrees Fahrenheit while you top your focaccia bread.
Step 9 – Top Your Braead
To top our focaccia bread we mixed 50g of oil with some minced garlic before spooning it over the top of the dough.
Add some oil to your fingers and dimple the dough all over, pressing your fingers so they almost hit the bottom of the pan. You should see some bubbles forming, leave them as they are.
To finish, add some pepper, flaky sea salt, and rosemary, or other toppings you might want to use.
Step 10 – Bake The Focaccia Bread
Put the focaccia bread into the oven and bake. It should take 25 to 30 minutes, or until the bread is golden brown.
Step 11 – Cool The Bread
To finish, remove the bread from the oven and leave it to stand for five minutes.
Next, transfer it to a wire rack, this will stop the bottom from becoming soggy.
Leave your focaccia bread to cool before slicing your bread with a knife and enjoying!
Any leftovers should be stored at room temperature and wrapped lightly to prevent them from drying out.
Final Thoughts
And there you have it, how you can make no-knead focaccia bread!
The recipe can take a little while as the dough needs to rest, but trust us, it is worth the process!
And as you can customize the recipe to suit you, you can enjoy whatever toppings you want!
Whether that is garlic, flaky sea salt, or some cherry tomatoes, there is focaccia out there with your name on it!
Happy baking!