Baking a cake without vanilla might seem like a challenge at first, but there are lots of great alternatives that you can use instead! Believe it or not, there are some great cake recipe options out there that you will love. While a simple vanilla cake might be great, why not be adventurous?
You can use a lot of different substitutes to get you through it if you suddenly find that you don't own vanilla extract. These include using almond extract, maple syrup, or even different alcohols like sherry or brandy! These will enhance the flavor of the cake beautifully, and give you something special to enjoy. 
Baking A Cake Without Vanilla
Cake Recipes That Don't Require Vanilla Extract Or Vanilla Bean
Vanilla cakes are only one of many kinds of cakes! That means that you don't need to worry about having vanilla extract or not! Without vanilla extract, you can open your mind to lots of different cake recipes, and even other baked goods.
Sure, you might love some recipes that use pure vanilla extract, but don't let that hold you back. As long as you can follow a recipe, you can either ignore vanilla extract altogether, or find a recipe that calls for other ingredients – like chocolate!
Pancake cake
Carrot cake
Lemon drizzle cake
Chocolate cake
Fudge cake
Spice cakes
Victoria sponge cake
So many more!
Please note that in just about any cake, you can use less sugar than what the recipe says, it that's an issue for you. Alternatively, you can use sugar substitutes to get around it! Depending on how far you go, there shouldn't be a major difference in flavor.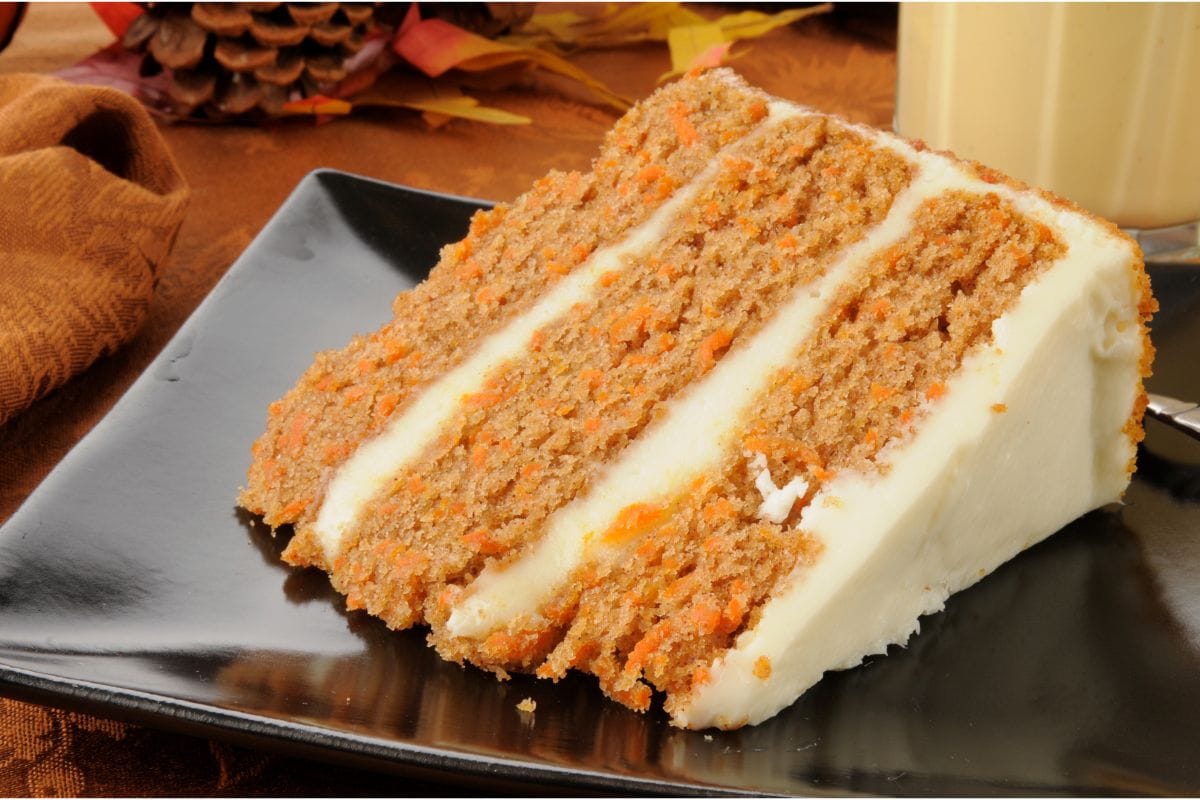 In this recipe, all we've done is replace vanilla extract with maple syrup! This adds some great flavor to the recipe without changing too much. The humble carrot cake is a simple cake, but it's always a winner.
Chances are, if you were to switch vanilla extract for maple syrup, you wouldn't even notice a major difference, even if you use the same quantity. 
Since this is one of our favorite recipes, we've added the whole thing for you to follow! Enjoy!
Ingredients needed for the cake batter:
100g natural yogurt
100g sultanas or raisins
100g walnuts or pecans, roughly chopped (optional)
1½ tsp maple syrup
230ml vegetable oil, plus extra for the tin
265g carrots (about 3), grated
265g self-raising flour
2½ tsp ground cinnamon
335g light muscovado sugar
4 large eggs
¼ fresh nutmeg, finely grated
½ orange, zested
Ingredients needed for the icing:
100g slightly salted butter, softened
100g soft cheese
300g icing sugar
Orange zest (cut up in small pieces, optional)
1-2 tablespoons orange juice (optional)
Method for the cake:
Preheat your oven to 356 F
Use butter or oil to line the sides and base of your two 20 cm cake trays or tins. This can be a round pan if you have one, or a square pan. No parchment paper should be required for this recipe.
Whisk all the wet ingredients together in a large jug, or separate bowl, and add eggs. 
In a mixing bowl, mix your flour (all-purpose flour is fine, but you can use gluten free flour if needed), along with the spices, sugar, and salt. Ensure that there are no lumps of sugar in the mixture. Make sure this is all in a large bowl so that you don't mess everywhere!
Add all the wet ingredients, as well as the grated carrots, nuts, and raisins. 
Mix all the ingredients together thoroughly, then divide in two and pour equal amounts into the prepared cake pan.
Bake the cake for 25-30 minutes. Stick a skewer or thin knife into the middle of the cake once this time is up – if it comes out clean, the cake it's ready! If not, allow the cake to bake for a further 5 minutes. 
Once fully baked, remove the cake from the oven and allow it to cool completely. 
For the icing:
While the cake is cooling down, get the sugar and butter together in a food processor until smooth.
When the mixture is completely smooth, add the soft cheese, and meat everything together again. 
Slowly add the rest of the icing ingredients. Do this little by little so that everything mixes together well. If you add everything all at once, the icing will split. Add the chopped orange zest and orange juice to the icing at this point if you would like some extra flavor. 
Once the cakes have fully cooled down, remove them from their cake pans. Place about half the icing on top of one cake, roughly spreading it around, and place the other cake on top of it. If you have chosen to create a single layered cake, simply add the icing to the top and spread it around. 
Use the rest of the icing to cover the top of the cake if your cake is layered. 
Once done, garnish with chopped nuts and a little orange zest for color. 
This amazing recipe gives you that classic chocolate flavor that we all love. You can even use a muffin tin to make little chocolate cupcakes if you like! Either day, this recipe will make you fall in love with the cake baking process. 
Ingredients needed for the cake batter:
1 1/2 teaspoon baking powder
1 1/2 teaspoon baking soda, (or bi-carb soda)
1 3/4 cups all purpose flour, or (cake flour), (8 oz | 227 g)
1 cup boiling water (250 ml)
1 cup whole milk, (250 ml)
1 teaspoon salt
1/2 cup vegetable oil, (125 ml)
2 cups white granulated sugar, (14 oz | 410 g)
2 large eggs
2 teaspoons pure vanilla extract
3/4 cup unsweetened cocoa powder, (2.6 oz | 75 g)
Ingredients needed for the chocolate buttercream frosting:
1 teaspoon brandy, sherry, or maple syrup
1/3 cup milk
2/3 cup unsweetened cocoa powder (2.4 oz | 65 g)
3 cups powdered sugar, (confectioners or icing sugar)
4 oz butter, (120 g | 1/2 cup)
This cake recipe is just stunning. The angel food cake uses no egg yolk, which gives it the beautiful coloring!
No egg yolk, and you will have n a beautiful, fluffy, cake. It uses whipped egg whites, and gives you perfect results every time. We substituted the vanilla extract for maple syrup, because it's that easy! 
Ingredients needed for the cake batter:
1 cup and 2 tablespoons of cake flour
1 ½ teaspoon cream of tartar
1 ½ teaspoon maple syrup
1 ¾ cups granulated sugar
12 large, whipped egg whites
¼ teaspoon salt
Final Thoughts
You don't need to have pure vanilla extract, or any vanilla flavoring (vanilla essence or vanilla beans) to have a good time baking! Chances are, you won't even miss that vanilla flavor, and you will never want a plain cake again!
You can make a great chocolate cake, or any other cake, if you're happy to substitute.  Without vanilla, you can use all kinds of different flavors, just be sure that the flavors are complementary — like chocolate cake and brandy!