If you are a fan of banana bread, then you probably know that it is usually made with baking soda.
However, it is definitely possible to make deliciously tender and moist banana bread without baking soda, as long as you don't mind the bread not rising as much as it would do with baking soda.
With this in mind, we are going to be looking at a few ways that you can go about making banana bread without baking soda, as well as a handy banana bread recipe to help you out. Let's get started. 
Why Do We Use Baking Soda In Banana Bread?
As well as allowing the bread to rise, baking soda does have other purposes when it comes to making baking soda banana bread, including the following:
Increases the intensity of the flavor.
Increase the batter pH, creating a darker coloring which includes darker crusts and crumbs.
Creates a tender texture by reducing the gluten formation within the batter. 
All this being said, baking soda isn't an absolute essential when it comes to making banana bread.
In fact, those who are particularly sensitive to the banana flavor might find that the taste is a little too strong for their palettes when they use baking soda.
Let's take a look at how to go about making this banana bread without baking soda. 
Baking Powder
Whilst both baking soda and baking powder are made from sodium bicarbonate, baking powder is somewhat different in that it uses either a drying agent- such as cornstarch- or an anti-caking agent.
Whilst baking powder reacts with the acidic ingredients of banana bread- such as the bananas themselves- baking powder only needs heat and water to react.
When using baking powder, to make your banana bread, you will see the following differences:
A less intense taste and smell of bananas.
A different-looking crust that is crispier than your average banana bread.
A flat top, as the banana bread cannot rise as well without baking soda. 
Let's check out a banana bread recipe that you can use that will help you to make some very tasty banana bread without baking soda, using baking powder instead.
Here are the ingredients that you will need to make it:
Baking Powder
Ripe Bananas
Salt
Granulated Sugar (though this can be done with brown sugar too)
Ground Cinnamon
Eggs
Vanilla Extract
Unsalted Butter 
All-Purpose Flour
Grab yourself a mixing bowl (or just any large bowl) and start to mix all of the dry ingredients together (the sugar, salt, ground cinnamon, flour, and- of course- baking powder).
Whisk the dry ingredients together until they are well mixed. 
Put aside a separate bowl for your bananas and mash them in it.
Once thoroughly mashed, add the remaining ingredients- the oil, the butter (melted), the vanilla extract, and the eggs- and whisk them up until they are also well blended. 
Take the wet ingredients and mix them in with the dry ones, using a large spoon or rubber spatula to combine everything.
Mix until you start to get a creamy and gooey batter. 
Now that you have your banana bread batter, get yourself a cake tin or loaf pan and line it with some parchment paper. 
Preheat your oven to 350 degrees Fahrenheit and place your prepared loaf pan with the banana bread batter in the oven.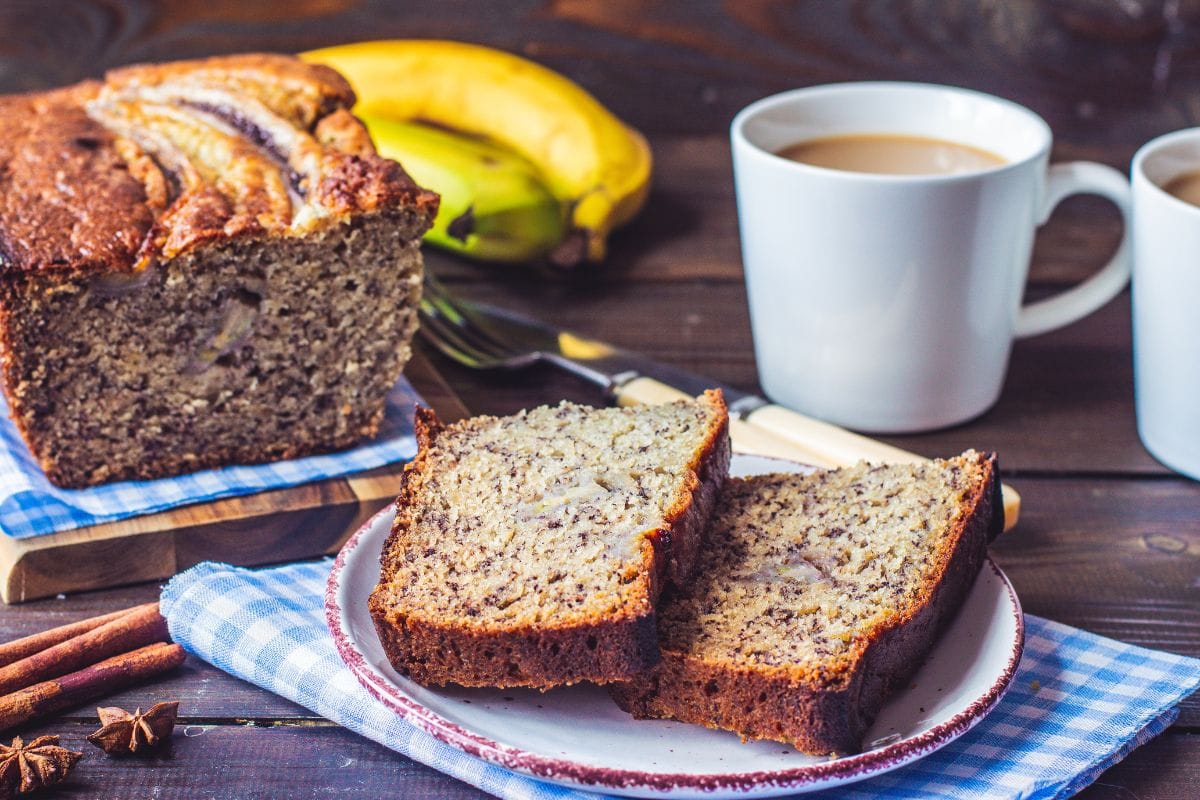 Bake the batter for around an hour. Make sure to keep checking and testing the banana bread so that you know when it is cooked completely. 
Once cooked, take the banana bread out of the loaf pan or tin and place it on a cooling rack. 
Enjoy your baking soda-free banana bread!
If you want to store your banana bread, you can wrap it in either plastic wrap or foil and leave it in an airtight container.
This can be left out on a counter or within a refrigerator for around four days. 
Without Baking Soda Or Baking Powder
It is also possible to whip up some delicious banana bread without the use of either baking soda or baking powder!
If you find yourself looking to make some banana bread, but don't have any baking powder or soda handy, follow the easy banana bread recipe below.
You will need the following ingredients:
Salt
Sugar (granulated white sugar or brown sugar)
Eggs
All-Purpose Flour
Cinnamon
Vanilla Extract
Butter (salted or unsalted butter)
Ripe Bananas
Preheat your oven to around 350 degrees Fahrenheit and grease up a loaf pan or cake tin- putting in some parchment paper- in preparation for your batter. 
To make your batter, start by creaming your butter and sugar.
This is a simple process that involves mixing up the sugar and the butter together in order to create a creamy and soft mixture.
Creaming the butter and the sugar will give some air to your batter, which will allow it to rise a little bit.
This is definitely a must if you still want some rise, despite being made without baking soda or baking powder.
Mash up your bananas.
Mix your vanilla, eggs, and your mashed banana together in a large bowl. Fold them together until they are perfectly combined. 
Make sure there are no lumps left, especially when it comes to the mashed banana.
Once these ingredients are well mixed together, fold in the salt, flour, and cinnamon. 
Mix everything together until you create a smooth batter.
Once ready, pour the batter into the grease loaf pan or tin and bake it for around an hour, making sure to check it regularly. 
When you are sure that the banana bread is cooked, leave it to cool on a cooling rack.
Voilà! Your baking powder and baking soda-free banana bread should be ready to go!
Final Thoughts
As you can see from the above recipes, there are ways that you can about making banana bread without baking soda, but you can also do so without baking soda or baking powder.
If you don't have any baking soda to hand- or if you just want to make some homemade banana bread to see what it tastes like without these two ingredients – you should be able to do so with ease by following these easy and delicious recipes!