You've got your cake batter ready, your oven warm, and you're ready to start baking a cake! Only you're missing one crucial thing: the cake pan.
But don't panic! You can bake a cake without a cake pan. Whether you want a smaller or larger cake, a new take on the cupcake, or a chance to experiment with a new recipe, we have many cake pan solutions to show you.
Let's get baking — without a cake pan!
Use A Sheet Pan
The most obvious choice if you don't own a traditional cake pan is to use a baking sheet!
Flatter than the standard cake pan, a baking sheet, or sheet pan, is a useful alternative that nearly all home cooks own. Simply spoon in your batter, spread evenly to the edge, and bake.
A sheet pan cake will be longer and thinner than a traditional cake, so you may need to bake another layer (or two). No one will mind a few extra layers!
Alternatively, slice your cake in half, spread on frosting, and layer up! You can also create a round cake by cutting a circle using the edge of a bowl as a guide.
Avoid using a totally flat sheet pan. Your baking pan needs at least a slight lip, or the batter will go everywhere.
DIY An Aluminum Foil Cake Pan
A DIY aluminum foil cake pan is an oven safe and versatile solution if you don't have your own cake pan.
One of the benefits of an aluminum foil DIY cake pan is that you can create your own preferred shape. Whether you want a round cake, a heart cake, or whatever you can dream up, it can be made with foil.
So, how do you make an aluminum foil cake pan?
Step 1: The Border
Create the border of your cake pan by folding heavy duty aluminum foil in half, and bending it into shape. Make sure the walls are high enough that your cake batter won't spill out.
Step 2: The Base
Place your border on a folded sheet of aluminum foil, and mark the shape. Cut roughly an inch of excess all around the base.
Step 3: Attach Your Base And Border
Fold the excess edges of your base onto the border, creating a tight seal.
Step 4: Place On A Sheet Pan
The sheet pan adds extra stability to your aluminum foil pan (and makes it easier to take in and out of the oven). Pour in your cake batter, and bake. A perfect cake, without a cake pan.
DIY A Parchment Paper Cake Pan
You can potentially use parchment paper instead of a regular cake pan, but it's a little trickier. We recommend using several layers of thicker parchment paper, so the cake batter won't leak out.
A parchment paper DIY pan might work for a smaller cake, but stick with aluminum foil for a larger cake. Also, avoid particularly runny batters, like a sponge cake batter.
Use Another Style Of Pan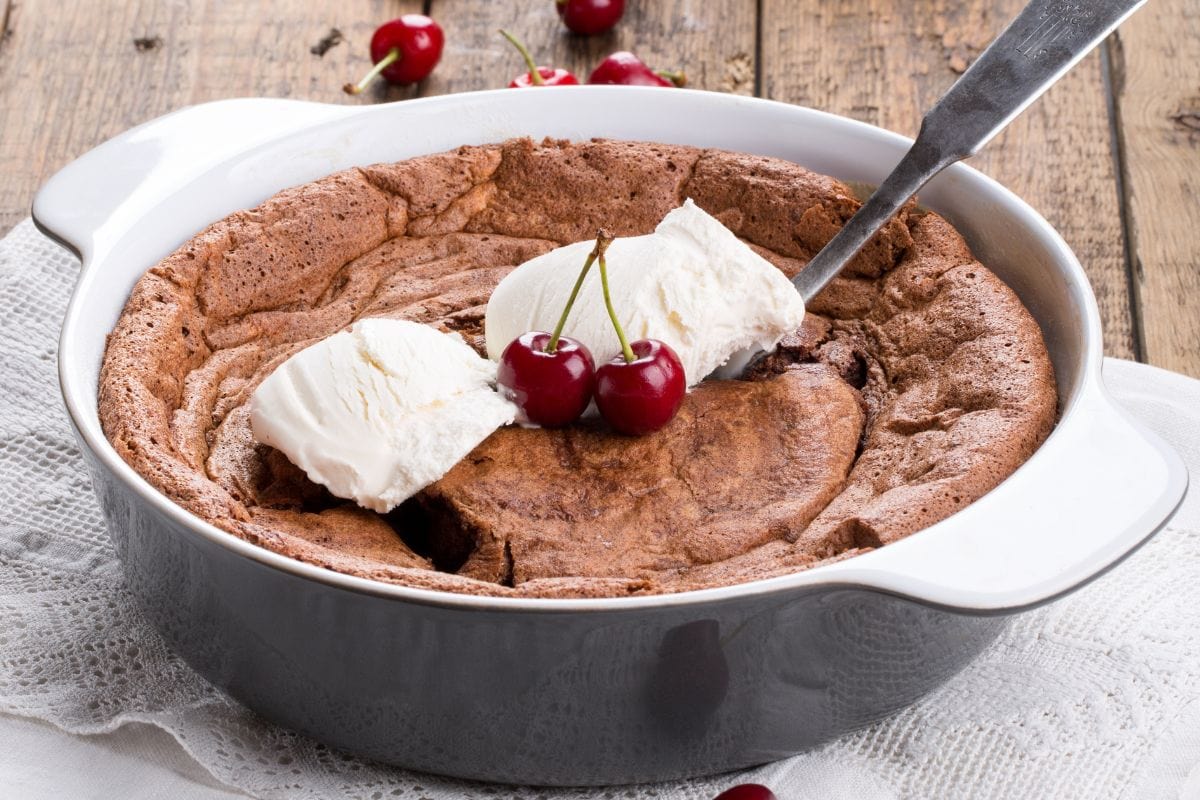 No one really cares about the shape when you have delicious cakes to eat!
Why not try a bundt pan, or a pie dish? They might not be your standard cake pans, but you can successfully bake all kinds of delicious recipes using these pans.
Serve smothered in frosting, and no one will notice the different shapes.
Bake Cake Pops Instead
You've probably seen cake pops all over your social media feed. Adorable and bite-sized, cake pops are extremely easy to make, even if you've only just started baking!
You do need to make a cake to create cake pops, but the good news is, the finished cake is turned to crumb once it's finished baking. So, you can use whatever pans you have to hand (cupcake pan, bundt pan, sheet pan and so on).
Cake pops are the best desserts for kids parties.
Make A Mug Cake
Have a craving for something sweet but no cake pans? Make a mug cake instead! Mug cakes are incredibly easy to make, and require just a mug and a microwave.
There are many recipes for mug cakes, but most need just a few simple ingredients such as flour, vegetable oil, and sugar. Mix it all together, fill your mug, and microwave.
Serve in the mug, with a drizzle of cream.
Try A Pull-Apart Cake
Never heard of a pull-apart cake? These cakes are an innovative solution to the cake pan problem, and they're an excellent dessert for a party.
You don't need a cake pan to make a pull-apart cake, but you do need a cupcake pan.
Pick your favorite cupcake recipe, and bake a batch. Once your individual cupcakes are baked, cool them, and arrange in a fun shape.
Now for the best part: cover your cupcakes with frosting (or whipped cream, or cream cheese, or whatever you like). From the top, it will look like one large cake.
But when you serve, everyone can reach in and grab one cupcake!
Use A Frying Pan
If you have an oven-safe frying pan with a nonstick coating, you can potentially use it as a cake pan. As the sides are thicker, you may need to adjust the cooking times.
Or Steam A Cake
Alternatively, there are cake recipes that instruct you to steam the cake in a frying pan or skillet on the stove top.
Make Something Completely Different
We love cakes, but it isn't your only choice when cooking something sweet. Experiment with other recipes that can be made without a cake pan, such as cookies, cheesecakes, cupcakes, or brownies.
Already made your cake batter?
Transform it into cookie batter by adding half a cup of vegetable oil, and an egg or two. Or pour some into a mug, and make a mug cake.
Final Thoughts
No cake pan? No problem! You can still make a delicious cake without a cake pan by trying one of these innovative solutions.
Not everyone has a cake pan, but that shouldn't hold you back from trying a new recipe. Try a DIY aluminum foil pan, or discover new ways of using cupcakes.
With a little filling (or a lot of frosting) you can still have a delicious dessert.