Dirt cake might not sound the most appealing but it is one of the simplest cakes that you can make. You will find that a lot of recipes are quite similar, but they all taste amazing!
It is called a dirt cake, due to its rough and messy appearance. As oreos are usually used this gives a dirt appearance, and other decorations add to the dirt cake name.
Below the 15 most delicious dirt cake recipes that you should try at home. These repcies are really easy to make, but will look impressive and taste great. Suitable for all your family and friends.
When you need to create a pudding but you have no room in the oven, this is a great alternative.
This recipe has a crushed oreo base and a very creamy and luxurious cream cheese and whipped cream middle layer. Crushed oreos on the top give this cake its traditional dirt cake appearance.
It is the creamy cream cheese and whipped cream centre that makes this dirt cake stand out. Alongside the oreos this is a rich dessert, which will impress.
This dirt cake only takes 5 minutes to make and can serve up to 10 people. Ideal for a party or a family gathering.
Sometimes it's nicer to have individual servings. This recipe sees the dirt cake presented in potted plants, which is perfect for children.
Overall, this recipe only takes 30 minutes to prepare and serve. You will be able to create 12 individual potted dirt plants.
The plant parts are a great addition to trick your mind into what you're eating. This recipe also suggests decorating the potted plants with gummy worms or displaying the pots with gardening tools to add to the dirt cake theme.
Fake flowers can also be planted into the pots as well. Once the guests have eaten their serving, they have a plant pot to take home and use in whatever way that they like.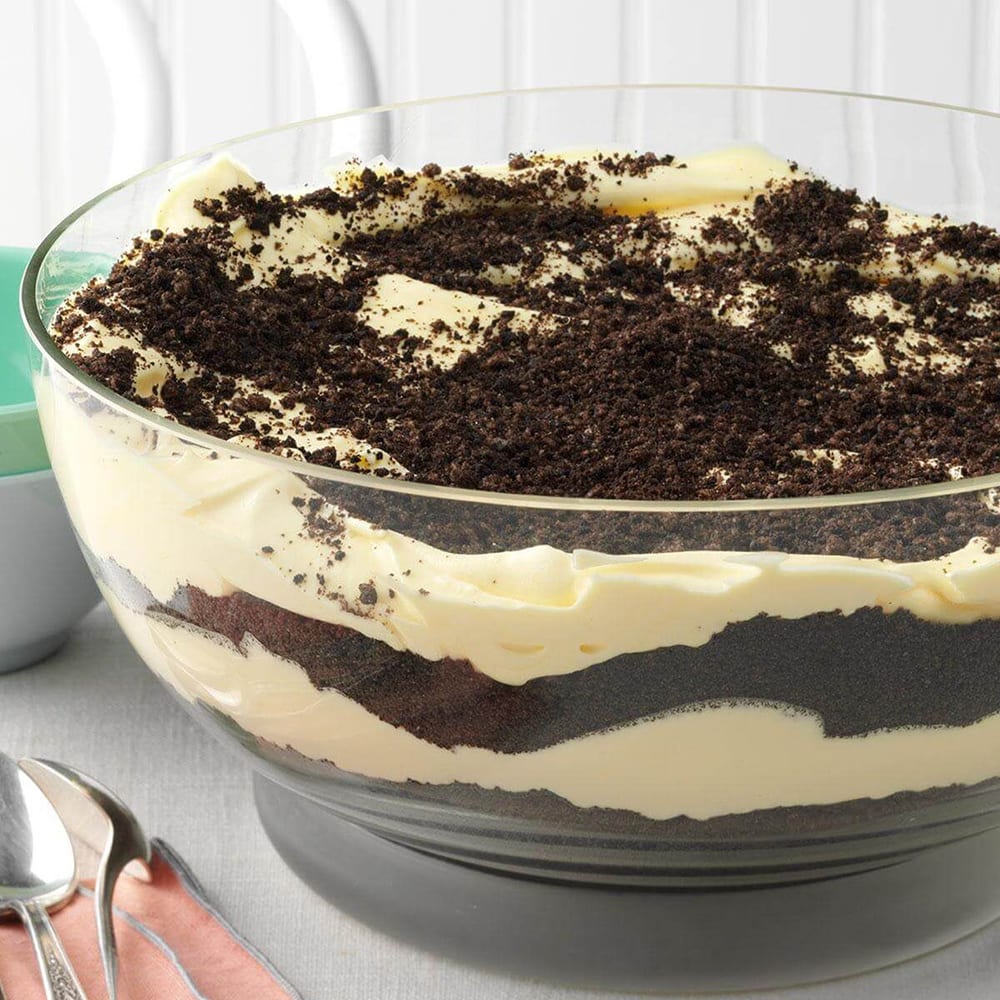 Are more layers better? Well in this recipe we definitely think so. This recipe layers the delicious layers of crushed oreos along with the creamy cream cheese pudding mixture.
This recipe can make up to 10 servings and only take 15 minutes to prepare. It is best to leave this cake in the fridge until it is time to serve.
The top of this cake is only sprinkled with oreos so you can see some of the cream poking through, which gives it a more rustic look.
If you want to make an impression at your party or gathering then this dirt cake might be for you.
Instead of individual plant pots, all you need is a medium sized plant pot and an artificial flower from a craft store to give you the full effect. One medium pot should serve around 10 people.
A vanilla and cream cheese pudding layer, with oreos, what isn't there to love. This recipe is great to do with children and creates a great conversation starter, as you ask your guest if they can find the pudding. This is a great way to make food not look like food and trick your guests.
Dirt cakes are delicious for any gathering and especially at BBQ's and parties. With this recipe you will find layers of crushed oreos between layers of a french vanilla pudding mixture. This is a grand dirt cake that is perfect to make ahead for any occasion.
This recipe can serve up to 16 people and takes 20 minutes to prepare and a day to chill. Hence the overall making time is 1 day and 20 minutes.
Unlike other recipes this one starts with the pudding mixture at the bottom of the glass and then crushed oreos are layered on top. This process is then repeated until you reach the top of your glass.
To end finely crushed oreos are sprinkled on the top and gummy worms are placed on top as well.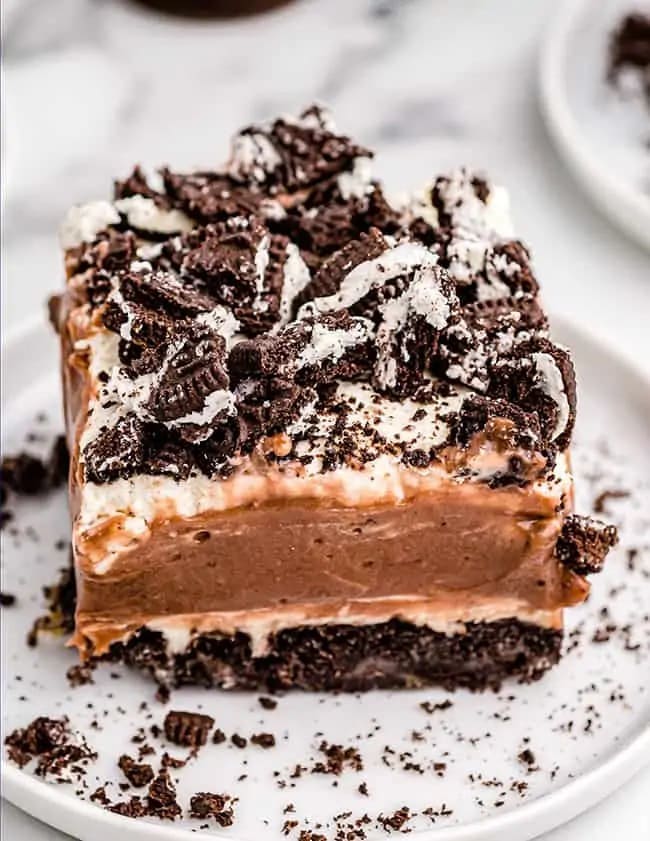 This is definitely one of the more luxurious and mouth watering recipes you will see on this list. It looks a bit more complex, but it is still super easy and looks very impressive as if you spent hours making it. This recipe is all about the clear distinct layers that you make.
The bottom layer is made of crushed oreos and melted butter that have been pressed into the pan/dish. Next a cream cheese and sugar layer is poured over the orea base that has been created.
If that wasn't enough, now a chocolate pudding layer is spooned on top of these other two layers. This cake is then finished off with a sprinkle of crushed oreo pieces.
You can change this recipe to any flavoured oreos and pudding mix that you like. You can also add chocolate chips. m&m, nuts and sprinkles for some added textures and flavors. With this recipe you can create your own unique dirt cake.
Everyone has had a traditional dirt cake, but you don't always have to use vanilla pudding. If you can't get your hands on vanilla pudding then chocolate pudding is a great alternative. This recipe is also a great alternative to those of you who love chocolate and want chocolate on everything.
It is up to you how fine you want to break or crush the oreos with this recipe. You have a lot of freedom to create something delicious to your own preferences and tastes.
Another chocolatey dirt cake recipe that all the family will love. This dirt cake recipe is really easy and perfect for summer. You can go all out with decoration with this cake, in the form of lots of gummy worms to add a smile to your and your guest's faces.
Oreos are layered in the bottom of your serving dish or pan, then the pudding mixture is poured over the top.
Finally crushed oreos cover the top and gummy worms are added for a special touch. However the topping can be changed for the time of year. You can add foundation halloween creations or smarties for an easter treat.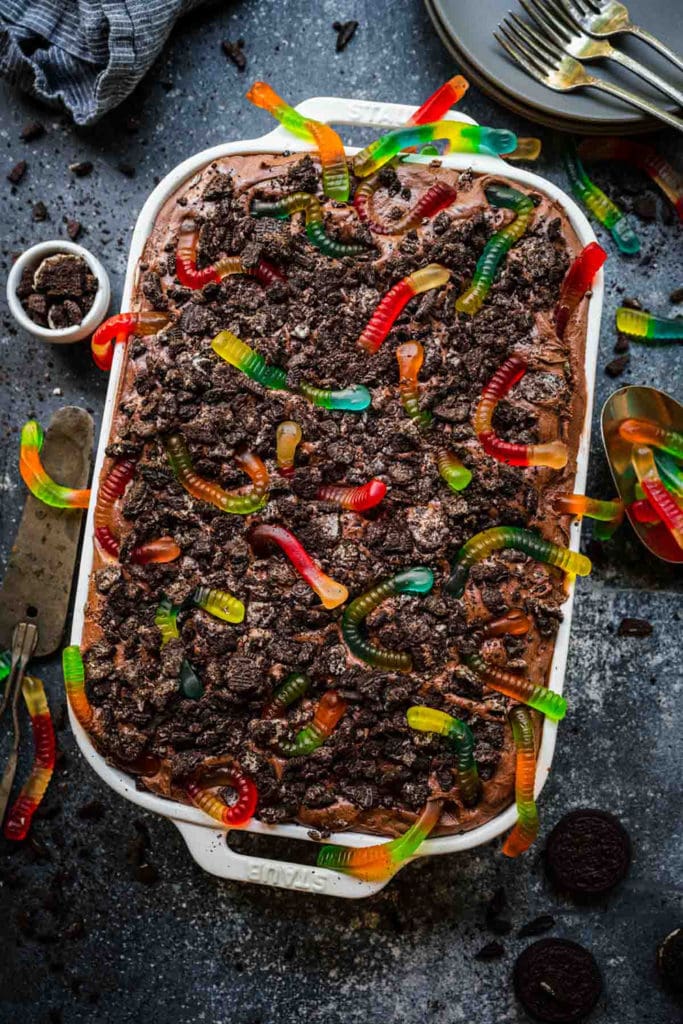 If you want an actual bit of cake in your dirt cake then you will enjoy this recipe. Several different layers make up the dirt cake recipe.
A chocolate cake is topped with a chocolate pudding mixture. Then crush oreo cookie crumbs on top with gummy worms.
This is the ideal recipe for a halloween party. Other toppings such as hot fudge and cool whip are both great alternative toppings to the chocolate cake. A simple yet effective recipe that all dirt cake lovers will enjoy.
This recipe includes an easy chocolate poke cake that has been soaked in chocolate pudding. Then to top it off with an oreo dirt topping.
The dirt toppis is instant pudding mixture, heavy cream, sugar and oreos. These are all mixed together and spread on top of the cake.
The frosting gives the cake more moisture alongside the pudding mixture that has been poked into the holes. This is a recipe that will surely impress all your friends, family and guests at any occasion.
This dirt cake recipe includes a moist chocolate cake that is filled with oreo frosting and oreo crumbs. There are even gummy worms between the cake layers for extra special effect. This frosting doesn't use any cream cheese, but instead is made like any other frosting with oreos added.
This dirt cake can serve 12 to 14 people and takes 2 hour and 18 minutes to make plus extra cooling time. With this recipe a lot more effort is required, but this makes the perfect birthday cake for any oreo or chocolate lover out there.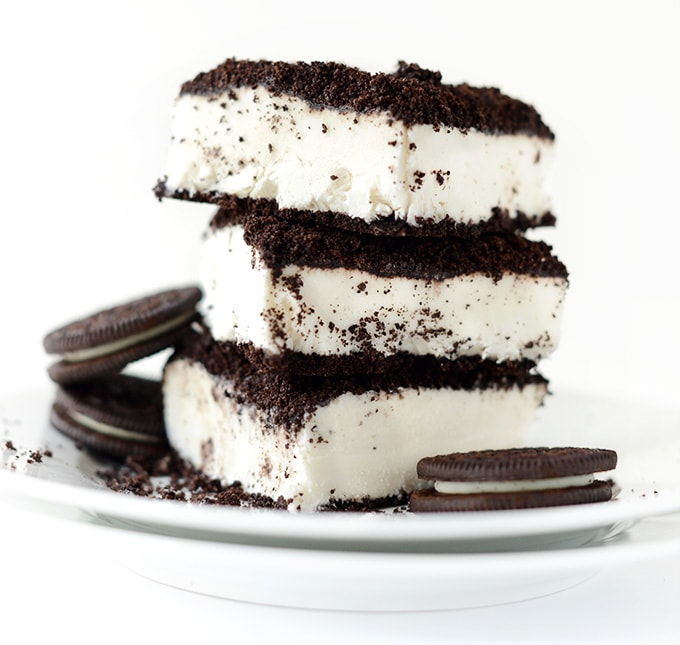 Even if you are vegan, you can enjoy this delicious cake. This recipe uses coconut milk in exchange for whipped cream. You make your own pudding using cornstarch, sugar and your choice of vegan milk.
Once your coconut milk is hard enough to whip, you add your coconut cream and your homemade pudding mix together.
This still looks like every other dirt cake, with a layer of crushed oreos on the bottom and then your pudding mixture on top. Then finally crushed oreos on top of your pudding layer.
This recipe will still taste like every other dirt cake. However you may notice the taste of coconut a little bit, yet really that shouldn't be much of an issue.
This recipe will feed 9 people and take only 10 minutes to repair, yet it is best to place your coconut milk in the fridge to harden overnight.
If you have a sweet tooth and love chocolate and peanut butter then this will be your idea of heaven.
The bottom layer consists of crushed oreos, which is then followed by a creamy peanut butter layer. That is then topped with a chocolate pudding later.
Between each layer you will find chopped Reese's pieces, with crushed oreos on the top of the overall cake.
This isn't a recipe for anyone on a diet, but it's a great treat that tastes amazingly. Chocolate and peanut butter go so well together, therefore you know that this will be an instant win.
Dirt cake doesn't have to be just chocolate. Why not try a neapolitan dirt cake, that may remind you of the ice of a similar name.
This recipe takes 20 minutes to create and serves 8 to 10 people. A base layer of oreos is created and then a cream cheese layer is added.
On top of that a strawberry pudding mixture is added and then more crushed oreos are added on top.
This dirt cake looked like another childhood favorite dessert of a neapolitan ice cream sandwich. This is a delicious and attractive cake that everyone will enjoy.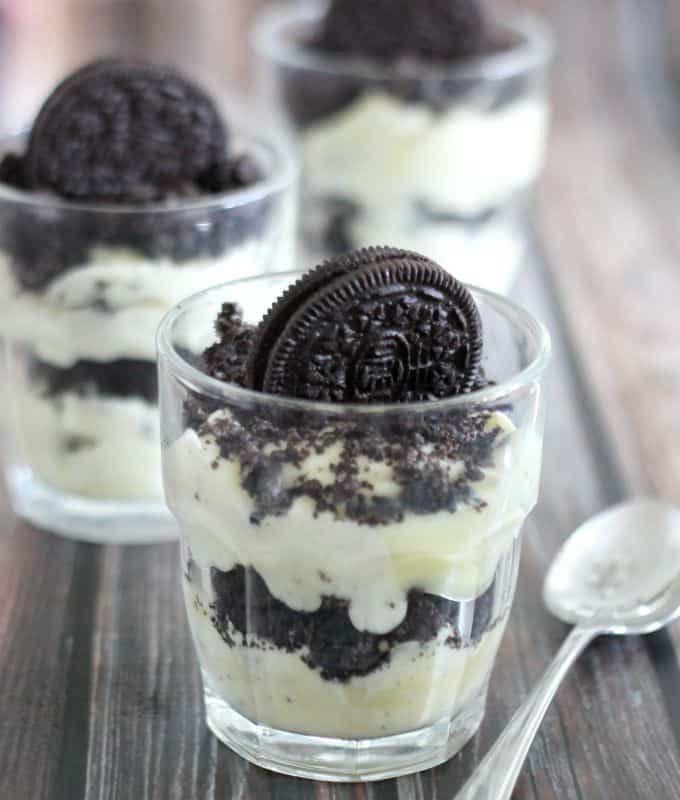 Sometimes you don't want to be waiting hours for your pudding to chill and set, therefore if you want dirt cake fast then this recipe you'll love. Also this recipe uses no cream cheese, so if you don't enjoy that ingredient, you won't see it used here.
All this recipe uses is vanilla instant pudding mix, cold milk, whipped cream and oreo cookies. Even though there isn't any cream cheese, this doesn't affect the taste, and actually brings down the carlories of the overall recipe.
If you don't have time or have forgotten to make a dessert this 10 minute dirt cake is ideal for you.
Final Thoughts
Dirt cake is one of the easiest cakes to make and will always impress your guests. You'll notice that most of these recipes include oreos, but you could switch out the oreos for different flavors.
Each recipe can be customized to suit your taste. However, now you have 15 new recipes to choose from, so there is no excuse for not whipping up a dirt cake more often from now on.