Rice cakes. They can be made plain or packed with flavor – there isn't much they can't do!
From flavorful cakes made with rice flour to crisp rice cakes and crackers, rice is a universal ingredient that can be used in a variety of desserts. And it's wildly popular, too – especially thanks to the rise of Korean food and Korean rice cakes!
Best of all? You don't have to be an award-winning pastry chef to enjoy these relatively low-calorie snacks! All you need is an easy-to-follow recipe and a colorful taste palate (and the motivation to make and eat your creations, of course).
So if you're looking for your next kitchen conquest then this article is for you. We've listed 15 of our top picks for amazing rice cake recipes ranging from homemade to sticky rice, to rice crackers.
This Homemade Rice Cake recipe is equally as easy to make as it is delicious! Enjoy a healthy snack and decide whether you'd like to pair it with a sweet or savory topping – the choice is completely yours.
You'd like it sweet or savory. It required 2 minutes of preparation and 45 minutes of baking, but it is definitely worth the wait.
All you need to make this delicious low-calorie snack is a cup of uncooked rice, 1 ½ cups of water, 2 eggs, 2 Tbsp of all-purpose flour, and a flavoring of your choice. Use cheese for savory or Truvia and cinnamon for a sweet snack! Oh, and this recipe can be Gluten Free! Just substitute the flour.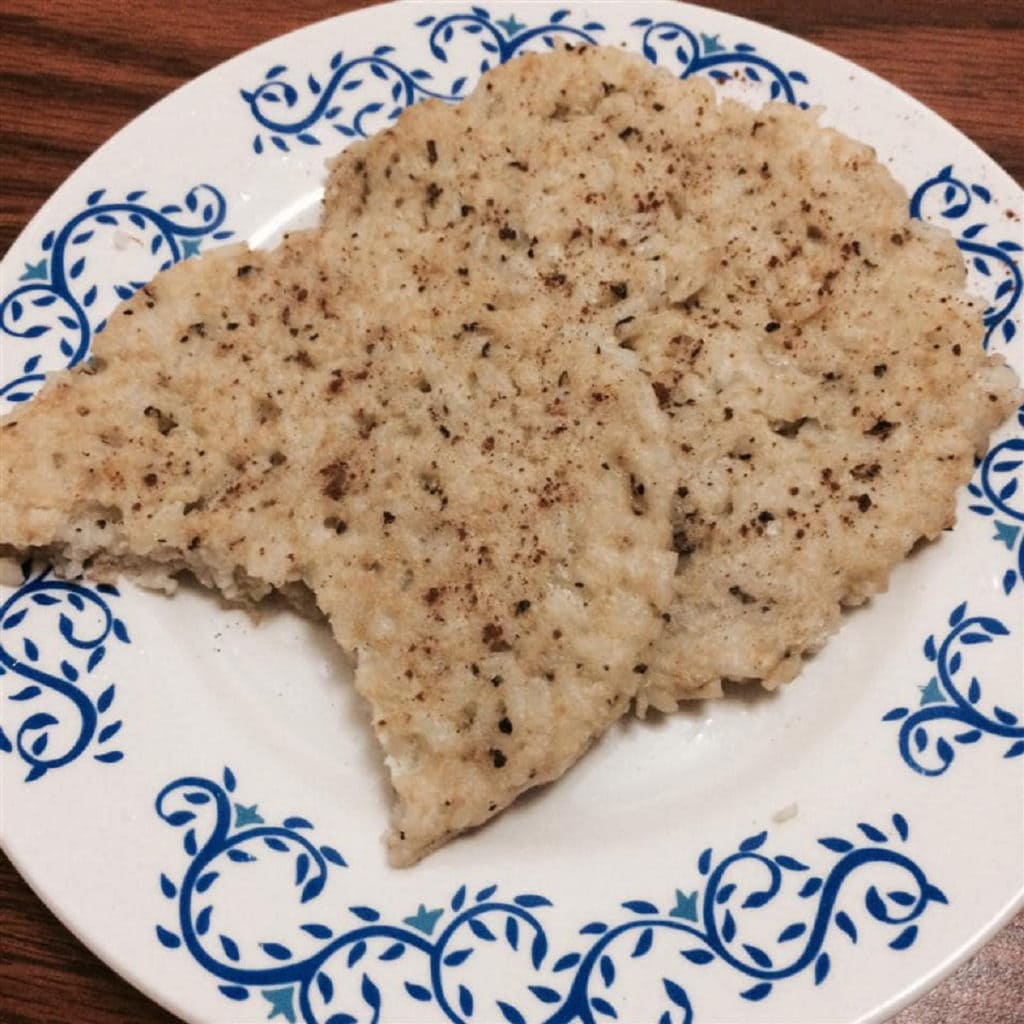 This recipe is perfect if you have some leftover rice in the fridge. Rice cakes are a versatile snack so you can enjoy them for breakfast or dinner (or both, we won't judge!) But with a total cooking time (including preparation) of 10 minutes this rice cake recipe is one of the quickest, easiest, and tastiest savory ones out there.
Consisting of simple ingredients, you don't need any culinary ability to make these rice cakes.
All you'll need are the ingredients as follows: ½ cup cooked white rice, 1 egg, 1 teaspoon milk, salt and ground black pepper, and 1 ½ teaspoon of butter.
You could even add 1 Tbsp of chopped fresh basil to taste! A sprinkle of sesame seeds adds some nutritional fiber, too.
And, best of all, each mixture yields two rice cakes.
If you're seeking adventurous flavors – or simply want to push the extremities of what truly makes a rice cake – then this amazing recipe by Tasty is perfect for you!
An extensive ingredient list packed full of flavorful herbs and spices, lemon juice and zest, eggs, tomatoes, and olive oil (or sesame oil) makes for an incredibly rich-tasting rice cake. It's relatively simple to make, too. And all you need to do is evenly cook the quinoa cakes on each side for 3–4 minutes until golden brown.
In addition, this recipe also provides you with the perfect way to prepare a tender Mediterranean chicken cutlet to go alongside your quinoa rice cakes.
Perfect for satisfying savory cravings, these Japanese Pan-Fried Rice Cakes make for a great snack any time of the day. You can even turn them into their full meal with an accompaniment of smoked salmon, vegetable stir fry, or even a simple fried egg! Plus, they accompany spicy food really well.
Again, this recipe features an easy-to-assemble ingredients list. For the rice cakes, all you'll need is 2 cups of steamed Japanese rice, 2 tablespoons (tbsp) of all-purpose flour, 1 tbsp vegetable oil, and 1 tbsp of sliced chives (although this is completely optional!)
If you want to take it one step further, you can even make a complementary dipping sauce from 1 tbsp of granulated sugar and a tbsp of soy sauce!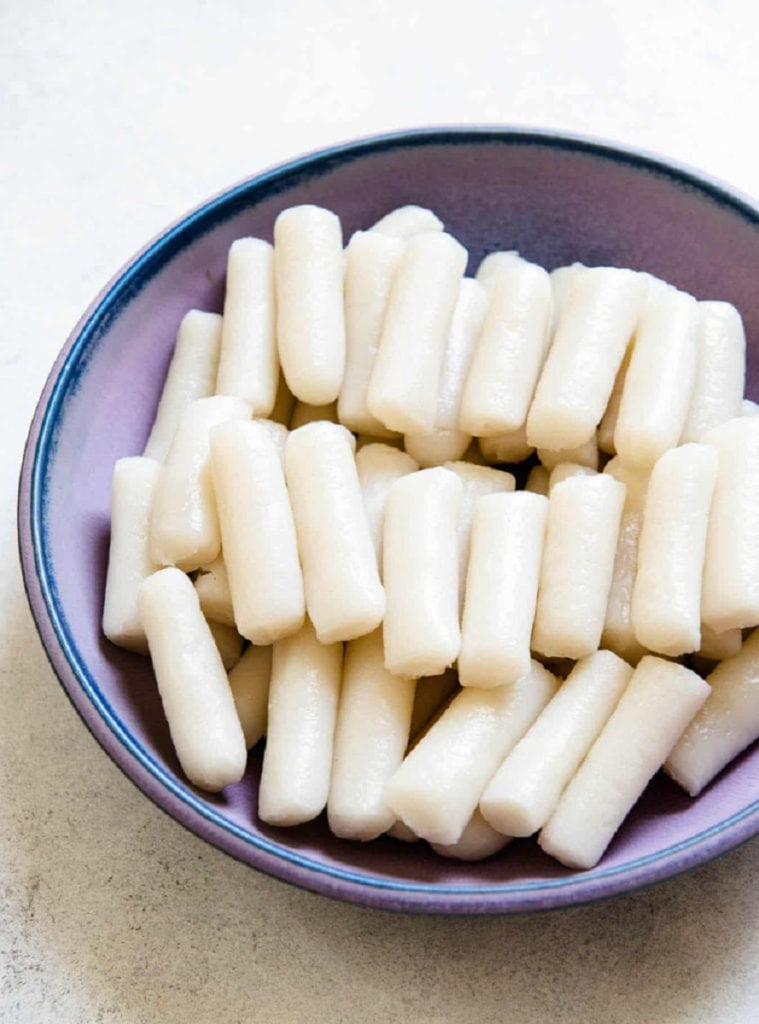 Steamed rice cakes are a prevalent ingredient in Asian cuisine. So if you want to try a chewier variation of the rice cake you know and love, why not give this recipe a go?
Feel free to serve the rice cakes warm and with your favorite dipping sauce. You could also use these in stews, stir fry, or use them to make tteokbokki! Essentially, your choices are endless!
This recipe is notable for its minimal ingredients list. It requires 1 ¾ cups of rice flour and 2 tbsp, ¾ cup and 2 tbsp of tapioca starch, 2 teaspoons sugar, ½ teaspoon kosher salt, and 1 ¾ cups of water. You can add more flour, starch, or water to get your preferred consistency!
But if you want to stick to plain ol' rice cakes, this recipe from Living Sweet Moments is your perfect recipe. The donut-shaped rice cakes are fun and delicious and make for the perfect way to encourage kids into healthy snacking habits. Prep ingredients for 2 minutes, bake for 15 minutes and you're done!
To do this, you don't have to be a wiz in the kitchen. Collect your ingredients list consisting of ½ cup of uncooked brown rice, 3 to 4 cups of water, 2 large eggs, and 1 tbsp of all-purpose flour (substitute for gluten-free if necessary) and mix. Add salt to taste and that's all there is to it!
This rice cake recipe by Kim Severson works best as a side dish to a piece of grilled meat or fish and offers a unique taste to tantalize your taste buds.
You can experience amazing tastes of the Middle East with some of the herbed cheesy goodness of Italian arancini. Each batch makes 4-6 cakes and takes approximately 20 minutes to finish, so you won't be kept waiting for long!
What's more, you can customize this recipe to accommodate different vegetables and herbs. It can even be made without either of these to achieve a more simple backdrop for a fried egg or a simple child-friendly snack with all the flavor.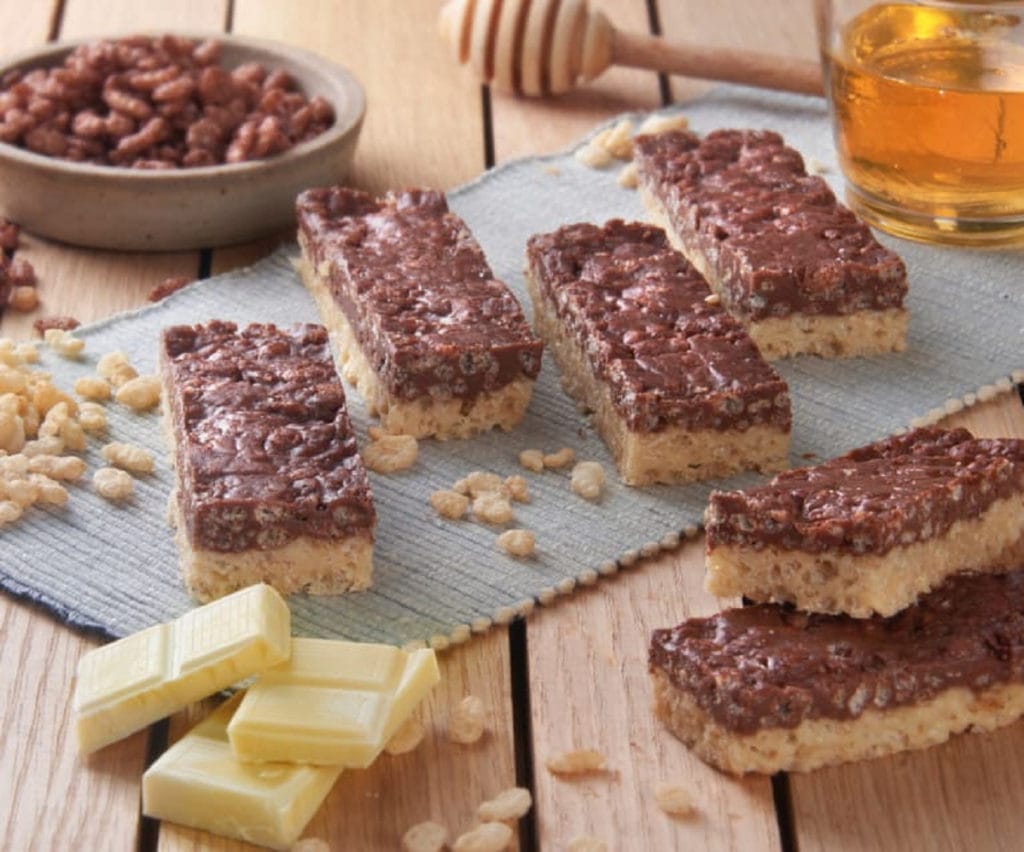 For a melt-in-your-mouth treat that will suit everyone's taste buds, look no further! Cookidoo offers up deliciousness on a silver platter with this recipe.
Though it requires a longer cooking and preparation time than other recipes on this list (a total of 2 hours and 35 minutes) it can serve up to 10 people, making it the perfect last-minute party dish!
It's simple to prepare with primary ingredients including unsalted butter, honey, white chocolate pieces, puffed rice, and milk chocolate.
For a cake that everyone will remember, this recipe is the answer. Taken from Australia's Best Recipe's website, this recipe is healthy, delicious, and filling all at once.
With a combination of simple ingredients including wholemeal flour, cooked brown rice, bananas, and optional chopped nuts and dates to taste, it is a guilt-free snack that you can enjoy at any time of day.
You can expect a preparation time of 20 minutes and a longer cooking time of 1 hour and 15 minutes. It's also a great recipe for party snacks and can provide up to 10 servings per batch!
For something a little different, we'd highly recommend this recipe from The Spruce Eats. This glutinous rice cake can be served as a party snack or can be made for yourself as comfort food.
In fact, it's equally as amazing as a dessert or a snack alongside a cup of coffee! It's healthier than the majority of classic desserts, too, so you can enjoy it guilt-free.
Simple yet effective ingredients help to make these rice cakes a roaring success. The recipe consists of coconut oil, sticky rice, large eggs, coconut milk, brown sugar, salt, and vanilla extract.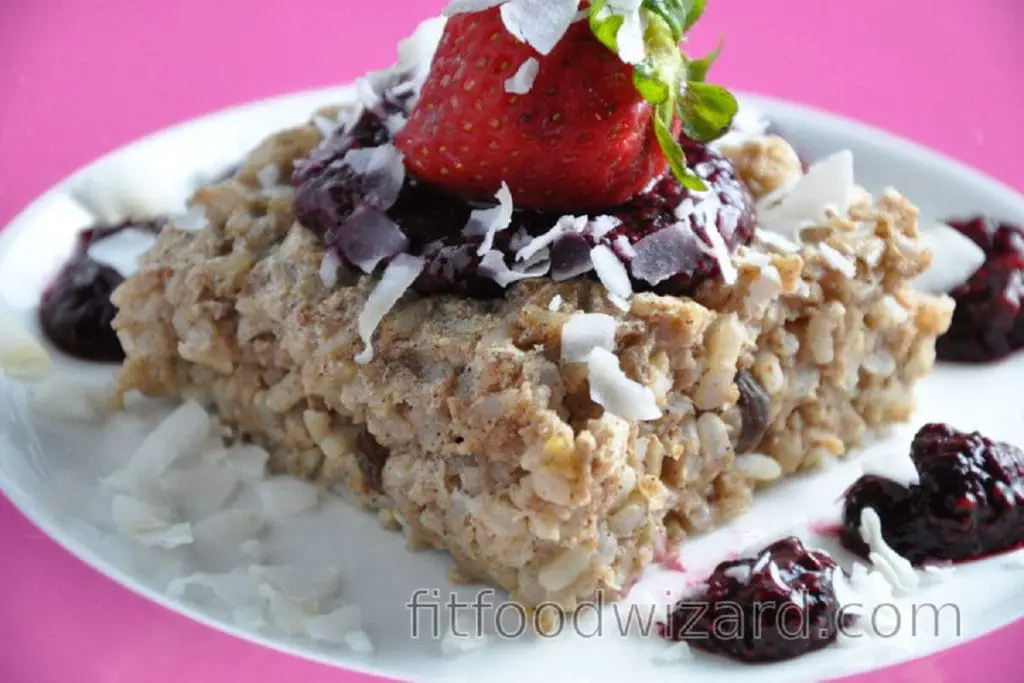 Brown rice is an essential part of a healthy diet. So if you're craving a sugar-free, healthier alternative to the average rice cake, this recipe is the perfect solution for you! It takes 60 minutes to make, provides 6 servings, and is so easy that it can be handled by individuals with varying levels of culinary skills!
Though it may be a diet recipe, it's extremely tasty and filling thanks to its variety of ingredients. These include bananas and any additional flavors that you enjoy, including nut butter and yogurt topping. Chia seed sauce is also easy to prepare, just mix chia seed with mashed or blended fruit!
This rice cake recipe is flavorful, sweet, and light making it the perfect dish year-round. And in just 80 minutes you'll have a sweet treat that'll serve at least 4 people.
Best of all? It consists only of two main ingredients for your convenience: cooked sticky rice and palm sugar. However, before cooking, you should soak your sticky rice in salty water for extra flavor. Why not also drizzle caramel on top for more sweetness?
Injeolmi is a type of Korean cake made with glutinous rice. It is perfectly chewy, nutty, sweet, and soft – and makes for the perfect treat to have alongside a hot cup of your favorite beverage.
All you need to make this amazing sweet rice cake is a microwave, 10 minutes of spare time, and a short ingredients list. This includes sweet rice flour, sugar, salt, water, and roasted soybean powder.
This rice cake recipe serves 4 and can also be eaten without any specific coating, and by itself, simply dipped in honey or sugar.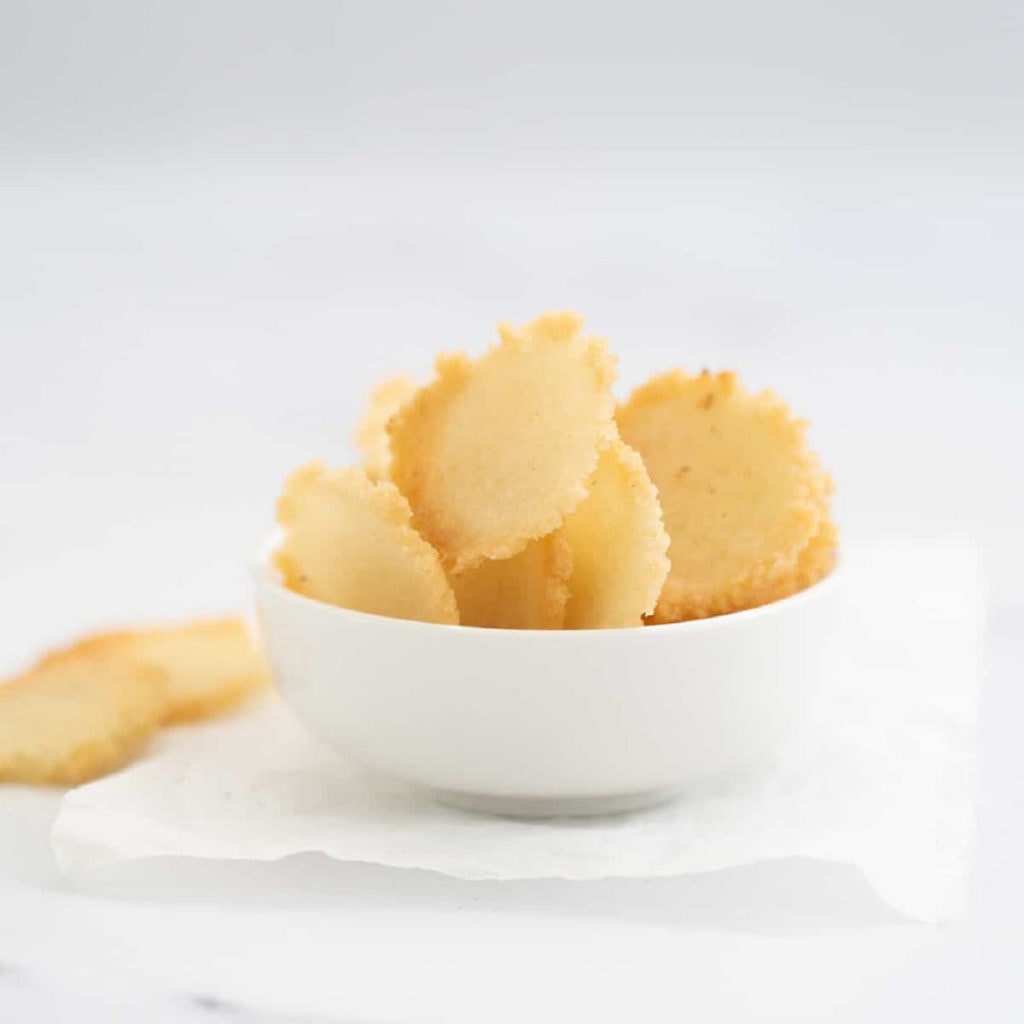 Transforming leftover rice into a fun, tasty snack can be fun. Especially with this recipe! You remain in full control over the addition of salt, flavors, and toppings to create a delicious rice cracker that you'll thoroughly enjoy.
Consisting of salt, olive oil, and rice, you can make these rice crackers in a pinch. You could also add optional flavorings including paprika and parmesan for a richer and more flavorful treat. This can be either sweet or savory, so you can choose to add sugar or chocolate chips for a sweeter snack!
If you're after a lighter bite, this recipe might be for you. These rice crackers are remarkably easy to make and healthy, and make for a great tea-time snack – especially for those who love a simpler taste!
A short 25 minute cooking time and a three-ingredient mix (3 cups cooked rice, 1 ½ tbsp coconut oil, and a pinch of salt) equal a whole lot of fun for your taste buds.
Plus they're gluten-free and vegan meaning they are suitable for just about everyone to eat!
Final Thoughts
This list features 15 of our top picks for amazing rice cake recipes that you will absolutely love. We have also included several other variations of rice cake desserts for you to try for a bit of variation. Each of which varies from simple to fairly difficult to make, meaning there's a sweet treat on here for all skill levels!