If you're new to the world of bread making, you'll quickly find that most bread recipes you look at will call for a different type of mixing bowl to proof the bread dough.
Some recipes call for glass bowls or plastic bowls, while others call for stainless steel. This can make things a little bit confusing, especially if you've never baked bread before.
Luckily for you, I'm here to help. In today's post, I'm going to show you what bowl is best to use when proofing your bread dough.
It doesn't matter if you're making pizza dough or sourdough bread, I'm here to give you the answers you need.
Let's get straight into it!
What Type Of Bowl Is Best For Making Bread?
So, what is the best type of bowl you can use for making bread? If I'm being totally honest with you, there isn't one answer to that question. Generally speaking, we can use most types of bowls to raise bread dough.
Some good examples include:
Glass bowls
Plastic bowls
Stainless steel bowls
Ceramic bowls
Wooden bowls
However, it can be argued that some bowls are better than others if we want a better rise. The best types of bowls you can use when making bread are plastic and stainless steel.
These two types of bowls retain heat, which will provide a more even rise. Let's look at each type of bowl in more detail.
Rising Bread In Stainless Steel Bowls
Rising dough in a metal bowl is probably your best option if you want your bread to rise perfectly. Stainless steel retains heat, which will help activate the yeast in your dough and provide the bread with a more even rise.
You can also run a metal bowl under some hot water, dry it, and spray it with nonstick cooking spray, before then adding your dough.
This will make the bowl a great heat source, which will keep your bread dough warm.
Rising Bread In Plastic Bowls
The story is very similar when it comes to proofing bread dough in a plastic bowl too. Plastic bowls can also retain heat well.
Plastics' ability to stay warm makes it a great choice because it will make your bread rise quicker and more evenly.
Like with a stainless steel bowl, you can warm a plastic bowl to keep your dough at a nice temperature too.
Is It Safe To Rise Dough In A Plastic Bowl?
When it comes to making bread, food-grade plastic is a perfectly safe material to use.
Admittedly, some types of plastic can present health issues but if you use food-grade plastic you have nothing to worry about.
Can Dough Rise In A Mixer Bowl?
Bread dough can rise in your mixer bowl. In fact, dough rises brilliantly in a mixing bowl so you might want to consider it as one of your best options.
In my opinion, the easiest thing you can do when making dough is to leave it in the mixing bowl. This will save you time and allow for less cleanup.
Other Types Of Bowls You Can Use To Proof Your Bread Dough
Dough rising can be done in a handful of different types of bowls, so you can leave your bread in a different bowl to rise if you'd prefer. I've looked at some of the other types of baking bowls you can use to raise dough below!
Glass Bowls
As long as you have enough room to give your bread a good beating, you can use a glass bowl to make bread. Other types of bowls may offer a slightly faster proof but there's a lot to like about using a glass bowl too.
For example, some bowls can't take too much heat, while glass can. Some heat-proof glass dishes can even be used to bake bread.
If your recipe calls for a glass dish, you could save time by letting your dough rise in the dish you're going to bake it in.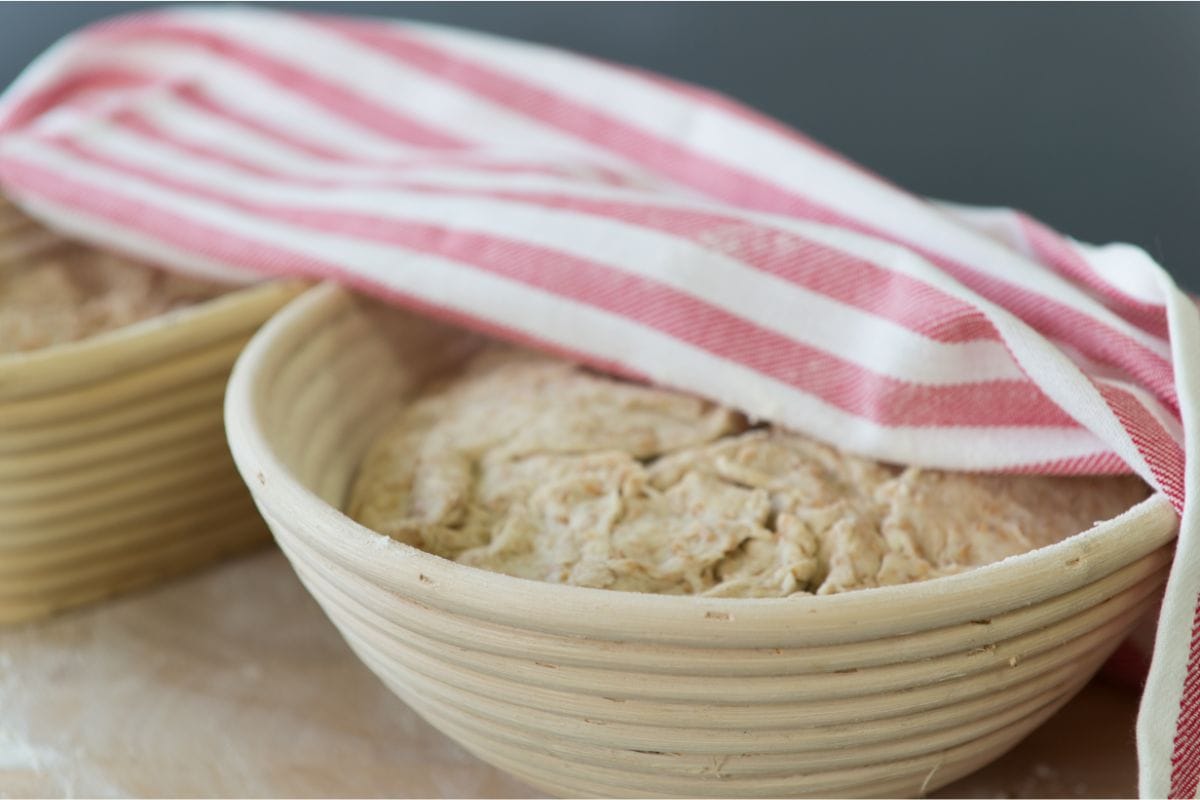 Wooden Bowls
Bowls made from wood have always been a preferred choice for bread-making. This is mostly because the heat generated by the yeast in the dough is retained in the wood. This helps the dough rise evenly.
Thanks to the durability and sturdiness of the wood, you don't have to worry about your bowl breaking either.
Ceramic Bowls
The great thing about making bread in a ceramic bowl or dish is that you can do everything in one bowl.
If you decide to use a ceramic bowl, you can mix the dough's ingredients, leave your dough to rise, and then throw the bowl or dish in the oven.
This will leave you with minimal cleanup and just generally make everything much easier.
What Size Mixing Bowl For Making Bread?
One of the most important things you need to think about when picking the perfect bread mixing bowl is size. It doesn't matter what your mixing bowl is made out of if your dough doesn't fit.
Remember, your dough is going to rise, so your bowl has to have enough room.
A good bread-making bowl should have a capacity of at least 5 liters.
Where Should You Put Bread Dough To Rise?
It doesn't matter if you're making large batches of bread dough or a small amount of dough, you should always leave it in the same places.
The best place to let your dough rise is somewhere very warm. On a warm day, your kitchen counter will do just fine. However, on a cold day, you might want to leave your dough somewhere warmer.
A great place to leave your bread dough on a cold day is in your oven. To avoid baking your dough, preheat the oven to 200 degrees for two minutes. Then, turn the oven off, and place your dough on the middle shelf.
What Should You Bake Bread In?
Once you've finished raising your dough, you're ready to start baking. Bread recipes tend to call for different types of dishes but you can usually use a baking sheet, bread stone, pizza pan, or ceramic dish.
Depending on the type of bread you're making, you can also use the bowl you used to mix the dough.
However, this will depend on the heat resistance of the bowl. For example, a plastic container might not be as reliable as a ceramic bowl when put in the oven.
Final Thoughts
There you have it, everything you need to know about the bowls you can use to make bread. In this post, I've shown you what bowl is best for dough to rise.
While stainless steel and plastic bowls are generally considered the best, we can also use wooden, ceramic, and glass bowls to make the best bread dough.
All you have to do now is pick the bowl you want to use!
Frequently Asked Questions
How Long Does It Take Bread Dough To Rise?
How long it takes your bread dough to rise depends on where you leave it and the temperature in the room. In a warm place, your dough could proof in as little as one hour.
If temperatures dip, it could take a lot longer.
How Long Should You Knead Bread Dough?
I recommend kneading dough for 10 to 12 minutes if you're doing it by hand. If you use a mixer to make your dough, 8 to 10 minutes should be fine.