When you walk through the streets of your town, you are sure to smell the delicious aroma of pretzels and the enticing smell of pizza. And you have much more willpower than me if you can resist them. 
However, if you are a baker or simply want to try your hand at making a delicious twisted pretzel or indulgent pizza then you are going to need to know what makes them so unique. 
Many people think pizza dough and pretzel dough are the same. It's all just flour, water, yeast, and seasoning right?
Well no, all doughs are different. Especially pizza dough and pretzel dough. We explain what makes these doughs so different and some tips on how to make your results even tastier. 
Differences Between Pizza Dough And Pretzel Dough
With so many different types of dough out there, it can be difficult to know what makes what.  We are here to help!
With only minor changes in moisture, pizza dough and pretzel dough are quite similar in terms of their component parts. Although they are created differently despite their similarities, technically either can be used to make pretzels and pizza.
Another difference is that it is extremely common for pretzel dough to contain malt syrup. This gives pretzels that rich flavor we love. Although, it is not necessary to make them taste delicious. 
There are endless recipes for pizza dough depending on where you can add more or less water in order to make it easier to mold. However, the higher the hydration content, the harder it is to turn into pretzel dough. 
Another difference between pizza and pretzel dough is that pizza dough uses slightly more sugar. This helps combat the tartness of the tomato sauce that is used when building the pizza. 
One of the biggest differences between pizza and pretzel dough is that pretzel dough is dunked in a bath of baking soda and hot water before it is placed in the oven.
This is the same way bagels are made using bread dough and gives the pretzels a crispy crust with delicious chewy insides.  
Ingredients Used 
Pizza and pretzel dough are rather similar with pizza dough being slightly wetter. They both contain:
Water
Baking Soda/ Yeast
Flour
Sugar
Salt
Olive Oil/ Beaten Egg
Making Pretzels With Pizza Dough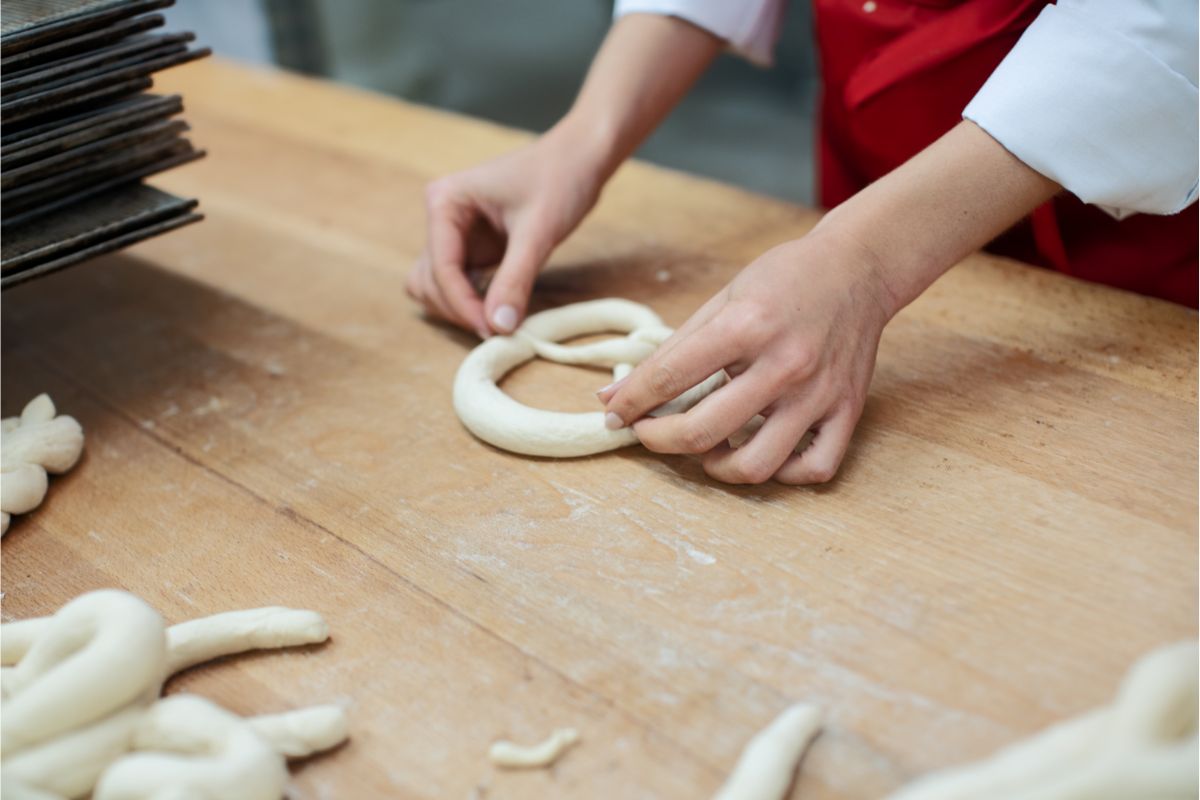 Both pizza dough and pretzel dough are extremely similar in ingredients, meaning pizza dough can be used to make pretzels. 
I highly recommend making pretzel dough from scratch but if you can't find any pre-rolled pretzel dough you can use pre-rolled pizza dough.
Pretzels are shaped, given time to proof, dunked, then baked in this straightforward procedure. Of course, timings play a role in all of this. But a basic pretzel recipe will help you with that.
Once they are baked in the oven you will be left with a delicious, light brown, chewy snack that you can then top with whatever you want. Maybe even a fun pizza dough pretzel?
When you have the skills, pretzels are extremely easy to bake at home.
Will My Pretzels Taste The Same?
As mentioned above, plain pizza dough uses slightly more sugar for that sweeter taste. This means that if you are using leftover pizza dough or store-bought pizza dough to make your pretzels they may taste slightly sweeter. 
But they will still taste delicious. 
Even if you use white or whole-wheat pizza dough, your pretzels will be tasty.
However, if you love the flavor that malt syrup gives to your soft pretzels, then you may find the flavor of using your own pizza dough to be a little unique.
One way to really top off your pretzels when using pizza dough is to top them with a sprinkling of garlic powder. Then dip into a creamy cheese sauce. Divine!
Or go sweet with a sprinkling of cinnamon.
Preparing Pizza Dough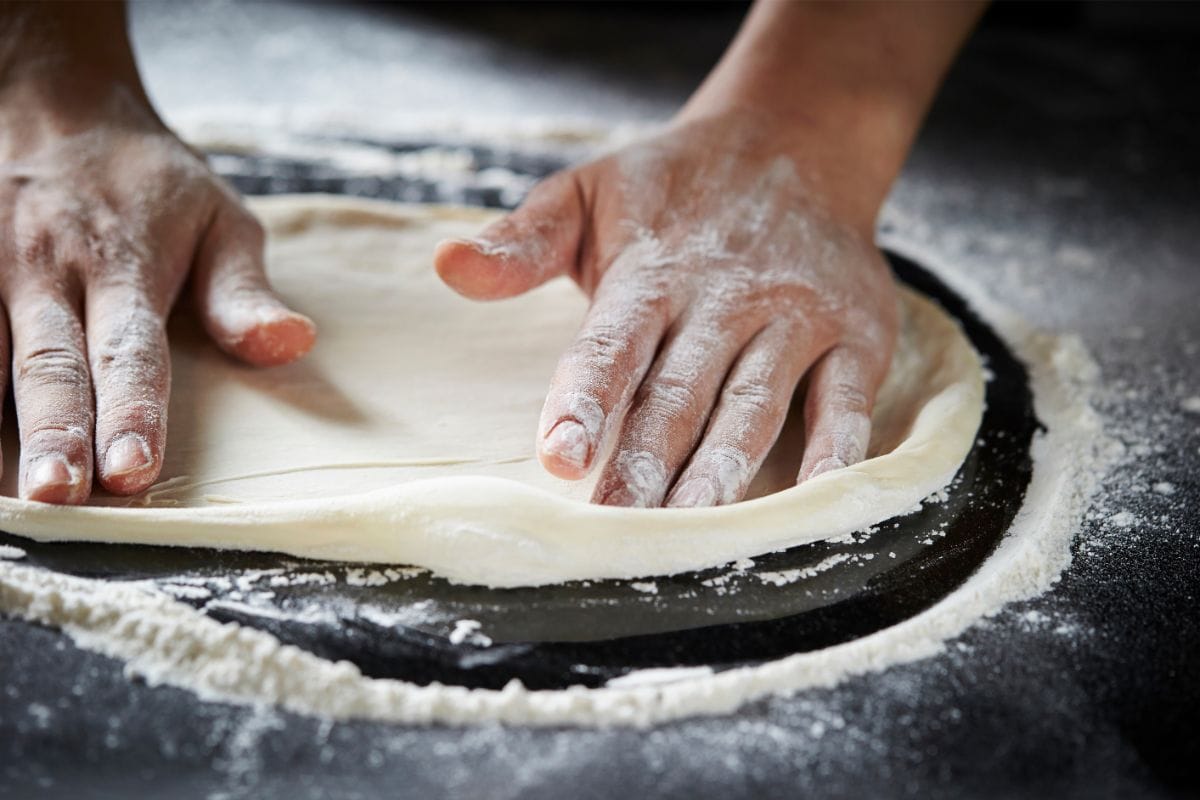 Following the idea that we are going to be using our homemade pizza dough to make soft pretzels, you are going to want to know how to prepare your dough properly.  All you need is some normal pizza dough to get started!
1. Work on a lightly floured surface to ensure the dough doesn't stick throughout this process. 
2. Mix your wet and dry ingredients together leaving out the olive oil. That comes later. 
3. Roll your pizza dough into a dough ball.
4. Cover and leave your dough for around an hour in order to raise it. 
5. Then cut your dough into 6 equal parts.  Using a pizza cutter works best.
6. Take your first small pizza dough, roll it out flat, and then begin rolling it into a thin log shape. 
7. Twist your dough into a pretzel shape. This may take a few tries to get right but don't give up!
8. Whisk together baking soda and warm water and give your pretzels a good dunk. 
9. Place on a baking tray covered with parchment paper. 
10. Grab a pastry brush or your fingers and brush your pretzels with some olive oil or egg wash. 
11. Sprinkle it with coarse salt and your favorite toppings and bake them in the oven.  Make sure they are golden brown before removing them.
I love some coarse salt on top of homemade pretzels before dipping into some form on garlic dipping sauce.
You can use this simple baking technique to great soft pretzels or some pretzel bites. And you can make them in the air fryer!
Final Thoughts 
The main difference between pizza dough and pretzel dough is the way they are made. Both doughs contain similar basic dough ingredients but then take their form during the baking process. 
Pizza dough is stretched into a circle and topped with olive oil before being placed into the oven. Pretzel dough is boiled or dunked into a baking soda bath before being topped with oil or egg and salt before being baked. 
Both doughs are completely delicious and when you are in a pinch, use your leftover pizza dough to make some tasty homemade soft pretzels! Who doesn't love a gift of baked goods? Especially freshly baked pretzels.
Frequently Asked Questions 
What Makes Pretzel Dough Taste Unique?
The Maillard Process is used to make all types of bread, bagels, and pretzels. It helps the dough for crispy crusts and gives a deep, rich flavor to the dough. 
Why Is My Pretzel Dough Not Stretchy?
Your dough may be over or underworked. Overworked dough will feel tight and tough meaning it will break apart when you begin to stretch it out.
The underworked dough won't form that ball shape we need to begin stretching.