Traditional pizza dough is undeniably delicious, but it's hard work! By the time you've finished kneading a yeast pizza dough you're ready to eat, and you still have to wait for the rise!
This might produce the best pizza dough, but who has the time for such complex pizza recipes?
No yeast pizza dough is quick and easy, but it also tends to be disappointing. There's no air, no structure, and the base is either dry and crispy or so soft it falls apart.
This no yeast pizza dough recipe is different! Super simple to make, it proves you can make incredible pizza dough without yeast. Read on to find out more.
Easy Homemade Pizza Dough (With No Yeast!)
Olive oil, flour, baking powder, and salt (plus some cold water and a sprinkle of sugar). That's all you need to make the best no yeast pizza dough.
When you want homemade pizza dough, and you want it as soon as possible, this great recipe is sure to satisfy.
No Yeast Pizza Dough Ingredients
These ingredients are the base of this pizza crust recipe! And you probably have them in your cupboard already.
Flour
The best flour to use in this recipe is bread flour. The higher protein count gives it the chewy pizza crust you expect from yeast dough, and a better crumb.
Don't have bread flour? No problem! All purpose flour or plain flour still works well. Or try making whole wheat pizza dough using whole wheat flour.
Using different flour can alter the texture slightly, but you can still expect a delicious pizza dough. But in our opinion, bread flour delivers the tastiest crust.
Don't use self rising flour! It won't deliver the right texture.
Baking Powder
Baking powder is the (not so) secret ingredient to making yeast free pizza dough with good rise and a chewy crust. A spoonful of baking powder adds air to the dough.
Olive Oil
Olive oil adds flavor, color, and crunch to your no yeast pizza crust. A quick brush with olive oil can transform your homemade pizza dough from dull to delicious.
Salt (And Sugar)
Salt is the obvious seasoning, and it gives your pizza dough essential flavor.
Sugar is less obvious, but trust us, it's worth using. Sugar can bring out the flavors of your dough, and add color to the pizza crust.
Toppings
This is where you can really experiment (or keep it simple with marinara sauce, shredded mozzarella, and a sprinkle of fresh oregano and Italian seasoning).
For a pizza dough without yeast, this recipe has a tender crust and a structured base, so it can handle all kinds of toppings.
So, break out your favorite yeast pizza recipe, and choose your perfect toppings.
Can You Make Gluten Free No Yeast Pizza Dough?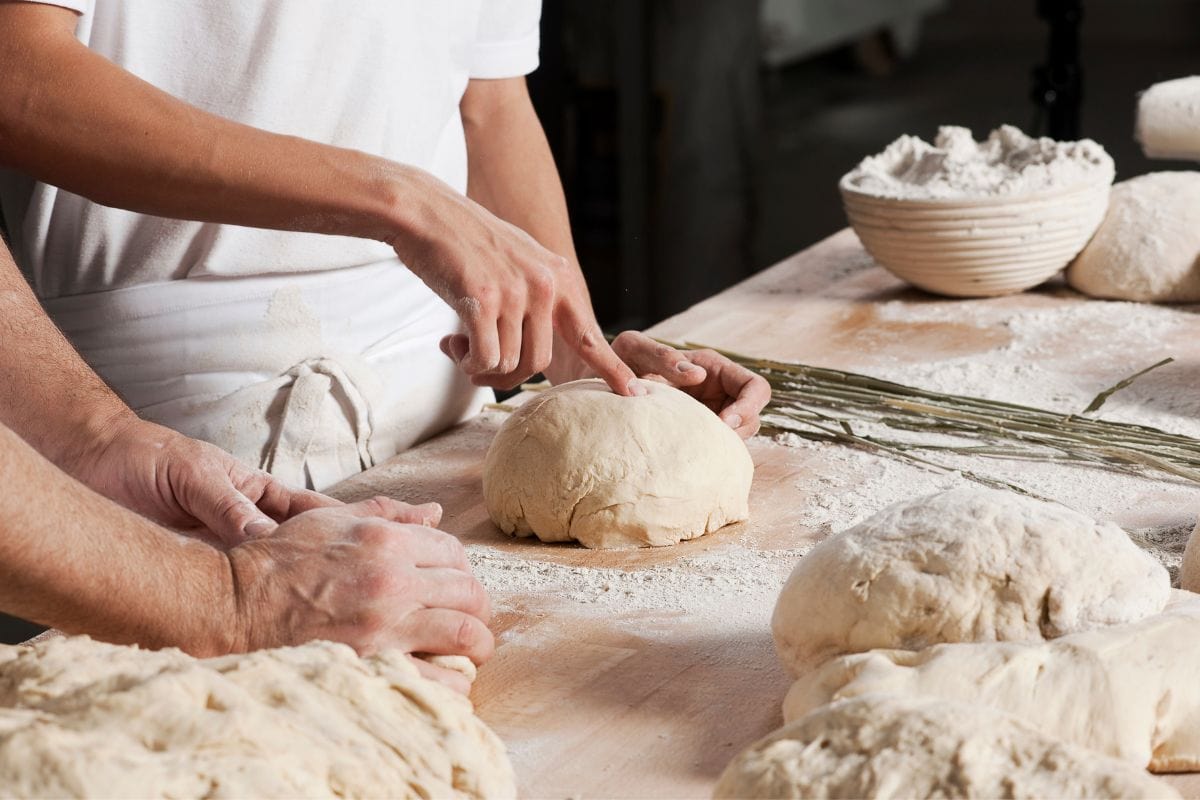 Yes, you can make gluten free no yeast pizza, but expect a different crust texture.
If you do use gluten free flour, then the pizza dough will probably have more crumb. But it can still taste delicious.
No Yeast Pizza Dough Recipe
What You Need
1 3/4 cups bread flour (plus extra for dusting)
2 tsp baking powder
1 tsp salt
3/4 tsp sugar
2 tsp olive oil (plus extra for brushing)
1/2 cup cold water
Baking sheet or pizza stone
Your favorite toppings
How To Make No Yeast Pizza Dough
Step One
Preheat the oven to 480 degrees F (or as high as it will go). If using a pizza stone, heat with oven.
Step Two
Prepare your pizza sauce and toppings. Keep any cheese in the refrigerator until ready to use.
Step Three
Place flour, salt, and baking powder in a large mixing bowl, and combine.
Step Four
Add olive oil and water to dry ingredients. Mix with a rubber spatula or using a food processor and S blade.
Step Five
If using a food processor, blitz for roughly 40 seconds, until a dough forms. Lightly flour the work surface, tip the dough out, and shape dough into a ball.
Step Six
If you're working by hand, lightly flour the work surface, and tip the dough out of the mixing bowl. Knead for around four minutes, until reasonably smooth (it doesn't need to be as smooth as yeast dough).
The dough should be soft, and not sticky.
Step Seven
Roll the dough into your perfect pizza shape. Use a rolling pin for an even thickness. It should be roughly 12 inches round.
Step Eight
Place the dough onto your baking sheet, pizza pan, etc.
Step Nine
Cover the pizza with your favorite pizza toppings.
Step Ten
Brush the edges of the pizza crust with the remaining oil.
Step Eleven
Bake for 12 minutes, or until the edges are crispy and golden brown. Serve immediately.
No Yeast Pizza Dough Recipe Notes
For Perfect Rise
While traditional yeast pizza dough needs time to rise to develop that light and chewy crust, no yeast dough doesn't need resting time.
In fact, you should try and get the pizza baking as soon as possible after making the dough.
Once you have your pizza dough rolled out to the desired thickness, add toppings, and put it straight in the oven to bake.
If you do have to wait, roll the dough out on a sheet of parchment paper, and cover with a damp towel.
For Golden Cheese
Once a yeast pizza dough is in the oven, it cooks pretty quickly. A no yeast pizza dough needs a little more time to achieve that ideal rise and texture. But, this can cause the cheese to go brown.
The best way to avoid this is to keep the cheese chilled throughout the prep time. When you're ready to bake, grab the cheese from the fridge, and sprinkle.
Enjoy!
Yeast pizza dough is amazing, but this simple recipe proves no yeast pizza dough can be just as good!
In no time at all, and with hardly any ingredients, you can have a tender pizza crust, a sturdy pizza base, and an easy pizza dinner that everyone will love.