When you have baked a stunning cake, you want to make sure that it looks just as good upon arrival as it did when you finished decorating it.
That may mean finding the right cake box for optimum delivery complete with a lid.
For a commercial baker, you may even want to look into cake shipping. 
Some cakes need to be looked after and may need a cake storage tin to ensure that their storage keeps them in great condition.
Cake storage tins can prove quite a wise investment if you bake regularly.
They should be the appropriate size for the cakes, cookies, or cupcakes you want to bake.
The storage can also be decorative in its own right with a metal patterned outside or a transparent plastic design that lets you see the creation as you move it around.
In this guide, we will look at cake storage tins, cake boxes, cake shipping, and the problems you may face when storing your cake.
Cake Storage Tins
If you are looking to look after your freshly prepared creations then storing them in a tin is typically the best way to do so.
You may be able to shop around and find one in a sale as they can be used over and over again.
Top picks for cake storage tins should be easy to move and remove your cake, such as the Amici Home Maddox Metal Dessert Carrier. 
A set of cake tins is also ideal when you have to prepare cakes of different sizes.
The Juvale Black Marble Metal Tins with Lids are ideal as a set to conveniently package cakes.
Different cake tins can also provide different features such as airtight seals for keeping a cake sponge soft with any cream filling such as cream and jam remaining fresh. 
That should be a big consideration as freshness may be just as important as appearance as it can have an overall effect on the taste.
Whenever you are buying a cake storage tin, it should keep the cake intact and can be typically held upright as you do not want to open it to find the icing on the top has smeared on the underside of the lid.
As well as being decorative in their own right, cake storage tins can also double up as a serving plate to showcase your cake with a top you can click closed then open once it is time to unveil it.
These cake tins should be seen as an investment and their performance for storing cake will not diminish.
Just hand wash them in some warm soapy water and they will be ready to reuse again and again. 
Cake Boxes
Naturally, when you have spent hours over a delicious and stunning cake, you will want to retain the freshness so it seems just as good as when you baked it.
An airtight seal is important and should be a factor that you think hard about.
This could be a friend's birthday cake or a bunch of cupcakes for a special event and there should be a storage option to suit.
The last thing that you want is to suffer damaged or stale cakes and with the right storage, you can make for easy transportation.  
For a special occasion, you should look for a cake box, ideally one with an airtight seal.
These should come with a lid to keep your cake covered and can take the appearance of a large present when decorated appropriately.
However, the size is important as you want your cake to sit in the box with a limited range of movement and if you are worried about your cakes getting crushed, you could try using a small cake tin.
Reversible cake boxes can come with an inner tray providing versatility for storing one large cake box or a series of individual cupcakes. 
For commercial bakers, they also represent the possibility of pickup and delivery.
Again, the size is important as you want a range of cake boxes that can keep up with demand.
They can be easily stored as flat then quickly constructed and it also helps to have a range of sizes if you provide different shapes and sizes of cake.
Also, look out for a handle on the top of the box so you can transport a cake and keep it upright.
Cake Shipping
When you are planning on sending cakes out to friends, family, or paying customers, you may want to consider using cake shipping.
This allows you to send your cakes more conveniently than having to take them yourself.
There are many options available when it comes to cake shipping and looking on a website should give you an idea of the delivery rates as well as how you can include a message.
For friends and family, you may opt for a cake tin if it is likely that you will see them soon enough for them to return it.
A relatively inexpensive option should be a sturdy cardboard box, one that keeps its shape even when in transit and should not add too much to the overall weight.
If you do choose a box, it may be an idea to package the cake properly so there is limited movement inside the box.
That way you can be confident that the cake box can be opened and not reveal a damaged cake.
The Problems With Cake Storage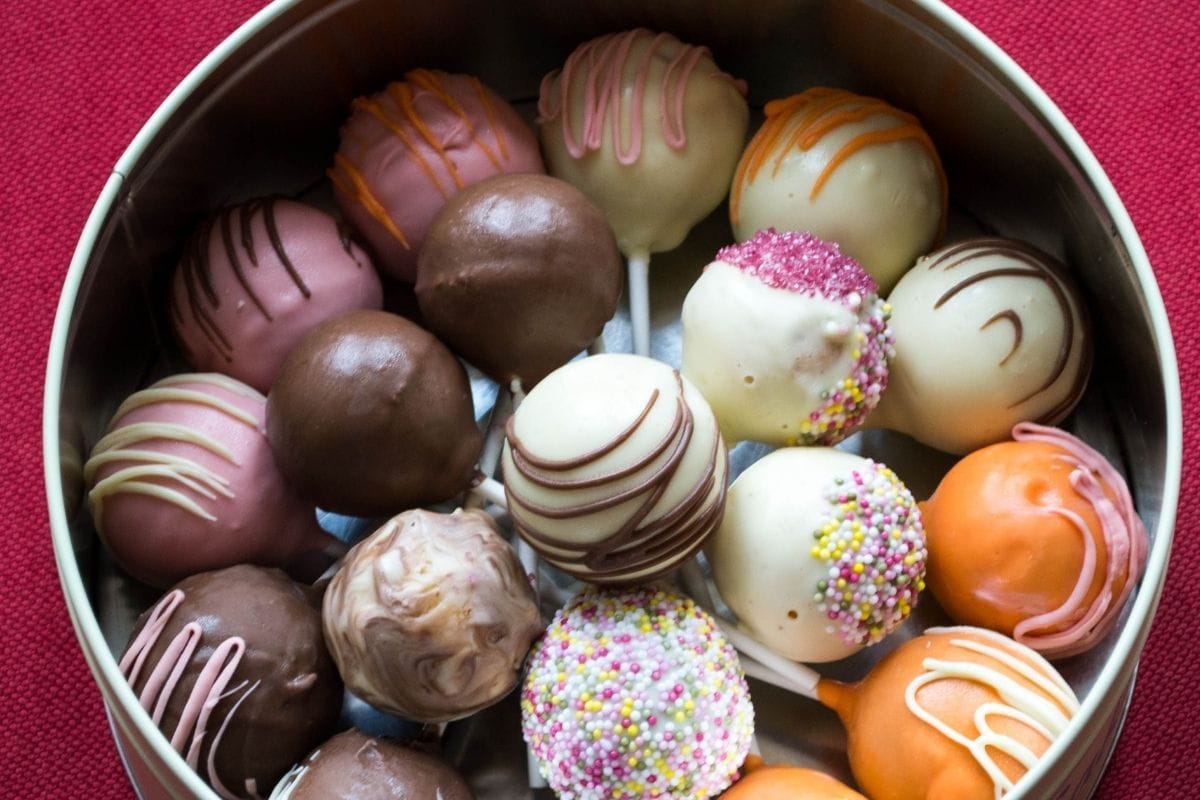 You may have your preferences regarding how to store a freshly prepared cake.
However, the cake tin you have persisted with for years may not be ideal for different cakes.
While some cakes may be ideal in a tin for simply transportation purposes, they can prove difficult when it comes to accessibility.
When you do get to a gathering or party it can become quite tricky to negotiate a cake out of a tin as opposed to simply lifting the lid.
The wrong sized cake tin can also make mean a waste of money.
You may be tempted to reuse a cake tin yet if it is too big then the cake will be moving around and could get damaged.
Making sure that your creation keeps its style is a sign that you have taken the best tips for how to store it properly.
On account of the size, go smaller and search for the right price and the right width.
Certain factors such as a seller who insists that the cake will remain in pristine condition fail to take into account the different shapes and items a baker may sell and ship.
If you do read feedback such as 'too big' or 'the box failed to prevent my gâteau from being damaged' then this is useful to read on a page.
The size and dimensions are important and they will be the sort of detailed information you need to see on any site you should explore the comments to select the right match from the right details.
Cake storage tins are ideal for cakes that simply need storing such as fruit cakes that can keep for months.
These types of cakes will be more durable and easier to grip to pull out of a tin.
Yet for a sponge cake or one with extravagant icing, there may be a compromise for decoration if you have to get your fingers underneath the cake to get it out.
With a cake box, you can build the box around your cake and then dismantle the box when it is ready for unveiling, the design is such that you hardly have to handle the cake at all meaning less potential damage to the decoration. 
Final Thoughts 
The most ideal way to look after the flavor of a freshly baked cake and ensure it remains intact on a journey is to store it properly.
If you are extra concerned about unveiling the cake without damaging it in the process then a cake box may be ideal.
Should you be happy simply storing a cake and keeping it out of harm's way then a cake tin can be durable and a great investment to make.
As long as your cake fits snugly inside with an airtight seal for freshness, you should be able to find the right size and the right storage.
Frequently Asked Questions
What Is The Most Common Size For A Cake Tin?
You can find cake tins of all different sizes yet the most common are 20cm (8 inches) and 23cm (9 inches).
At a smaller size, you can also expect to find an 18cm (7-inch tin).
What Range Of Sizes Should I Have For My Cake Tins?
If you are looking to invest in your cake tins then find a set of three different sized tins from 18 to 25cm in size.
You should also look towards a non-stick loaf tin for loaf cakes and this should be sized around 900g.