Does any cake shout celebration quite like an ice cream cake?
A nice ice cream base, topped with soft and light cake — it's indulgent without being overwhelming, surprisingly easy to make, and incredibly versatile.
Ice cream cake is perfect when you have anything to celebrate!
However, as much as we love ice cream, and we love cake, ice cream cake can sometimes be a little overwhelming.
Who knew "too much of a good thing" was a real problem?
But, we think we've found the perfect solution: carrot cake ice cream cake. It's sweet, light, and contains secret vegetables!
We think this is a genius idea, so we've put together this recipe for carrot cake ice cream cake for you to enjoy.
Can Carrot Cake Be Used In Ice Cream Cake?
Yes, carrot cake goes amazingly well in ice cream cake.
Although they might not seem like the obvious combination, carrot cake ice cream is unbelievably good.
It's quickly become one of our favorite recipes.
The Ice Cream
Obviously, no carrot cake is complete without cream cheese frosting!
We struggled with how to incorporate cream cheese frosting into our carrot cake ice cream cake, because we worried ice cream AND cake AND cream cheese frosting might be a little too sweet.
So, we combined the ice cream and the cream cheese frosting, to make cream cheese no churn ice cream!
It's just right for the carrot cake, and is so easy to make.
If you like things on the sweet side, then go ahead and cover your ice cream cake in cream cheese frosting!
One of the best things about this already simple recipe is that you can make it even simpler.
Just substitute our ice cream with your favorite store-bought flavor, and you can cut out several steps!
The Carrot Cake
The second key element of our carrot cake ice cream cake is, of course, the carrot cake.
The carrot cake recipe below is our absolute favorite, and produces a moist and flavorful cake that's the perfect accompaniment to a big scoop of ice cream.
Carrot cake is a recipe that's surprisingly easy, and even beginners can find success.
How To Make Carrot Cake Ice Cream Cake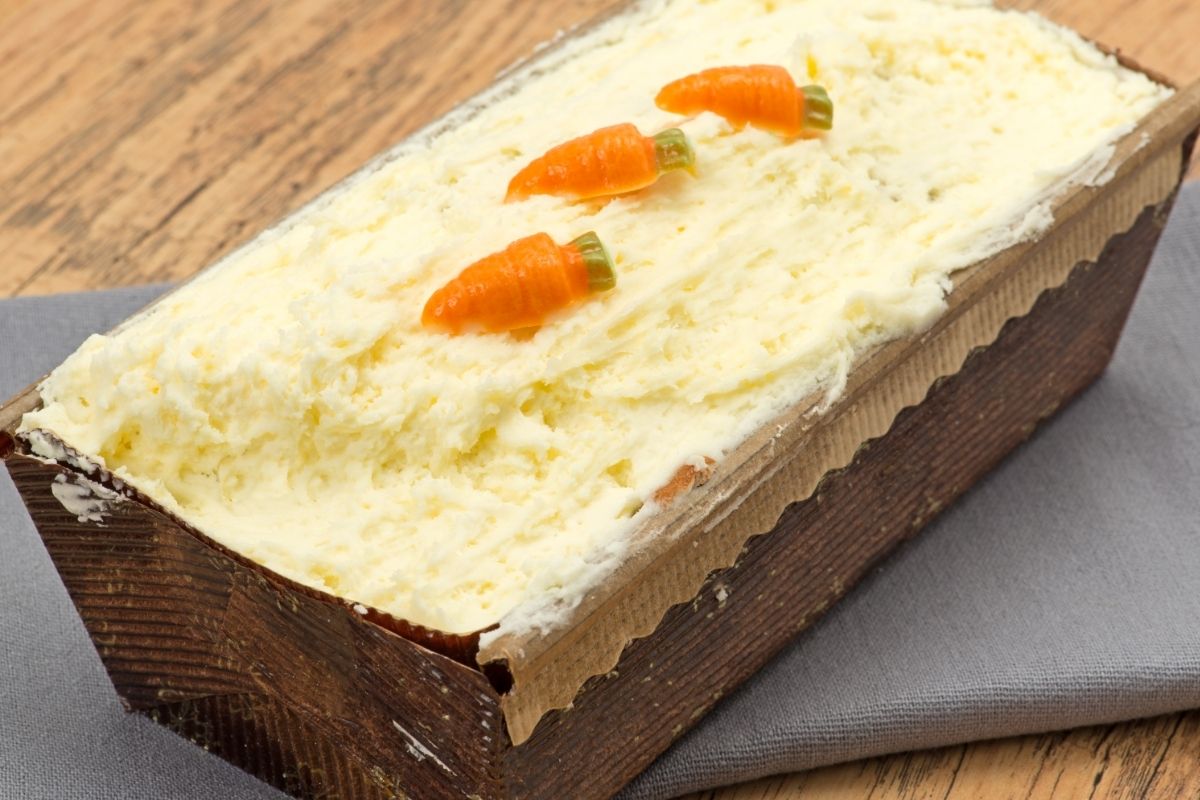 Ingredients
For The Cream Cheese Ice Cream
1 14 ounce can sweetened condensed milk
8 ounces low fat cream cheese
1 tbsp vanilla bean paste
2 cups cold heavy whipping cream
Or use your favorite ice cream!
For Carrot Cake
1 cups all-purpose flour
2 tsp baking soda
1/2 tsp fine salt
1 1/2 tsp ground cinnamon
1 1/4 cup canola oil (or sub other vegetable oil)
1 cup granulated sugar
1 cup brown sugar (lightly packed)
1 tsp vanilla extract
4 large eggs
3 cups shredded carrots (from roughly 5 medium carrots)
1 cup chopped pecans
1/2 cup raising.
Toppings
Shredded coconut
Pecans
White chocolate
Crushed Oreos
Shredded carrots
Instructions
Begin by making the cream cheese ice cream. Using a hand mixer, beat the cream cheese until smooth. We've used low fat, but you can use full fat if you prefer. Once smooth, beat in the condensed milk with the hand mixer.
Using a wooden spoon, stir through the vanilla bean paste, and fold in the whipping cream. Pour mixture into a freezer safe container, seal, and leave in the freezer overnight, until hardened. This is a no churn ice cream and super easy, but you can always substitute with your favorite ice cream! We think vanilla ice cream works well, and pecan ice cream is obviously fantastic.
As the ice cream sets, you can make your carrot cake. Begin by preheating the oven to 350 degrees Fahrenheit. Grease two 9-inch round cake pans, and line the bottom with parchment paper. Grease the top of the parchment paper.
In a medium-sized bowl, whisk the flour, baking soda, salt, and ground cinnamon.
Using a separate large bowl, whisk the oil, granulated sugar, brown sugar, and vanilla, until well combined.
One at a time, add the eggs to the oil and sugar mixture. Whisk well after each egg, to ensure it's fully combined.
Slowly add the dry ingredients to the wet ingredients. Use a rubber spatula to mix the dry ingredients through, making sure to scrape down the sides of the bowl as you work. We recommend doing this in three parts, to ensure a smooth batter.
Mix through the carrots, nuts, and raisins. Make sure they're as evenly distributed as possible, so you'll get some in every slice of cake.
Pour the batter into the two prepared cake tins, and place into the pre-heated oven.
Bake for 35 to 40 minutes. The top of the cake should be springy, and if you insert a toothpick, it should come away clean.
Remove from the oven, and leave the cakes to cool in their pans for roughly 15 minutes. Then, transfer the cakes to a cooling rack, and remove the parchment paper from the bases. Leave the cakes to cool completely.
Now you're ready to layer your ice cream cake! Remove ice cream from the freezer several minutes before you start, so it can soften for spreading.
Line a round cake pan with plastic wrap, with plenty overhanging the top. Place a layer of carrot cake at the bottom, and create a thin layer of ice cream using half the cream cheese ice cream. Top with the second carrot cake, and finish with the rest of the ice cream.
Wrap the plastic wrap across the top of the cake, and freeze for several hours, preferably overnight.
When you're ready to serve, remove from the freezer, gently peel away the plastic wrap, and place on a serving plate.
Decorate with any toppings you like! We enjoy shredded coconut and pecans, but you can use whatever you prefer. Why not crushed Oreos? Or golden raisins? White chocolate is another good choice, or you can up your veg intake by decorating with shredded carrots. You can even add cream cheese to the top and sides! Serve immediately.
Final Thoughts
Carrot cake ice cream cake is sure to become a family favorite, especially as you can adapt the recipe to suit everyone's tastes.
And don't forget to go wild with the toppings! They can transform your ice cream cake into a total party.