It used to be that if you wanted homemade ice cream, you had to prepare for a long day and a lot of hard work. All that churning meant that for most of us, it just wasn't worth the effort.
But no churn ice cream is one of the easiest, and most delicious, desserts you can make! Just three ingredients come together to create a creamy and refreshing treat for a hot day, and it's super versatile.
Once you've discovered no churn ice cream, you'll want to make it all the time. So, take a look at this recipe, grab your favorite toppings (hello, chocolate chips!), and get making!
What Is No Churn Ice Cream?
Traditional creamy ice cream requires a lot of preparation, an egg custard base, and the kind of care and attention usually reserved for newborns. It's a serious hassle, and most of us don't have the time!
The other option is to use an electric ice cream maker. This does the churning and whipping for you, but it's fairly fancy equipment. We don't all have the money (or counter space) for an ice cream machine.
No churn ice cream is the perfect solution. Using a simple three ingredient base, making ice cream is easier than ever.
Can You Make Homemade Ice Cream Without An Ice Cream Maker?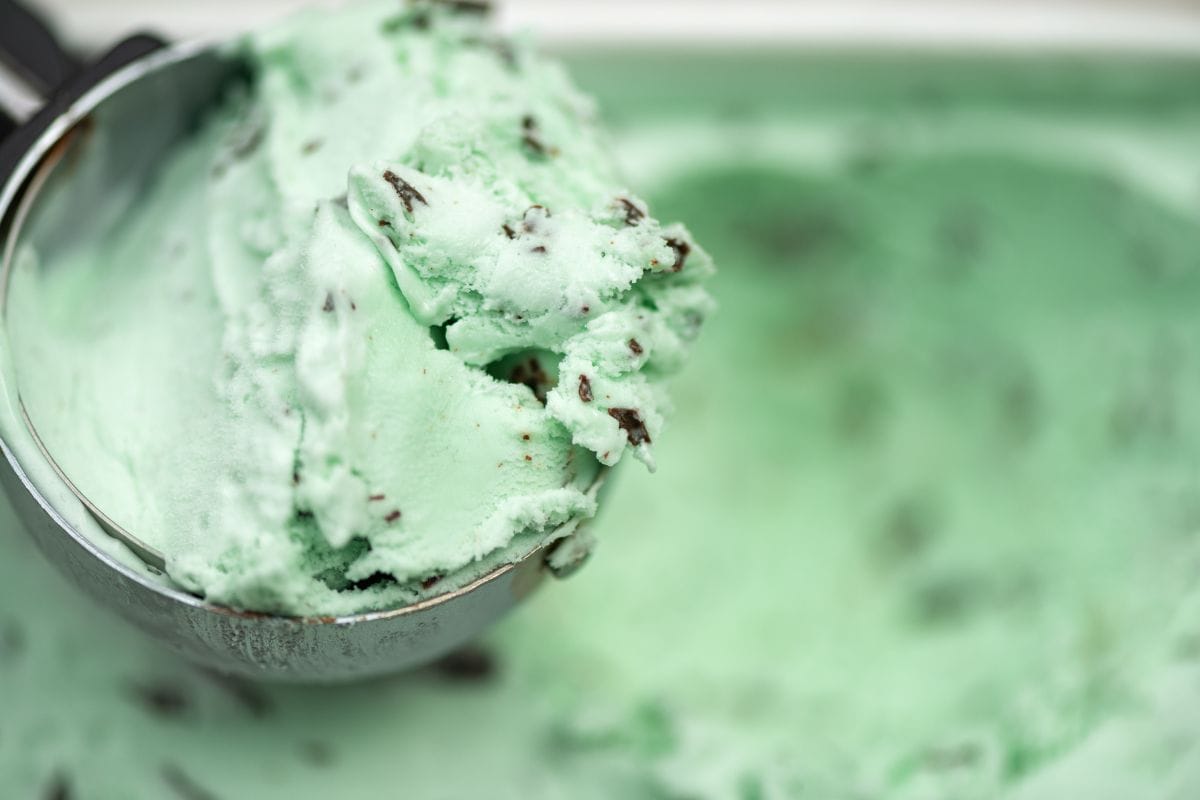 Yes, you can make homemade ice cream without an ice cream maker!
The key is to whip the cream into stiff peaks, and gently fold through the condensed milk. The ice cream keeps its creamy texture, and you save hours of work.
A delicious dessert, with no ice cream maker required.
No Churn Ice Cream Ingredients
One of the best things about this no churn recipe is that it requires a tiny list of ingredients. All you really need is three things: heavy whipping cream, sweetened condensed milk, and vanilla extract!
Heavy Whipping Cream
Heavy whipping cream is the base of the no churn recipe. The heavy cream is whipped into stiff peaks, providing a light and airy texture that stays even as the ice cream freezes.
Sweetened Condensed Milk
Sweetened condensed milk has a high sugar content, which lowers the freezing point, and a low water content, which stops ice crystals from forming.
Vanilla Extract
Vanilla extract adds a touch of fragrant richness to the sweetened condensed milk mixture. Vanilla extract is easiest, but you can use vanilla bean paste if you prefer.
With just these three ingredients, you can make delicious homemade vanilla ice cream.
Flavoring
Now for the fun part! You can add a variety of flavorings to your vanilla ice cream base, to make your perfect no churn ice cream. The flavor possibilities are endless.
Or, you can keep it simple! Serve a scoop of vanilla ice cream with fresh strawberries and a drizzle of caramel sauce.
Flavor Ideas
This homemade ice cream recipe is super adaptable, and you can dress it up with all your favorite flavors. And because it's no churn ice cream, it's easy to experiment with.
Here are some other flavors to get you started.
Cookies And Cream
Crush Oreo cookies using a food processor, and stir through the ice cream base with mini chocolate chips.
Mint Choc Chip
Add a light splash of peppermint extract, some fresh mint leaves, and chocolate chunks.
Peanut Butter
Mix creamy peanut butter to the sweetened condensed milk, and stir through some chopped peanut butter cups. You can even finish with a sprinkle of toasted peanuts!
S'mores
Chop Graham crackers and chocolate into chunks, and stir through the ice cream with some mini marshmallows.
The Hawaiian
Not ham and pineapple like the controversial pizza! Instead, add pineapple chunks, toasted coconut, and macadamia nuts.
Birthday Cake
Mix through a handful of colorful sprinkles, and some chopped pieces of sugar cookie.
No Churn Ice Cream Recipe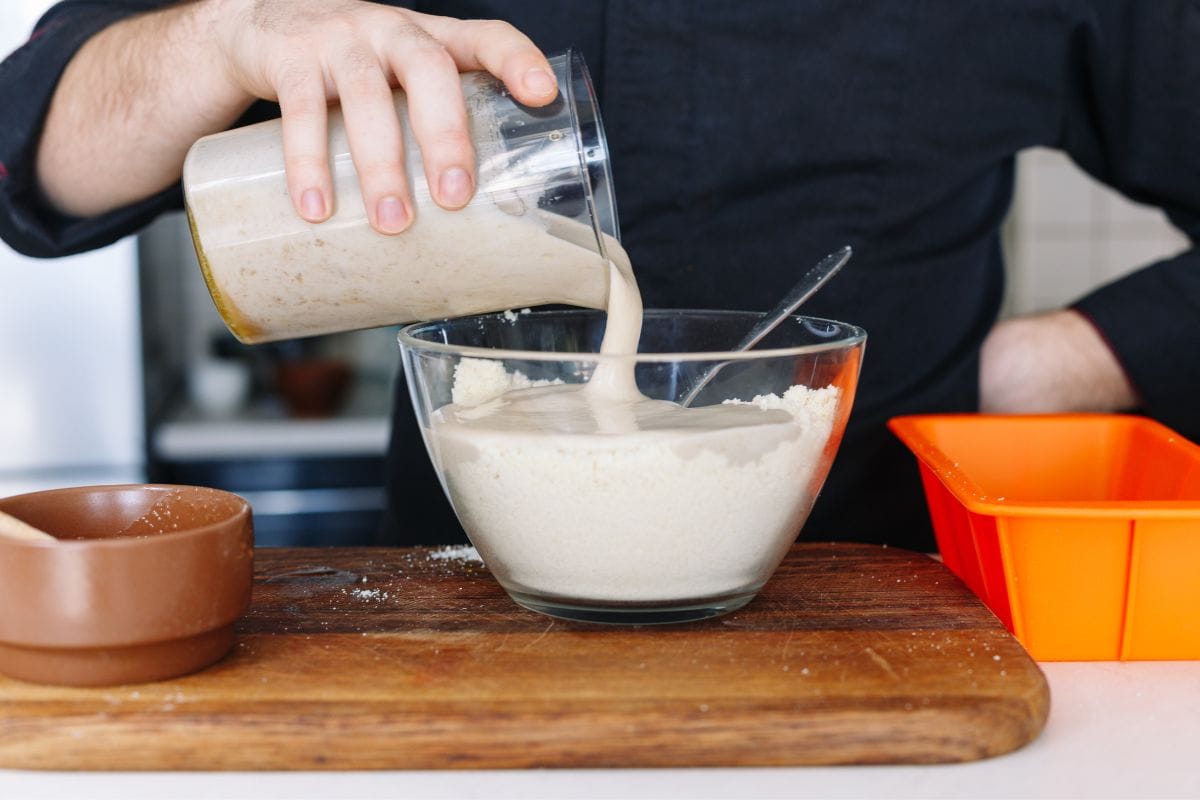 What You Need
2 cups heavy whipping cream
14 ounces sweetened condensed milk
1 tsp vanilla extract or vanilla bean paste
9 x 5 inch loaf pan
Step One
Begin by putting your loaf pan in the freezer. Metal tins work best as they freeze quickly.
Step Two
Using a medium bowl, mix together the sweetened condensed milk with the vanilla extract. Whisk until well blended.
Step Three
In a large bowl, whisk the heavy cream until stiff peaks form using a stand mixer. An electric mixer is best, but you can whip by hand.
Step Four
Add a cup of whipped cream into the condensed milk and stir.
Step Five
Add the condensed milk mixture to the whipped cream, and gently fold. Fold until no streaks remain, but keep as much air as possible.
Step Six
Gently fold through any mix ins you might be using.
Step Seven
Transfer the ice cream mixture to your frozen prepared pan. Spread the ice cream evenly through the pan.
Step Eight
Freeze for at least 4 hours, until very firm.
Step Nine
When you're ready to eat, take the ice cream out of the freezer and leave it to stand for just a few minutes, so it can soften.
Step Ten
Scoop, and enjoy!
Can You Make Dairy Free No Churn Ice Cream?
Yes, you can make vegan, dairy free no churn ice cream, but it is a little more complicated.
Instead of sweetened condensed milk and heavy cream, you need to use coconut cream, pitted dates, and unsweetened almond milk.
Blend 14 ounces of pitted dates until small, and then mix with hot water to form a paste.
Whip the cream from 2 cans of coconut cream until smooth, then add half the dates, a teaspoon of vanilla extract, and 1/2 cup unsweetened almond milk.
Whip until incorporated, and add date paste to taste. Then freeze and enjoy!
Final Thoughts
Creamy, delicious, and super adaptable, no churn ice cream is a must for any special occasion or hot day. And best of all, you only need three ingredients, and the freezer does most of the work!
Try making your own no churn ice cream, and discover your favorite flavor combinations.