This alcohol-infused fudge has a fantastic almond taste and a really creamy consistency.
An incredibly easy chocolate fudge is given an extremely creamy texture as well as flavor by the addition of 2 teaspoons of amaretto.
Fudge is a great sweet treat that a lot of people love to make and give as gifts.
If you love amaretto, then you need to try this. It may start with a chocolate fudge recipe base, but the addition of amaretto makes it really special.
In this article, we will be discussing everything revolving around amaretto fudge.
What Is Amaretto Fudge Made Of?
Milk chocolate chips are combined with sweetened condensed milk in this sweet treat.
Two ounces of Amaretto liqueur and vanilla extract are added once the condensed milk and chocolate chips have melted together.
These extra fluids help to make the fudge especially soft and fudgy.
To give it some crunch and an extra almond kick, you could sprinkle some toasted almonds on top. 
The Amaretto doesn't overpower the flavor of the fudge, either.
Rather, it hits you as a final note, just like the genuine thing. Almond extract can be used in this if you don't drink alcohol. 
As a result, with only a handful of ingredients, you can create a batch of this mouth-watering amaretto fudge. Which can be made using only one saucepan.
Amaretto Fudge Recipe
Step 1: Gather a square 8×8-inch pan and line it with aluminum foil.
Step 2: In a medium pot with a heavy bottom, combine 1 can of sweetened condensed milk and 3 cups of chocolate chips.
Step 3: Stirring constantly, cook over medium heat until chocolate chunks are melted.
The temperature might have to be lower depending on how quickly the chips are melting.
Step 4: Once melted, remove from the heat. Now you can add 2 tablespoons of amaretto, 1 teaspoon of vanilla, and 1/4 teaspoon of almond extract.
Step 5: After adding the flavorings, you can pour the mixture into your prepared pan.
Fill the pan to the top, as the fudge doesn't rise. Make sure the top is smooth and sprinkle almonds as a finishing touch.
Step 6: Finally, place in the refrigerator overnight or for at least four hours.
To remove the fudge from the pan, lift the foil's edges and fully remove the foil. Then cut the fudge into squares.
Amaretto Fudge Variations
You will find that the most popular recipes will start off with a chocolate fudge base.
However, that doesn't mean you have to use milk chocolate.
Instead, create two mixtures, one with milk chocolate and the other with white chocolate.
Then you can create a swirl fudge using white chocolate mixed with red food coloring and milk chocolate fudge. Use a butter knife to swirl the two fudge mixtures together.
Which will then create a marbled effect. Or leave the food coloring out and create a brown and white fudge instead.
The almonds on the top add a great finishing touch. However, these chocolate amaretto fudge look great by themselves.
Although, the almonds offer another texture that really compliments the smooth fudge.
Does Fudge Need Evaporated Or Condensed Milk?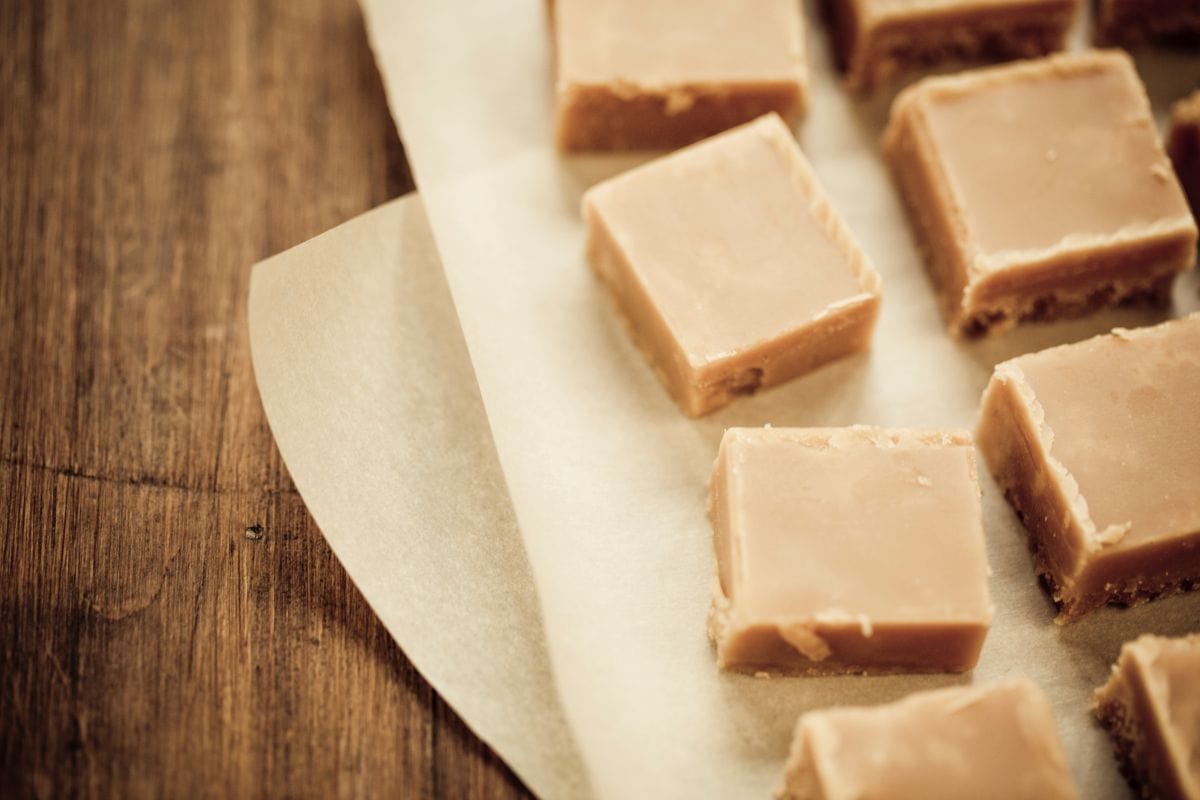 Condensed milk, is renowned for its thick texture and creamy flavor.
It is the ideal ingredient to use when preparing fudge. Evaporated milk can be used in place of condensed milk if it is unavailable.
Alternative sweeteners will need to be used, such as sugar. The fudge will still have a similar consistency and flavor when evaporated milk is used, but naturally, it won't be as sweet compared to recipes using condensed milk.
Alongside that, when you use evaporated, this is known as the quick method to making fudge.
Hence, the recipe takes very little time, and you are guaranteed delicious amaretto fudge in no time.
Especially, as there is no need for a candy thermometer, so anyone can make this simple recipe.
What Is Russian Fudge Made Of?
Russian fudge was first made in Scotland and England, not at all in Russia.
It is a fudge without chocolate that gets its smooth, fudgy texture primarily from sweetened condensed milk, butter, and golden syrup.
Golden syrup is removed to create a form of fudge known as tablet, which is a little tougher and sweeter.
Russian fudge can be made in a variety of ways, some of which involve whiskey, nuts, and flavoring extracts. Russian fudge often uses golden syrup as its flavor.
This honey-colored sweetener is merely a lighter variation of the well-known British confection known as treacle.
Russian fudge has a solid, yet pliable texture thanks to butter and sweetened condensed milk.
Typically, recipes ask for 1 part of butter, 1 part of sweetened condensed milk, and 1 part of regular milk.
The majority of recipes call for whole milk, however, bakers can also use kinds of milk with as little as 1% milk fat.
However, skim milk is typically too thin to aid in the fudge coming together properly and may result in a somewhat sloppy confection.
What Is Vegan Fudge Made Of?
Fudge is typically not vegan-friendly since milk and butter, two of its three main ingredients, are dairy products.
As a result, you can make any fudge vegan by using vegan substitutes such as soy milk. However, any type of plant milk will work well.
Conclusion
Amaretto fudge is a delicious treat to make during the holidays. This boozy fudge will become one of your new favorite recipes.
It is extremely easy to make and uses only a handful of ingredients such as vanilla extract and almond extract. There are various recipes out there for you to try.
We hope this article has been useful and given you a better understanding of amaretto fudge.