Yes, typical baked goods like peanut butter cookies are great but Snickers stuffed candy cookies are a step up. You will need some miniature Snickers, creamy peanut butter, and brown sugar yet these are really easy to bake.
Sometimes, dessert cuisine can simply seem too much effort. Cookie recipes provide a nice way into creating baked goods as you can create your own variations.
In this guide, we will look at a recipe for Snickers Stuffed Peanut Butter Cookies. This will include the right peanut butter, using baking soda, using a miniature Snickers bar, and the importance of brown sugar.
The Right Peanut Butter
When you spot peanut butter in the grocery store, there are so many options to choose from. You may have your preference yet go for regular peanut butter.
Nothing too sweet, nothing overly precious but peanut butter that you can beat butter with white sugar, and lightly packed brown sugar in a large bowl. The right peanut butter should also work well with an electric mixer when you add eggs.
The Importance Of Brown Sugar
While you will be using plain sugar for the recipe, brown sugar is really important. If you were to simply use one sugar, the cookies would either be far too sweet or dark.
The brown sugar combines with the salt for a lasting, moreish flavor and keeps the peanut butter cookies soft.
Using Baking Soda
The baking soda will add some rise to your cookies so combine it with the vanilla extract, milk, and salt. Gradually add the all purpose flour until a dough forms.
Chill the dough for around half an hour then follow the instruction to 'preheat oven to 350°F' while you use some parchment paper to line two cookie sheets.
A Winning Peanut Butter Cookie Recipe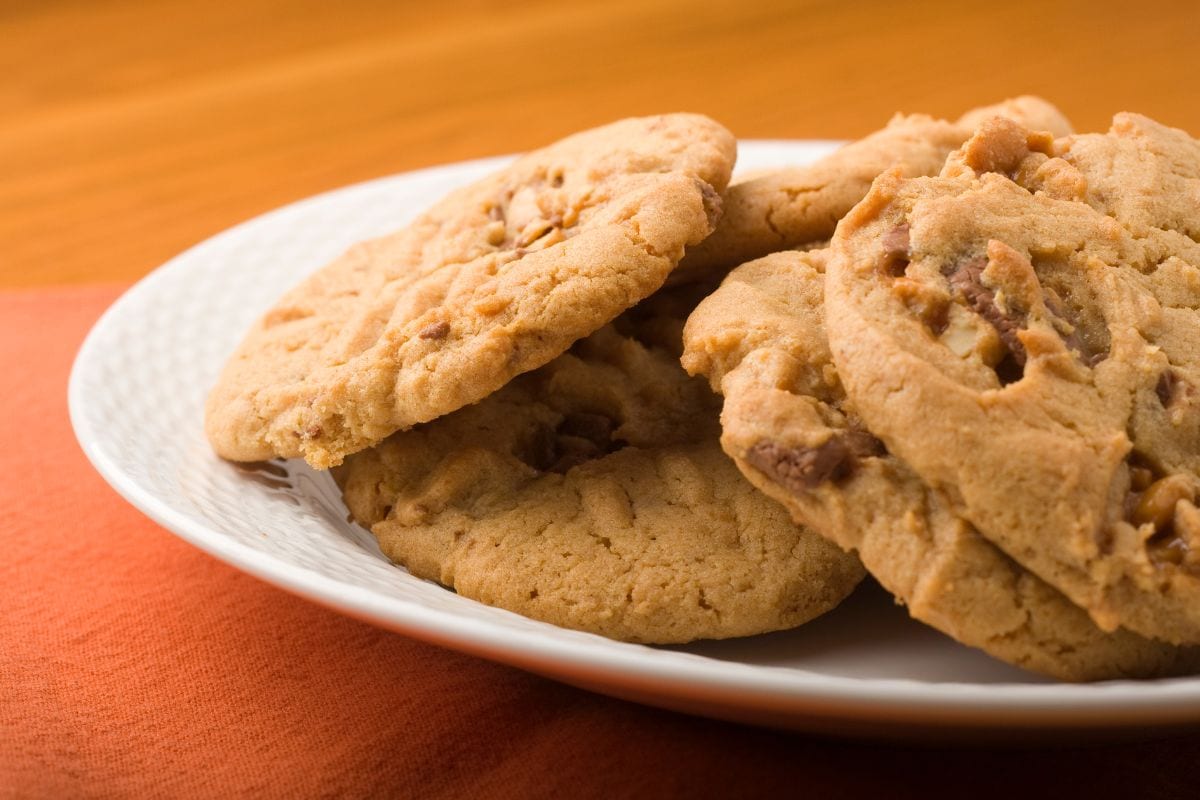 While you may be experienced in creating peanut butter cookies, you do need to get the ingredients right. That means unsalted butter so you try the right amount of salt for the cookie dough.
Regular peanut butter should be fine as long as it is smooth and not crunchy.
Use the right vanilla flavor as too much can overdo the recipe. Use a measuring cup for the all purpose flour as you may want to gradually add it in to get the right amount.
The baking soda is an essential ingredient to get the peanut butter cookies to rise and then spread. Only mini Snickers bars are worth getting, the full-size Snickers will be too big.
You may want a separate bowl to combine flour with baking soda, baking powder, and salt. Use a whisk to mix it up in a large mixing bowl then add it to the butter mixture.
Make sure you only mix it just enough as overmixing could ruin them before they have had a chance to bake.
Using Miniature Snickers
Create dough pieces from tablespoon portions then press them in your hand until flat. Place the mini Snickers into the center then carefully wrap the dough around it for dough balls.
On a cookie sheet, place each one around two inches apart then use a fork for your fun size patterned batch of Snickers Stuffed Peanut Butter Cookies. Remember, if you stuff cookies with mini Snickers then it should stay in the middle and not leak onto the baking sheet.
Bake Them Right
You only need to bake these Snickers Stuffed Peanut Butter Cookies for between 13 and 16 minutes though it could be less than that. When they are ready, the baked goods should be golden brown on your baking sheet.
You could rotate the pan halfway through to make sure they bake evenly as this is a reliable peanut butter cookie dough. Leave them to cool completely before you remove them from cookie sheets, whether you put them on a cooling rack or not.
After The Cookies Cool
If you do want to store these Snickers Stuffed Peanut Butter Cookies then leave them to cool completely first. You could even store the dough separately to bake a batch fresh as they do not take long. However, with a finished batch, you can store them in an airtight container. They can even be frozen in Ziploc bags.
If you have any remaining dough but no mini Snickers pieces then you could use a freezer bag for another time. Leave it to defrost and then form it into dough balls when you are ready.
You could also use an airtight container to chill dough but use it in a few days.
Final Thoughts
Use creamy peanut butter for these Snickers Stuffed Peanut Butter Cookies as the mini Snickers will provide that crunch in the middle. The Snickers candy bar has that moreish taste which can be balanced out with granulated sugar.
You want to create soft peanut butter cookies so cream butter well and the baking soda will provide a rise.
Unsalted butter is always a good option as you can control the taste by adding as much, or as little, salt as you want. Salted butter can work but it becomes a little difficult to work out how much salt goes into the flour mixture.
Balancing the flavors of candy bars with creamy peanut butter can be tricky so ensure that you follow the recipe and measure out ingredients like granulated sugar, vanilla, and flour. Sure, peanut butter cookies are great on their own but combined with candy bars, especially Snickers bars, creates a taste sensation.
Frequently Asked Questions
Why Do These Snickers Stuffed Peanut Butter Cookies Work So Well?
Put frankly, candy stuffed into peanut butter cookies is a lot of a good thing but not too much. These Snickers Stuffed Peanut Butter Cookies are relatively easy to do and even easier with some ready-made dough.
Plus, we all know that peanut butter and chocolate are a winning combination.
What Guidelines Should I Follow For Making These Snickers Stuffed Peanut Butter Cookies?
To get the golden brown color, you need to use brown sugar in the butter mixture with an electric mixer. Be gentle with the cookie dough as the flour mixture can be tough but it does not need to be overmixed. Simply combine the wet and dry ingredients.
Pay attention to the baking time too as you do not want to overbake these peanut butter cookies.