Introduction
Ever went to make cookies and realised you're all out of butter? It happens to the best of us, but you don't need to pack all the ingredients away as making cookies without butter is easier than ever.
There's tons of delicious recipes out there that don't require you to bake cookies with butter.
There's so many different options of substituting butter out there that a lack of butter shouldn't be a concern. Here are a few amazing recipes that don't require you to use butter in them.
Soft Brown Sugar Cookies Without Butter
This is a super easy recipe to serve up soft cookies using simple ingredients and since there's no butter involved, they're dairy free!
If you have a sweet tooth, these are the cookies for you. These delicious sugar cookies without butter will become a fast favorite in your household, so what's the recipe?
The ingredients are super simple, and you should have them lying about in your house.
Oil
Since this recipe is butter free, you'll need a butter substitute.
You can use canola oil, vegetable oil, coconut oil or olive oil, but if you're using coconut oil make sure that it's refined, unless you want a coconut flavor to them.
Brown Sugar
Either dark or light brown sugar can be used for this recipe, dark brown sugar will give the cookies a deeper brown color and the molasses in the dark brown sugar will make them chewy cookies.
White Sugar
You'll need white sugar to roll the sugar cookies in before you place them on the baking tray.
Eggs
For the egg, you'll only need one egg with the yolk. But if you're a vegan, or would just rather not use an egg, you can make this cookie recipe with soy flour instead.
Just add 1 tablespoon of soy flour to the cookie mixture and then add 1 tablespoon of water to make wet ingredients.
Or you can use a flax egg. Just use 1 tablespoon of flax meal mixed with 2.5 tablespoons of water. Let this sit for a few minutes to thicken and use this in the cookie recipe in place of the egg.
Other Ingredients
You'll also need flour, this can be all purpose flour, gluten free flour, wheat flour or whole wheat flour, baking powder (instead of baking soda), vanilla extract and salt.
Some extra ingredients you can use are almond extract, butterscotch chips or regular chocolate chips.
How To Make Soft Brown Sugar Cookies
To make this awesome recipe, you'll need to firstly mix the dry ingredients together followed by mixing the wet ingredients in a large bowl that is separate and then add both of these together.
Next, scoop the cookie mixture with a cookie scoop and create dough balls and then place these on parchment paper or a baking sheet, the baking sheet ensures they won't stick.
Bake at 375 degrees for 5-7 minutes, you'll know they're done once they begin to crack at the top and the edges are slightly browned, then let the cookies cool.
To store your sugar cookies, place them into an airtight container to keep them soft and chewy. That's all to make these delicious sugar cookies.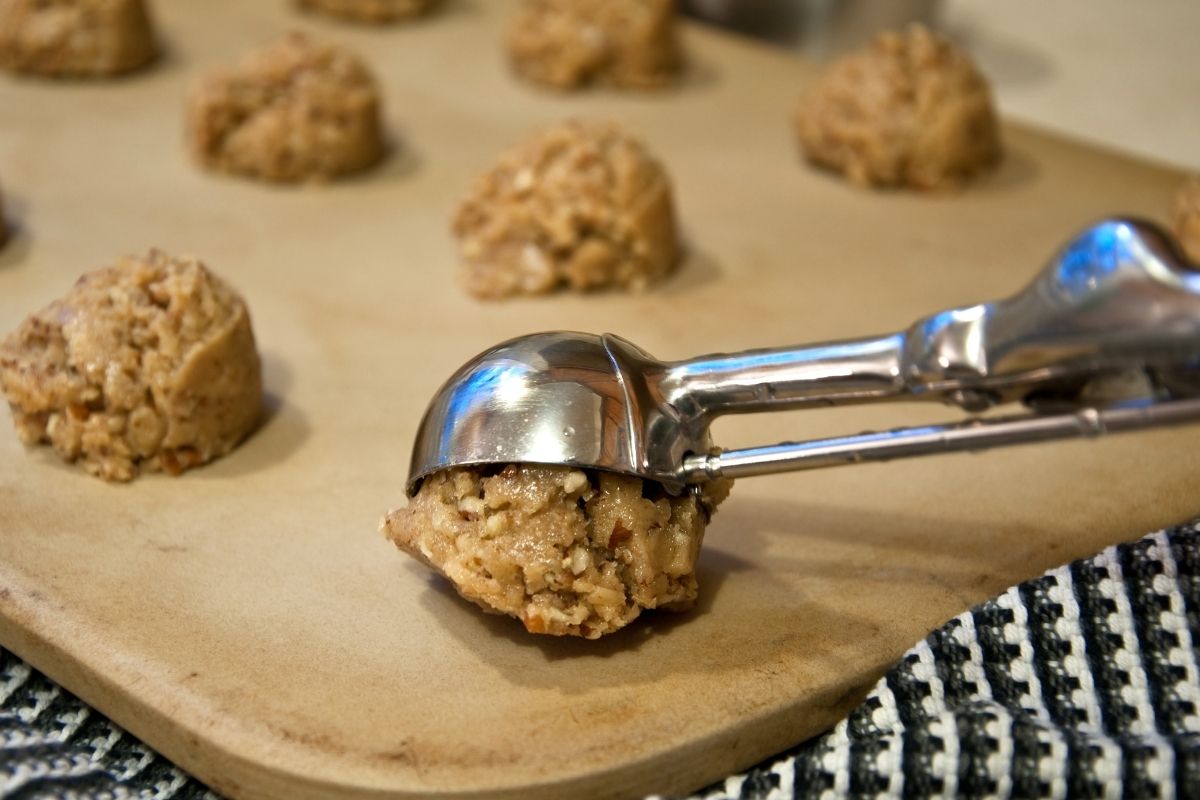 Butterless Chocolate Chip Cookies
To make these delicious homemade cookies, you'll need the following ingredients:
2 1/2 cups all purpose flour
1 tsp baking soda and 1 tsp baking powder
1/2 tsp salt
3/4 cups vegetable oil
1 1/4 cups brown sugar
2 eggs
1/2 cup white sugar
1 tsp almond extract
1 tsp vanilla extract
2 cups chocolate chips or chunks (you can use white chocolate chips, vegan chocolate chips or just regular chocolate chips)
You'll want to use oil to replace the butter in this cookie recipe.
You can use most oils like canola oil, coconut oil, olive oil or vegetable oil, and the best is vegetable oil since everyone should have it lying around in their kitchen, it also has a neutral flavor, so the cookie flavor won't be affected, it's never been easier making chocolate chip cookies.
The Recipe For Butterless Chocolate Chip Cookies
Preheat your oven to 350 degrees.
Mix the dry ingredients of the flour, baking soda, baking powder and leave it to one side.
Then in a mixing bowl, mix the oil, brown sugar and white sugar.
Beat the eggs one at a time and add the vanilla and the almond extract.
Add the two mixtures together and fold in the chocolate chip.
Using a cookie dough scoop, scoop cookie balls and place them on parchment paper or a baking sheet, with enough space for them to expand.
Let them bake for 8-9 minutes
Snickerdoodle Cookies Without Butter
Snickerdoodle cookies are a staple in most households, they usually make us nostalgic due to our grandparents making them.
You'll be pleased to know that this cookie recipe is butter free and they might even be more delicious!
What You'll Need For This Cookie Recipe
1 1/2 cups white sugar
1 cup vegetable oil
1 tsp vanilla extract
2 eggs
3 cups flour
1 tsp baking soda
1/2 tsp salt
1 1/2 tsp cinnamon
Preheat the oven to 375 degrees.
Mix the oil, vanilla, sugar and egg into a large bowl until the consistency is smooth. Then add the flour, baking soda, salt and cinnamon to form a thick dough.
Form the mixture into dough balls and roll them into the sugar coating (or you can use powdered sugar).
Place on a baking sheet with enough space for them to expand.
Bake for 8-10 minutes, until they're slightly browned on the bottom.
If you wish to store them, use an airtight container.
Final Thoughts
These amazing cookie recipes are super easy to make and can all be made without butter.
Whether you're making butterless chocolate chip cookie, snickerdoodle cookies or just a cookie recipe that you've made yourself, they're sure to be delicious.