It's official: Biscoff is back and better than ever! While you can use many forms of Biscoff in various desserts, today we will be using Biscoff spread to make some tasty and sweet Biscoff Pretzel Bites dipped in White Chocolate.
These treats are so delicious that you might not be able to resist them once you had the first bite!
While coated pretzel nibbles with peanut butter and milk chocolate are a staple in many kitchens, you may be fancying a change, which is where this recipe comes in.
It's fun to try new things, which is why this recipe calls for the use of Biscoff Spread and white chocolate rather than peanut butter and milk chocolate.
Biscoff and white chocolate is a combination that has been used in desserts ever since Biscoff was created, so you can be sure that this recipe will create a taste sensation that is irresistible to everyone.
These small pretzel treats need very little effort on your part to put together. One of the best parts of this recipe is that you don't need to use any heat at all.
That means that you don't need to have your oven on at all, making this an ideal summer treat for when you don't want to overheat your home with hot units or devices.
The filling is made with tasty Biscoff Spread, butter, brown sugar, and vanilla extract as the essential ingredients. After that, the filling is served sandwiched between two pretzels.
Because the pretzels need to be frozen for around half an hour before they can be dipped in chocolate, you need to prepare slightly beforehand before you start making the bulk of this recipe.
These mouthwatering pretzels are a crowd pleaser and are enjoyed by people of all ages. If you are looking for a snack that is not only delicious but also easy to create, you should try making these white chocolate biscoff pretzel bites.
They are an outstanding sweet treat that works wonderfully for get-togethers, gaming days, movie evenings, or even simply nibbling all day long.
Biscoff Cookie Butter Pretzel Recipe
Ingredients
This is a very simple recipe to make, so you will probably have a lot of the following ingredients in your fridge or pantry already. If not, they can be easily funded in any store.
You will need:
Biscoff Spread – 1 cup
White chocolate chips – 2 cups 
Butter – 2 teaspoons (preferably at room temperature)
Vanilla extract – 1/4 teaspoon
Powdered sugar – 1/2 cup
Pretzels – however many you want 
Brown sugar – 3/4 cup 
Sprinkles – optional but adds a pop of color!
Method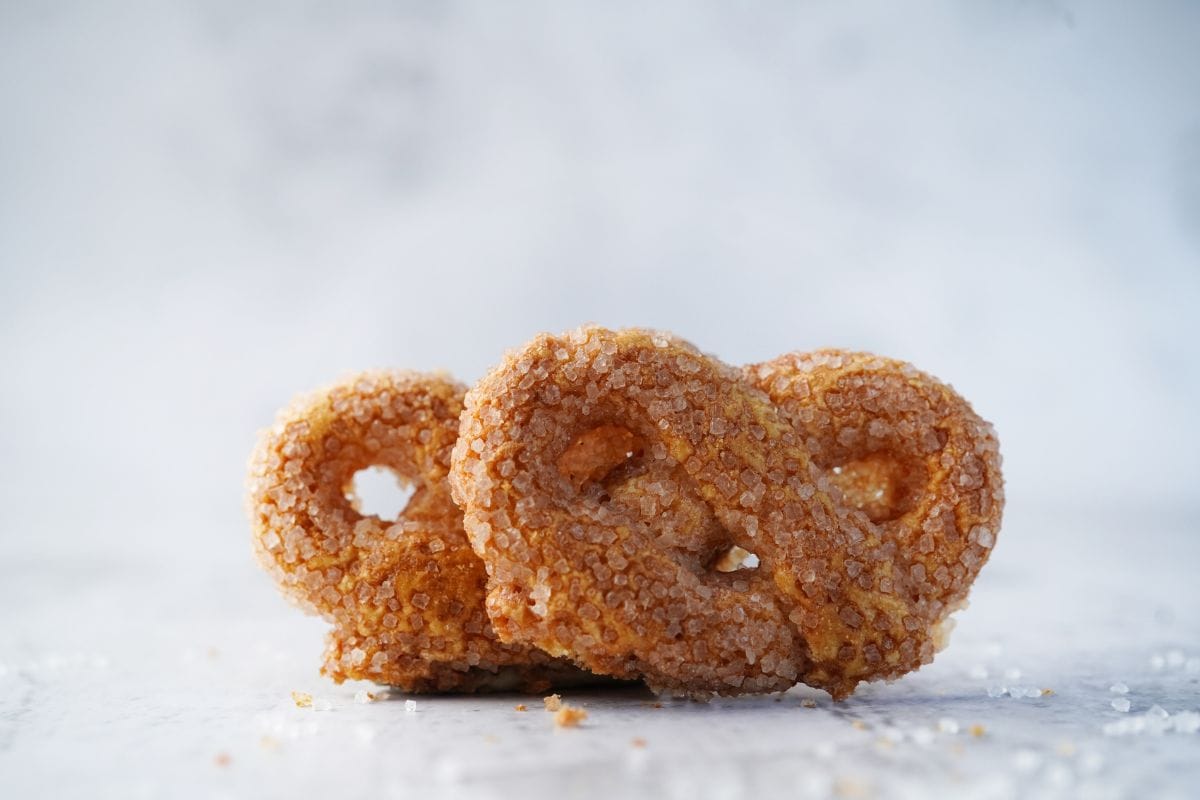 Here are the very easy steps to making this Biscoff butter pretzel recipe.
In the bowl of an electric stand mixer, combine the Biscoff Spread and the butter. The butter should be at room temperature, as this makes it easier to mix and combine with the Biscoff and the rest of the mixture later.
Beat the mixture at a medium speed until it is completely smooth and creamy.
While this recipe can still be made if you do not have an electric mixer by mixing it by hand instead, this may make the process a bit more difficult and tiring. It may also take a bit longer, but it is defiantly possible!
After the Biscoff and butter mixture has become smooth, it is time to add the other ingredients like powdered sugar, light brown sugar, and vanilla extract.
After this, the mixture should begin to become doughy. Once this happens, use some spoons to make little balls out of the mixture.
If the dough does not roll into balls easily and cleanly without clinging to your hands or the spoon, try adding a little bit more brown sugar and powdered sugar and mixing it once more. This should not change the flavor too much and will make the whole process of rolling the dough into balls a lot easier.
After you have rolled the Biscoff mixture into balls using a level measuring teaspoon's worth of the ingredient, you need to put these in the pretzels. After arranging the mixture between two pretzels, transfer it to a dish or a baking sheet. Put the sandwich bites into the freezer for thirty minutes.
Just before you take the mixture out of the freezer, melt the white chocolate chips by using either a double boiler or a microwave to melt them at 30-second intervals.
Coat one end of the pretzel with this melted white chocolate. Put the tray back in the freezer, and wait for the chocolate to get firm. For an added pop of color, put some rainbow sprinkles on top!
Keep the Biscoff Pretzel Bites in the refrigerator until you are ready to serve them. This is the best way to preserve their freshness.
Top Tip
If you are grocery shopping, you may find that finding Biscoff spread is a bit difficult. You can typically find Biscoff spread around where the peanut butter is located.
It can also be readily bought online from retailers like Amazon if you are really struggling to find it in stores.
If you are in the mood for some fun and color, after dipping the pretzels in the melted white chocolate chips, dip them in a bowl of rainbow sprinkles.
Sprinkles elevate the quality and fun of any dish. It makes these pretzels brighter and prettier and makes them perfect to serve at parties or events.
Summary
Biscoff cookie butter pretzels are a deliciously tasty treat that is super easy to make and only takes a few ingredients that you probably already have in your kitchen or pantry.
Perfect for parties, events, for a picnic, or as a sweet snack after a long day, give the Biscoff cookie butter pretzels recipe a try!