Regular cookie dough isn't safe to eat raw. Although, let's admit it that, a lot of us have been tempted to eat the raw cookie dough growing up.
However, there is a way to make edible cookie dough that won't make you ill.
With edible cookie dough, more and more bakers have considered whether you can bake this cookie dough to make actual cookies.
In this article, we will be going into more detail about whether you can bake edible cookie dough.
What Happens When You Put Edible Cookie Dough In The Oven?
Edible cookie dough tastes delicious by itself, but you may have wondered what happens when you put this mixture into the oven.
When placed into the oven, the edible cookie dough becomes cookies.
However, it is important to note, that edible cookie dough doesn't contain any leavening agents like baking soda, therefore, the cookies that are produced aren't amazing.
They are edible, but the cookies end up spreading out a lot and having a dense texture. However, they do still taste like a normal cookie.
All you need to do is create small cookie dough balls and place them onto a baking sheet that is lined with baking parchment paper.
This is so the dough won't stick while cooking. Then you need to pop the dough balls into a preheated oven at 350 degrees Fahrenheit for 8 to 10 minutes.
Once, the dough has become golden brown around the edges, the cookies are ready to come out and cool.
How Should You Store Edible Cookie Dough?
As you can see, you can use edible cookie dough to make dense and flat cookies. In addition to that, you can just enjoy edible cookie dough raw as well.
The choice is yours, but it is best to store your edible cookie dough in an airtight container.
Edible cookie dough can last up to five days to a week in an airtight container that is placed in the refrigerator.
However, it can last up to two months when stored in the freezer.
It is important to let the edible cookie dough come to room temperature before you use or eat it.
What Do You Need To Make Edible Cookie Dough?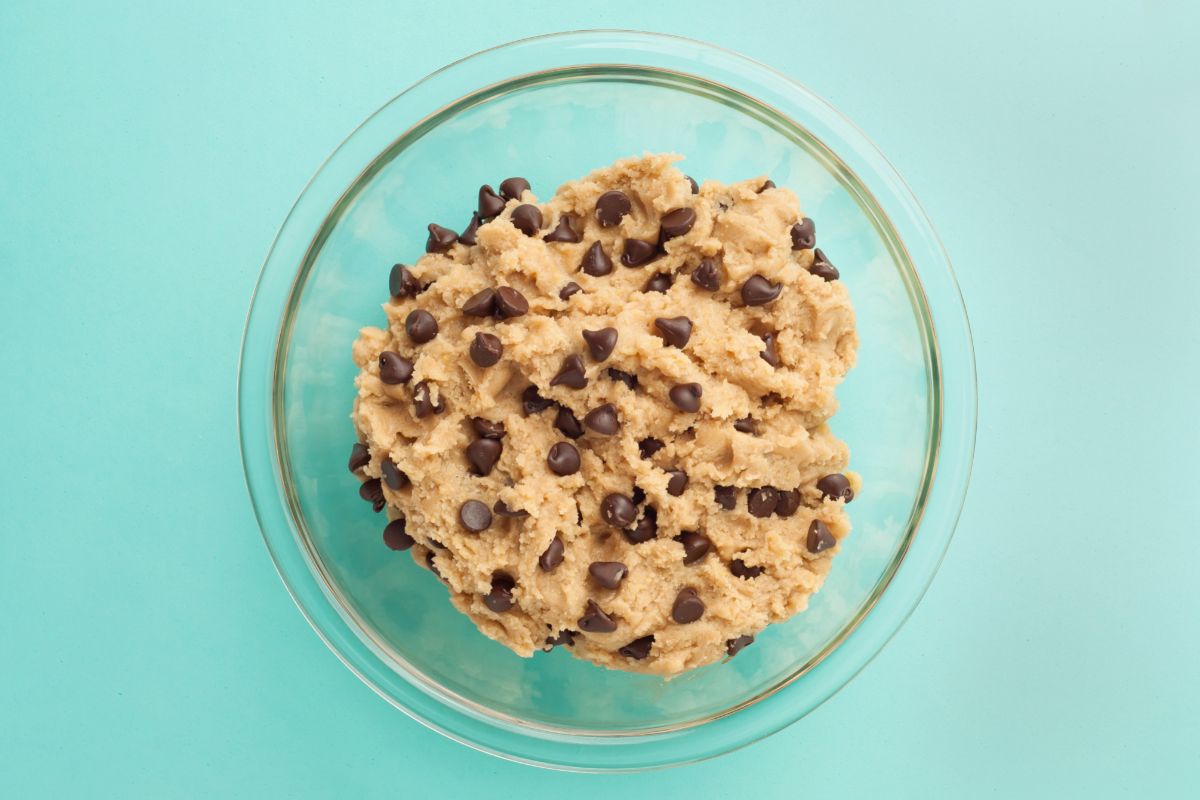 You should think of an edible cookie dough recipe, similar to a normal cookie dough recipe.
For a more basic recipe, you will need the following ingredients:
Flour – It is up to you what kind of flour you use. It can be all-purpose flour, or you can use a gluten-free version as well. However, it is important that the flour you do use is heat-treated flour.
Unsalted Butter – By using unsalted butter, you are adding more moisture and flavor to the dough. You could use salted butter, and not add any extra salt at a later stage.
Baking Soda – This is the key ingredient that makes this edible cookie dough able to be baked if you suddenly decide you want some baked cookies.
Sugar – It is up to use whether you use granulated sugar or light brown sugar. However, a lot of recipes use a mixture of the two.
Milk – As there are no eggs in an edible cookie dough recipe, the mixture needs some added liquids from somewhere else. Only a couple of tablespoons are needed, and this added liquid will improve the texture of your dough drastically.
Flavors And Optional Extras – Most recipes will call for you to use vanilla extract. This then creates a basic edible cookie dough recipe. However, you have the choice of adding some optional extras for some more flavor. These can include chocolate chips, unsweetened cocoa powder, chopped walnuts, graham crackers, etc.
Why Is Edible Cookie Dough Safe To Eat?
We know that it is safe to eat this cookie dough. This is due to these recipes not containing any eggs or contaminated flour.
Raw flour isn't considered to be safe to eat, therefore before you can add it to your dough, you need to treat the flour.
It is really easy to treat your flour, by microwaving the flour for a couple of minutes.
Once the flour reaches around 165 degrees Fahrenheit, then it is safe to use. Or you can cook the flour in the oven for around 5 minutes.
Edible Cookie Dough Method
The method for edible cookie dough can be created either by hand, using a hand mixer, or a stand mixer. All you need to do is the following:
Step 1: Cream the sugar and butter together.
Step 2: Add in your flour.
Step 3: Add in any liquids like milk if the mixture is too dry.
Step 4: Finally, fold in any other flavorings that you wish to include. This can be milk chocolate chips and vanilla extract.
There are no raw eggs used in this recipe, so you don't need to cook the dough. This edible dough is incredibly easy to make.
You can easily use your standard chocolate chip cookie dough recipe and treat the flour and take out the eggs. Then you will have edible cookie dough.
Final Thoughts
A lot of us have enjoyed eating raw cookie dough when making cookies. Yet, you can also make edible cookie dough as well.
However, if you find you still crave a real cookie and only have edible cookie dough in the freezer, you can use this dough to make cookies.
By baking edible cookie dough, you will create dense and flat cookies, that will still taste great.
Edible cookie dough isn't meant to be baked, that's why it doesn't use a leavening agent in the recipe. However, that doesn't mean you can't put it in the oven.
We hope you have found this article useful and now understand what happens when you bake edible cookie dough.