Everyone loves cupcakes, both kids and adults alike.
If you want to try your hand at cupcake baking with a fun twist, then these adorable unicorn cupcakes are delicious and easy to make!
Perfect for a birthday party, these unicorn cupcakes will be the star of the show.
Follow this detailed recipe to learn how to create some fun and beautiful unicorn cupcakes.
Unicorn Cupcake Ingredients
Before you get started, make sure you have all the ingredients you need to create perfect unicorn cupcakes.
You'll need ingredients for the vanilla cupcake batter, the swirled buttercream frosting, and some ingredients to decorate your unicorn cupcakes.
For The Vanilla Cupcake Batter
1 and 1/2 cups of all-purpose flour.
1 and 1/2 teaspoons of baking powder.
1/4 teaspoon of salt.
2 large eggs.
2/3 cup of sugar.
3/4 cup of unsalted butter, melted.
2 teaspoons of pure vanilla extract.
1/2 cup of milk.
Pastel colored sprinkles.
For the Swirled Buttercream Frosting
1 cup of unsalted butter, softened.
4 cups of powdered sugar.
1/4 teaspoon of salt.
1 tablespoon of pure vanilla extract.
2-3 tablespoons of heavy whipping cream.
Pink, blue, and purple food coloring.
For Decorating Your Unicorn Cupcakes
Pastel colored sprinkles.
Pink sugar.
Mini marshmallows.
Gold spiral candles.
How To Bake Unicorn Cupcakes
To get started making your beautiful unicorn cupcakes, you'll begin by mixing your cupcake batter and baking some vanilla cupcakes.
Follow these recipe instructions to get the perfect base for your unicorn cupcakes.
Step 1
First, preheat your oven to 350F. While your oven is preheating, line a 12-cup standard muffin pan with cupcake liners.
Step 2
Once your muffin pan is lined, take one bowl and combine the flour, baking powder, and salt.
Then, in a separate bowl, beat the eggs and sugar with an electric mixer until your mixture is light and foamy.
This should take about two minutes. While beating the mixture, gradually pour in melted butter, followed by the vanilla extract.
Step 3
Next, you need to alternately add the flour mixture you made and milk to your egg mixture. Be sure not to overmix when combining.
Step 4
Divide the vanilla cupcake batter evenly into each cup of the muffin pan.
Bake for 18-20 minutes, or until your cake tester comes out clean when inserted into the cupcakes.
Step 5
Finally, cool the vanilla cupcakes on a rack for 10 minutes, then remove them from the muffin pan and let them cool for a further 10 minutes.
It's important that the cupcakes are left to cool completely before you pipe the frosting.
How To Make Unicorn Cupcake Frosting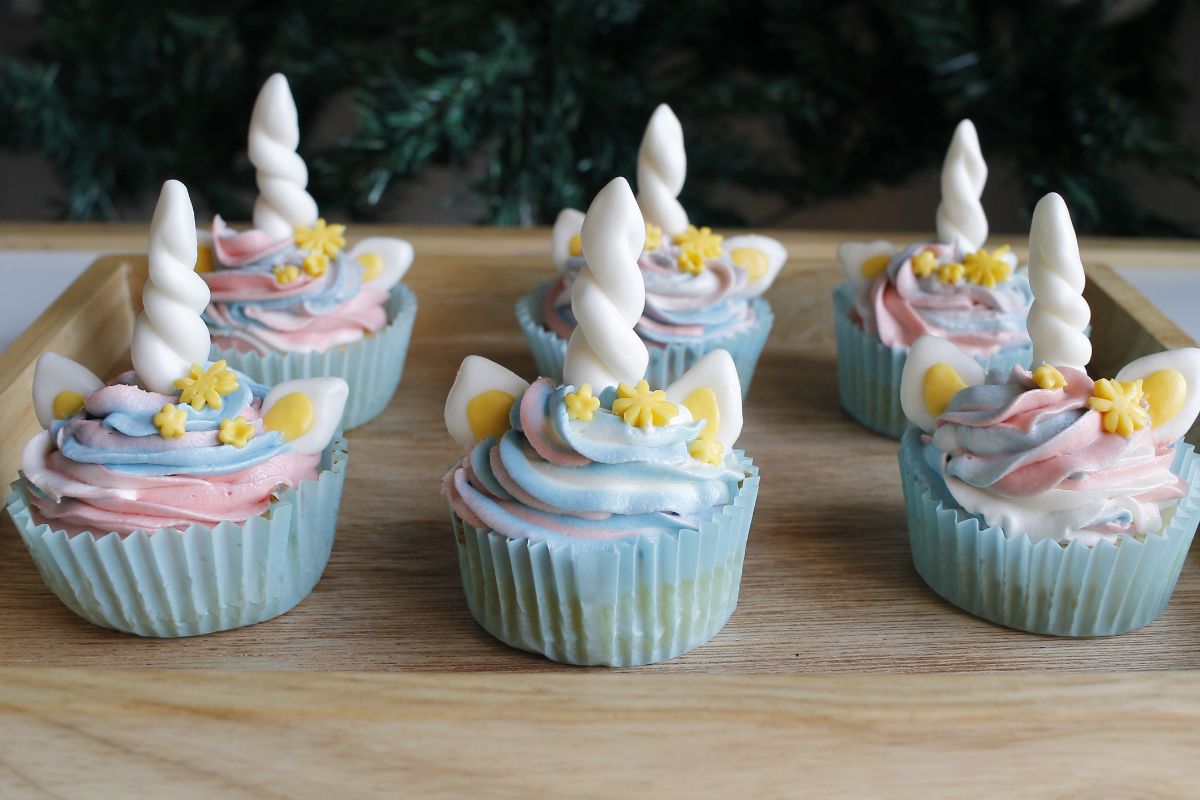 Once your vanilla cupcakes are baked and you've let them cool completely, you can start preparing your frosting!
These recipe instructions will teach you how to create a swirl pattern with your cupcake frosting and create a fun surprise for your unicorn cupcakes.
If you'd like to add some extra fun to your unicorn cupcakes then you can hide sprinkles inside your cupcake for you birthday party guests to find!
To do this, simply hollow out the center of your cupcakes and fill it with sprinkles. Then, replace the cupcake piece you took out.
That's it! You can now start making some colorful frosting for your unicorn cupcakes.
Step 1
First, beat your butter until it's smooth, using a hand or stand mixer. While it's mixing, slowly add powdered sugar, just one cup at a time.
Then, add your salt, vanilla extract and heavy whipping cream, and beat at medium-high speed until smooth, adding more heavy whipping cream as needed.
Step 2
Once you've mixed your frosting, you need to divide it evenly into three bowls. Next, take your food coloring and add one color to each bowl of frosting.
Once you've done this, you'll have three bowls of different colored frosting – one pink, one blue, and one purple.
Step 3
To create a swirl pattern with your frosting, you can use the plastic wrap hack to create fun, beautiful frosting with separated pink, blue, and purple colors, without the colors blending into one.
First, lay out a piece of plastic wrap and place the pink frosting in the center.
Then, roll the frosting up like a log, squeezing all the air out, and twist the end to seal.
Repeat with the blue frosting and the purple frosting, and the cut of the tip of each plastic wrap log.
Place all three into a large piping bag fitted with a large star tip, and you'll be ready to begin piping.
Decorating Your Unicorn Cupcakes
It's time to decorate!
Now that your vanilla cupcakes are baked and your frosting is prepared, you can start turning your regular cupcakes into unicorn cupcakes.
Step 1
With your piping bag fitted with a large star tip and filled with your plastic wrap frosting logs, start piping the frosting in a swirled motion so it covers each cupcake.
Make sure you do a quick test before you start to pipe, by squeezing out a small amount of frosting from your piping bag to see that the pink, blue and purple frosting can be seen clearly and is sectioned.
Step 2
Now that your cupcakes are frosted, add your pastel sprinkles to decorate your cupcakes.
Step 3
To create unicorn ears, you'll need your pink sugar and mini marshmallows. Take a few tablespoons of pink sugar and place it onto a plate.
Then, take each mini marshmallow and halve them diagonally so you have 24 halves of mini marshmallows.
Finally, press the cut side into the pink sugar to coat it.
Step 4
Press your mini marshmallow unicorn ears in place on each side of your unicorn cupcake so the pink sugar can be seen.
Step 5

To finish, place a gold birthday candle between the mini marshmallow unicorn ears of each of your cupcakes.
Now that your cupcakes have a unicorn horn, you can finally call them unicorn cupcakes and serve them to your party guests!
Final Recipe Tips
These are some final tips to ensure you get the perfect unicorn cupcakes on your first try!
While our recipe uses vanilla cupcake batter as the base of your cupcake, you can use any kind! Try chocolate, or purple velvet, or any flavor you like!
If you don't think you're the most skilled baker and want to save some time, you can always use store-bought cupcake mix.
Be sure not to overmix your cupcake batter, otherwise your cupcakes may not rise well.
Always preheat your oven and use room temperature ingredients.