Having a sweet tooth can be tricky to manage, especially if you are not satisfying your cravings enough.
However, this recipe for oreo peppermint bark combines delicious Oreos, peppermint, and melted chocolate to create an incredible snack!
Not only is Oreo peppermint bark tasty, but it is the perfect DIY holiday gift!
Gift your homemade treats to your friends and family for a personal touch at Christmas time that will fill their hearts with joy!
This article will show you how to make Oreo peppermint bark so that you can perfect one of your all-time favorite holiday recipes.
You can find out more about recipe tips below to make this delicious dessert!
What Do You Need?
To make the Oreo peppermint bark, you will need regular Oreos, candy canes, milk chocolate chips, dark chocolate, peppermint extract, and crushed peppermint.
There are not many ingredients that are needed to make this easy holiday treat, which is why it is so popular all over the country!
As it is a simple recipe, you will need some equipment to help make your baking experience quicker and more efficient.
You will need a baking sheet, parchment paper, an airtight container, a sealed bag, two microwave-safe bowls, a rolling pin, and a rubber spatula.
How To Make Oreo Peppermint Bark?
To make this easy recipe, you will firstly need to melt the white chocolate in a microwave-safe bowl.
Keep stirring the chocolate to make sure that it is completely melted.
Next, place the Oreos inside the sealed bag and crush them with the rolling pin. Make sure that they are still chunks.
Once the Oreos are crushed, stir them into the same bowl as the melted white chocolate.
Add the peppermint extract to the mixture and stir well with the rubber spatula.
After the mixture has been combined, you will need to pour the creamy white chocolate into the baking sheet that is lined with parchment paper and make sure that it is spread flat. Sprinkle crushed peppermint and candy canes over the chocolate bark
Melt milk chocolate in a separate microwave-safe bowl and stir until completely melted.
Drizzle the chocolate over the bark and add milk chocolate chips on top. You can also add more chopped candy canes for the holiday season!
Leave the Oreo peppermint bark to harden so that you can break it into pieces.
For an easy treat whenever you want, store the bark in an airtight container to make sure that it remains hard and keeps its perfect texture!
How To Make Oreo Peppermint Bark Perfect For You?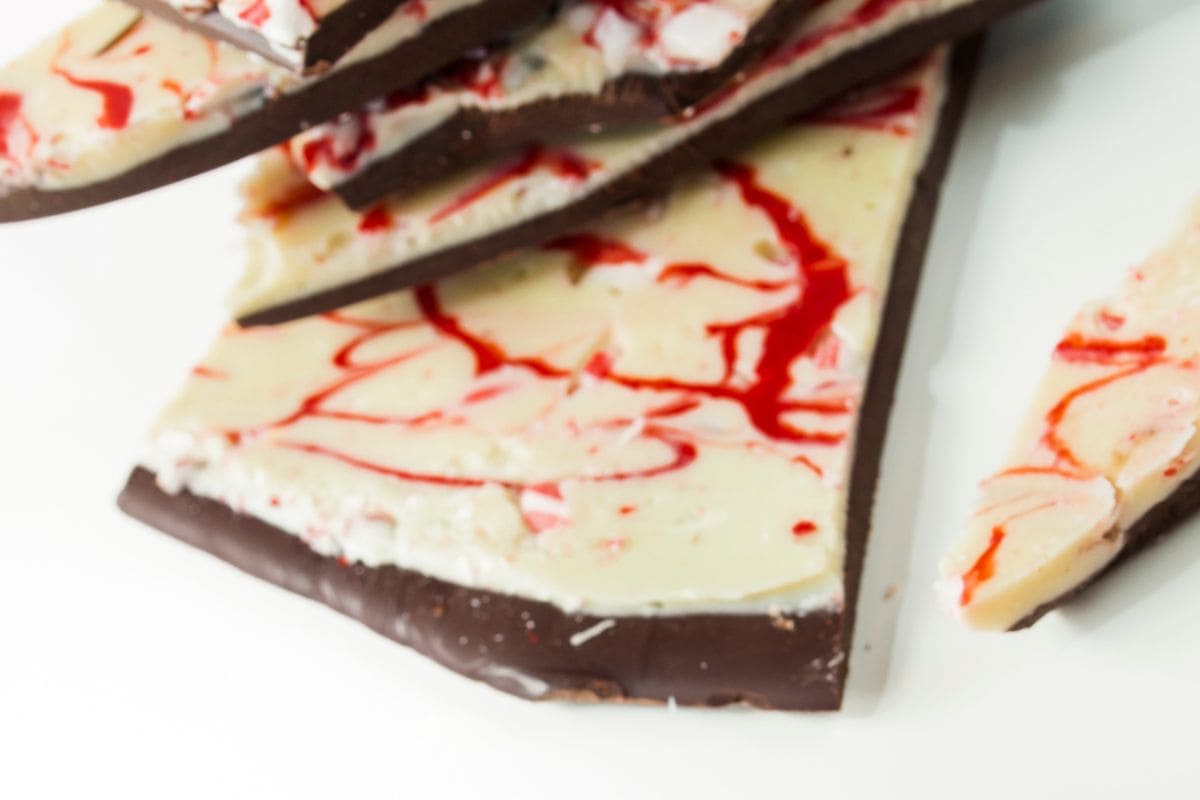 You can adjust some of the ingredients and measurements if you want to make the Oreo peppermint bark more delicious for your taste buds.
You can add more peppermint extract, crushed peppermint bits, or chopped candy canes if you want a fresher and mintier flavor to the bark.
If you want a sweeter taste to the Oreo peppermint bark, you can add extra crushed Oreos or add white chocolate chips.
You can also melt chocolate to drizzle over the bark and use more than the recipe calls for.
Make sure that you do not add too many chocolate chips as you do not want them to overpower the whole recipe!
One of the main reasons why people love this recipe is that it includes Oreos, so add more crushed Oreos on top!
This will add more texture to the bark and you will be able to taste more Oreo cookies than before, which sounds delicious!
Do You Need To Use Melted White Chocolate?
Melted white chocolate is the main ingredient for the bark, but some people find it too sweet.
If don't want to melt white chocolate and you would prefer a substitute, use dark or milk chocolate.
Peppermint and dark chocolate are good food combinations that will create a beautiful recipe filled with all of your favorite flavors!
Speeding Up The Hardening Process
Can't wait for your delicious peppermint bark holiday treat? No problem!
You can freeze chocolate bark to speed up the process. This will give the Oreo peppermint bark a good texture and help the melted chocolate harden.
Without using a freezer, the process will take a lot longer.
You simply just need to place the Oreo peppermint bark in the freezer once you have added the melted chocolate and candy canes on top.
This will make it easier to break the bark into pieces to serve to your guests.
You should gently press the bark to check the texture before taking it out of the freezer.
The chocolate bark will be crunchy and have the perfect texture!
How To Serve?
To serve the bark, you can either serve it as a block and let guests break it apart, or you can break it apart yourself.
It is up to you how you feel most comfortable serving the Oreo peppermint bark as you want to make sure that your guests are happy and impressed!
If you are giving the Oreo peppermint bark as gifts to friends and family members, you should serve them in airtight containers or tightly wrapped gift bags.
This will stop the Oreo peppermint bark from softening until your guests have had the chance to try your latest baking creation!
Final Thoughts
To conclude, it is very easy to make Oreo peppermint bark as you can use delicious holiday treats like candy canes, white chocolate, and sprinkled crushed peppermint!
If you love Oreos, using crushed Oreos in this sweet snack will allow you to experience your favorite cookies with chocolate chips, fresh peppermint, and more!
You can serve your Oreo peppermint bark to your friends and family members as they make great holiday gifts.
You do not need much prep time for the Oreo peppermint bark as it is very easy to make, but make sure that it has completely hardened before serving for the best texture.
This will be sure to make you and your guests fall in love with Oreo peppermint bark!