There is nothing better than baking fresh oatmeal cookies and enjoying them on a chilled winter evening!
If you have decided that you want to give baking a try, you need to follow a great recipe to ensure that the ingredients are well balanced in your homemade oatmeal cookies.
It is up to you how you want your oatmeal cookies to taste.
You can decide between a soft and chewy oatmeal cookie, plain oatmeal cookie, or oatmeal raisin cookie, and you can even use chocolate chips to satisfy those with a sweet tooth!
This article will explain how to make old-fashioned oatmeal cookies to impress your family and make oatmeal cookies that store-bought ones cannot compete with.
You can find out more below to see what ingredients you need to follow a good oatmeal cookie recipe and make the best oatmeal cookies!
Ingredients
To make soft and chewy oatmeal cookies, you will need oats, dark brown sugar, eggs, vanilla extract, baking soda, ground cinnamon, ground nutmeg, salt, all-purpose flour, granulated sugar, ground cardamom, and butter.
You can choose salted butter or unsalted butter for your cookies, so use whatever you prefer!
Use chocolate chips or raisins in your oatmeal cookies to add more flavor and texture, but you can choose between other fillings.
Use butterscotch, dried cranberries, white chocolate, or semi-sweet chocolate chips if you prefer.
If you are vegan, you can use vegan butter and leave out the eggs in the recipe.
You can then add vegan-friendly chocolate to the oatmeal cookies as a substitute.
You can also use almond flour instead of all-purpose flour.
Make sure that you have parchment paper, a wooden spoon, a baking tray, a large bowl, a medium-sized bowl, and a wire rack to help make delicious oatmeal cookies!
Classic Oatmeal Cookie Recipe
To begin, you need to preheat the oven so that it is 350 degrees. You will then need to cover your baking tray in parchment paper and cover it with butter.
This will stop the oatmeal cookies from sticking to the paper once they are cooked.
With your wooden spoon, beat butter in a large bowl until it becomes a creamy texture, and add the brown sugar and granulated sugar.
The mixture should become fluffy. Add the eggs and vanilla extract and continue to beat the mixture until smooth.
In a separate bowl, mix the baking soda, flour of choice, ground nutmeg, ground cinnamon, ground cardamom, and salt until combined.
Add the flour mixture into the bowl with the butter mixture and stir until smooth.
Add the oats and fillings of choice, and add raisins, chocolate chips, or dried cranberries. Stir to make the oatmeal cookie dough.
Transfer the oatmeal cookie dough onto the prepared parchment paper by using a spoon and mold it to resemble cookies. Bake until they are golden brown.
Once they are done, put the baked oatmeal cookies on a cooling rack.
Let the oatmeal cookies cool completely and store them in an airtight container to keep them fresh!
What Texture Should The Cookies Be?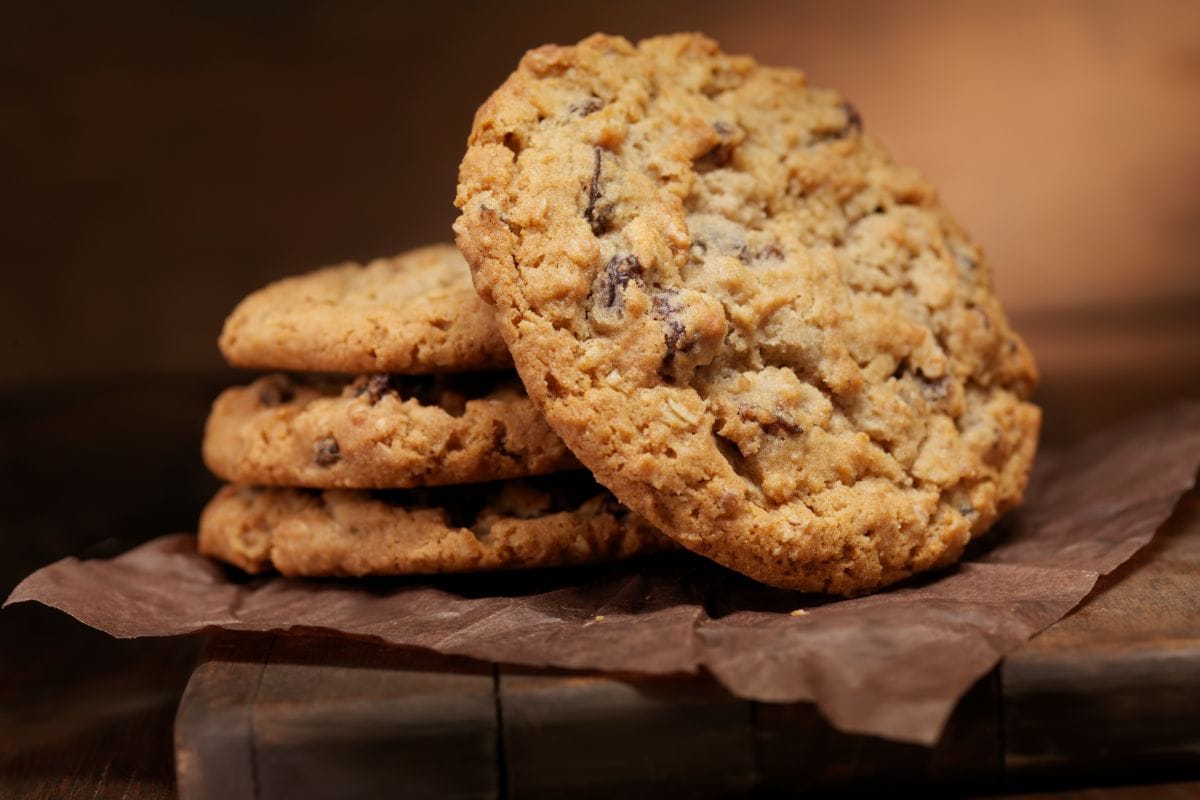 For people who love oatmeal cookies, the best texture for them is crunchy on the outside and soft and chewy on the inside.
You need to make sure that you do not add too much flour as this can affect the texture, making it crumbly instead of having a chewy texture.
You should also use room temperature butter to make the cookies as this will make the cookie dough smooth.
Using old-fashioned oats in your oatmeal cookies helps to give them more of a soft and chewy texture as the oats are not broken down.
You should use brown sugar to make oatmeal cookies as the brown sugar adds a sweet and smokey flavor to the sticky texture.
The oven temperature is important for baking the oatmeal cookies as you do not want them to burn, you want them to become chewy and golden brown!
Without adding baking soda to your cookie dough, your oatmeal cookies will not turn golden.
If you do not let the oatmeal cookies cool completely after they have cooked, there is a risk that they will fall apart and crumble, so make sure that they are cooled before you handle them!
Keep them on a baking sheet and then transfer them to the wire rack.
For the best oatmeal cookies, using spices will provide the cookies with a nutty flavor. This will allow the cookies to be warming, flavorful, and very delicious!
Chocolate Chips Or Raisins?
Soft and chewy oatmeal cookies are the perfect dessert cuisine, so you want to have the right fillings.
Some people prefer to add chocolate chips to make the cookies sweeter, but others prefer to use raisins to add to the soft and chewy texture.
Your oatmeal cookies recipe should include the flavors that you love most, so get creative!
If you are using granulated sugar for your oatmeal cookies, some people find that the cookies are already sweet enough, so they dislike adding chocolate chips.
Using salted butter might require you to add some more sweetness by using the chocolate, but other people prefer to make oatmeal raisin cookies with unsalted butter.
If you want to make chewy oatmeal cookies, you need to make sure that you are completely happy with your flavor combinations to enjoy homemade oatmeal cookies as much as possible!
Final Thoughts
To conclude, it is very easy to make oatmeal cookies at home, but you need to make sure that you have the right ingredients and equipment.
Using old-fashioned oats is important as you want the oats to be thick and tasty, and you also need a sturdy baking sheet to hold the oatmeal cookies and keep them safe.
You can make simple oatmeal cookies at home, and you can also create your favorite flavor combinations too. Your delicious recipes should make a flavorful, perfectly cooked, soft, and chewy cookie.
Following a good oatmeal cookies recipe will help you to bake incredible oatmeal raisin cookies that your whole family will enjoy!