Chocolate chip cornflake cookies are a foolproof way to add some extra crunch to this family favorite. Looking for a snack that's chewy, light, and slightly dense at the same time? Throw in a generous helping of cornflakes to your next batch of cookie dough, and watch the magic come to life!
Trust us; these are destined crowd-pleasers whatever the event and whatever the tastes of your guests. Or, simply whip up these chocolate chip cornflake cookies and over-indulge yourself… once you get a taste, it'll be hard not to! 
These are a true Pinterest icon, and they can be cooked up and ready to eat in next to no time. So, get your dough ready and your baking hats on; it's time to get stuck into a recipe you'll want to recreate over and over again!
What Is A Cornflake Cookie?
Let's start by clearing up any potential confusion. Fortunately, these are exactly what they sound like – cookies with a healthy dose of cornflakes thrown in!
It's no secret that corn flakes taste GREAT with chocolate (take chocolate corn flake bites, for example), so it's no surprise they work so great in a delicious cookie dough mix, too.
You may also hear cornflake chocolate chip cookies referred to as Kitchen Sink Cookies. Not the most pleasant of nicknames, we know, but the taste is truly heavenly. 
Chocolate Chip Cornflake Cookies
We haven't mentioned the best bit yet. This recipe is ideal for all you low-maintenance cooks out there. These can be prepped, cooked, and ready to eat in quick time, so get ready for that cornflake crunch, and read on for our favorite chocolate chip cornflake cookies recipe. 
Ingredients 
227g of softened, unsalted butter 
200g of granulated sugar 
205g of packed brown sugar 
235ml of vegetable oil 
One egg (large) 
One teaspoon of baking powder
One teaspoon of vanilla or vanilla extract
One teaspoon of salt 
430g of all purpose flour 
80g of cooking oats 
Two cups of chocolate chips 
25g of crushed corn flakes 
60g of coconut (shredded) 
Method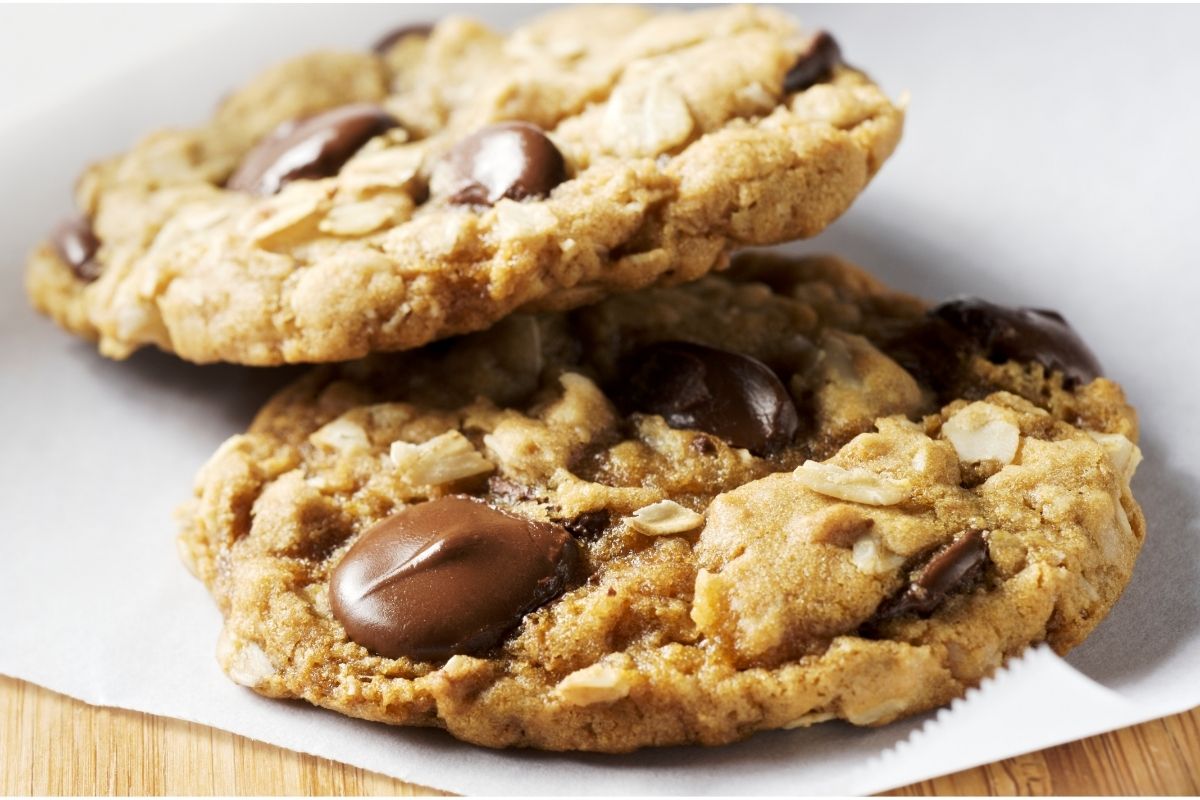 Now, it's time to start making those delicious chocolate chip cornflake cookies. This dough will need to be chilled and left to cool completely, so factor this in before you start baking. 
We'd recommend using a stand mixer fitted with a paddle attachment for this part. Start to mix together your granulated sugar, brown sugar, and cream butter in a large mixing bowl. Mix together until the ingredients are fluffy and light. If you prefer, you can use a hand mixer for this part, but bear in mind that it'll take longer! Once this mixture is smooth, add in your vanilla or vanilla extract and add egg. Mix again in your large bowl until smooth, then add in your baking soda and salt. 
Once you've done this, add in your oats and flour. Mix these together, then add in your corn flakes and shredded coconut. Now, you can throw in your chocolate chips to your chocolate chip cornflake cookies. 
Now, scoop up two tablespoons of your cookie dough and place them on your prepared cookie sheets, covered in parchment paper. We're going to leave the dough balls to cool completely, so you don't need to worry about spacing these out. Cover your chilled dough balls in a plastic wrap and leave them in the refrigerator for approximately one hour. If you leave your balls to cool for longer than an hour, they may need to be warmed up at room temperature before you bake them. 
Now, start to preheat oven to 350°F. Get your cookie sheet or baking sheet and cover it with parchment paper. On your cookie sheet, start to spread out your chocolate chip cornflake cookies mix evenly (around 2″ apart), and gently press them down with your hands. Bake your mix for 10 minutes, or until the bottom of your dough balls are lightly browned. Once they are lightly browned or golden brown, allow them to cool for five minutes on a cookie sheet or baking sheet, then move them to a wire rack to finish cooling.
That's it! Once your cornflake crunch recipe balls smell buttery, delicious, and cool, you can move them to an airtight container and store them for five days in your refrigerator or up to a month in the freezer. 
Corn flake Crunch Variations
Want to tweak this original recipe and put your own spin on things? There are plenty of ways to add to this great recipe and make your chocolate chip cookies turn out slightly different every time! 
Try playing around with the amount of melted butter, sugar, and flour you use to give your cookies a slightly tougher (or smoother) consistency, depending on your preference.
If you're worried about the salt content, you can always lower this, too – there's no right or wrong way to make this recipe! Just bear in mind that your prep time may vary if you're adding or subtracting dry ingredients. 
For an extra kick of flavor, why not try adding some mini marshmallows or pure vanilla extract into your medium bowl?
Mini marshmallows will take on a deliciously gooey texture in the middle, and your pure vanilla extract will add an extra sweet edge. Using a hand mixer rather than a paddle attachment may also give your chocolate chip cookies some extra texture! 
The Bottom Line
These chocolate chip cookies pack an extra cornflake crunch that you WON'T be disappointed in.
What we love about these cornflake cookies is that the recipe can be so easily tweaked, so feel free to let some of that creative freedom lose and work your magic in the kitchen however you see fit! 
If you're a big fan of these delicious cornflake cookies, feel free to tweak the ingredients and make this recipe with your own spin on things.
Whether that's adding more cornflakes, egg, and vanilla, tweaking the number of dry ingredients you use, or adding different candy to the top or center of your cookies, with this recipe, the possibilities are endless!