There's nothing better than sitting down with a couple of friends and having a good chat about the world over some afternoon tea. That is, apart from sitting down with friends and having a chat at an afternoon tea party – with some delicious baked treats.
Afternoon tea is the showroom of good baking, from your classic cream and jam-filled scone, Victoria sponge, and apple pie, to some more unconventional tea time treats. If in doubt, you've also got classic finger sandwiches to make as a back-up.
In this article we've found some recipes to suit both sides, whether you love tradition or want something a bit more exciting than finger sandwiches or an egg salad, we've got you covered.
You can't have afternoon tea without scones. Scones are what afternoon tea is built around, these vegan scones are no exception. They are easy to make and only take 20 minutes of preparation time and 20 minutes baking time.
These scones also use soy milk and a vegan vegetable spread so that everyone in your party will be able to enjoy them. You can serve them with a fresh pot of raspberry jam (or strawberry jam) and a selection of vegan creams. This recipe makes 6 scones, but it's always worth doubling the batch and making 12, you can never have too many scones at a tea party.
If you prefer your scones with a little twist to them, then this recipe for Fruit Scones will surely satisfy the scone-shaped hole in your afternoon tea. Using dairy products, these scones take a little less time to make than the vegan ones by about 5 minutes.
The recipe says to use 100g of sultanas, but this scone recipe works with any dried fruit. We recommend trying out 100g of chopped dried mango for a tropical taste, but sultanas and raisins work perfectly for a traditional scone.
Plus, fruit scones freeze really well, so you can have them again at the next tea party.
Alongside the scones, the Victoria sponge is another hallmark of the afternoon tea party, much like the scones, it can be filled with cream (usually buttercream) and whatever jam takes your fancy.
This Victoria sponge recipe is an easy one for amateur bakers and takes just 20 minutes in the oven and the ingredients and preparation are very simple as well. Victoria sponge is a fan favorite that we're sure will go quickly at any afternoon tea party.
Lemon cake is a fantastic cake option to go along with afternoon tea, but this recipe not only turns it into an easy traybake that is simple enough to do, but allows you to cut it into bite size slices that are perfect finger food for an afternoon tea.
The preparation time for this bake is around 25 minutes, but it can all be easily poured into one big bowl, all you have to do then is let it cool after its 30-minute bake and smother it with icing. Lemon drizzle slices are a perfect easy bake to add a little zest to your afternoon tea.
This is also a good opportunity to make your own lemon curd!
Shortbread cookies are light and airy, making them perfect for eating alongside (and dunking into) any hot drinks, this recipe is no different.
Shortbread is definitely the easiest biscuit to make and all you need is flour, sugar, and butter and will only take you around 10 minutes of preparation time. This recipe makes 36 servings, which may seem like a lot, but we guarantee you that when you're sitting down at afternoon tea, you'll be wanting more by the end.
You can even add chocolate chips to these cookies to enhance the subtle flavor and moisten the crumbly texture. Serve with a cup of builder's tea and enjoy!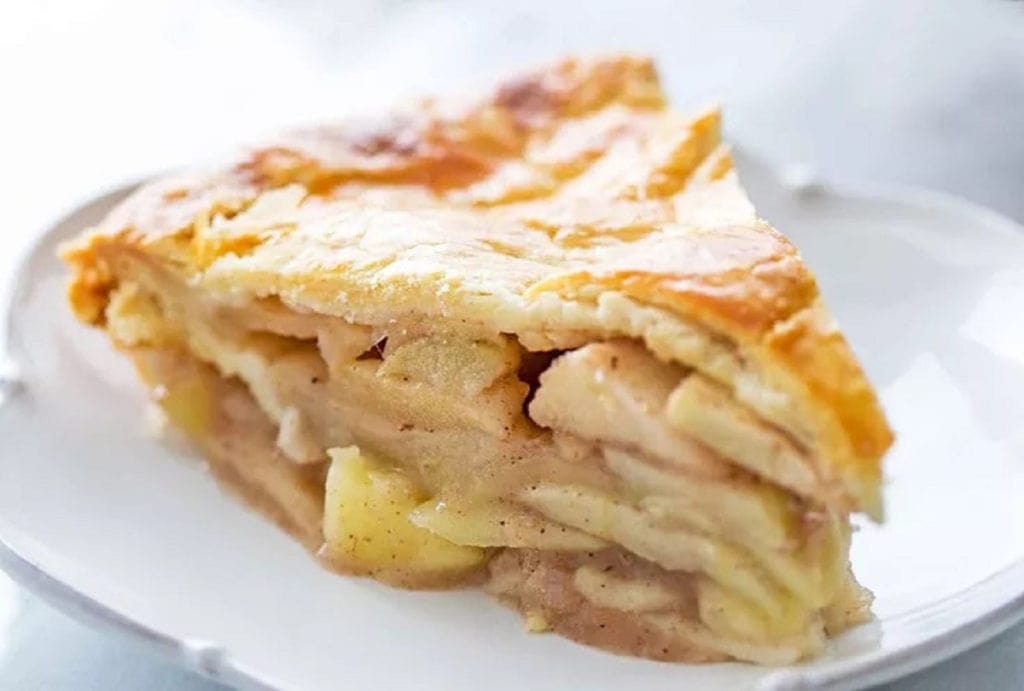 Apple pie is a brilliant companion to any food or drink, and afternoon tea is no exception, this recipe allows you to make flaky, delicious apple pie filled with an assortment of lightly spiced apples.
This recipe also takes you through the different cooking apples and how they hold up in an apple pie. The pie does take a little longer to make because of the amount of preparation that needs to go into making a great apple pie, but the results are clear in the incredible flavor. We assure you that this pie is worth every minute.
Bara Brith is a fruity Welsh loaf that was designed to be enjoyed alongside teas and other hot drinks. Bara Brith is Welsh for 'speckled bread' and we can see why as it is dotted with currants and raisins throughout making a speckled look. The mixture is made with citrus zest and different spices to give it an aromatic aftertaste.
The preparation time for this cake is only 15 minutes, but due to its fruit-filled nature, it does take a long time to bake. Bara Brith is the perfect cake to have alongside any tea. Interestingly, this is one of the lesser-known afternoon tea recipes on our list!
Like the Bara Brith, this coffee and walnut cake is a perfect companion for any tea or hot drink, the walnut and coffee flavors make it almost a savory cake than a sweet one, and it is perfect if you've had a little too much sponge and lemon drizzle.
This traybake cake is very easy to make and only requires 20 minutes of preparation time, and makes a flavor-filled snack for any afternoon tea. Decorate with either caramelized or toasted walnuts.
Eclairs are a delicious sweet treat to have with an afternoon cuppa at a tea party. A normal eclair uses custard in a choux pastry topped with chocolate and there are some fantastic traditional eclair recipes out there (here's one that we like) but these banana eclairs really hit the spot with afternoon tea.
They are a little tougher to make than other recipes on this list due to the making your own custard and the choux pastry, but they are well worth the effort.
If you're more of a savory than sweet person, then you're going to want some tasty savory options for your afternoon tea. The sausage roll is the king of the savory snack and this recipe allows you to make them from scratch very easily. They only take 45 minutes to bake in total with 20 minutes of preparation time and 25 minutes in the oven.
The recipe says to use a ready-made puff pastry sheet (as do we, as puff pastry is notoriously hard), however, if you'd like to try your own hand at making the pastry then you can find a guiding recipe here!
Serve alongside scotch eggs, smoked salmon, potato salad, and other savory treats for a great tea party spread.
For a more exotic savory option to go along with your afternoon tea, we recommend these easy-to-bake, manchego and chorizo melting biscuits. They add a little kick to your palette and can be prepped in just 25 minutes.
For a vegetarian option, instead of the chorizo, we find that chopping green olives finely into the mixture is equally as delicious and requires no altering to the recipe.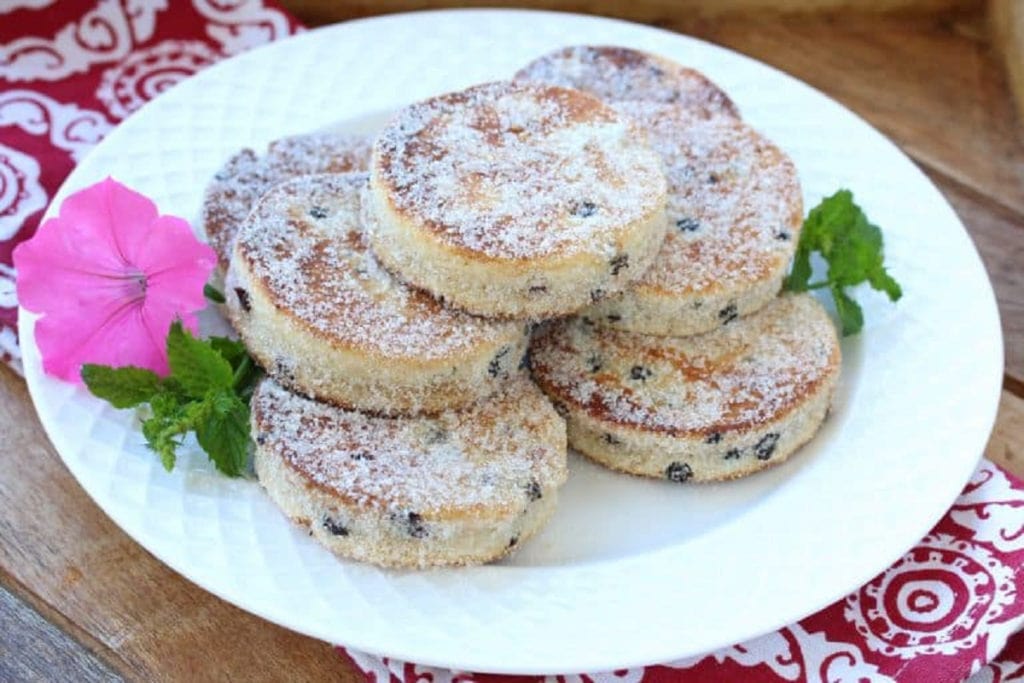 Going back to Wales for this tea-time treat, the Welsh cake is a small current-filled flat cake that almost resembles a flattened scone. These cakes are cooked inside a pan instead of the oven to give them a solid, almost crispy outside and a tender, melt-in-your-mouth sponge-like inside.
Welsh cakes only take around 25 minutes to make with 15 minutes of preparation time and 10 minutes of cooking time but do require some baking skill, so if you like a challenge and love a tea time treat, this recipe is for you.
These strawberry and white chocolate choux buns are a sweet light treat that goes perfect with any occasion, especially afternoon tea. If you're a skilled baker with a sweet tooth, these are sure to impress any guests at afternoon tea.
Strawberry and white chocolate are a combination that takes beating, but adding the creamy vanilla custard in the center of the choux buns opens up the traditional flavors to a whole new level.
These choux buns only take 30-35 minutes to make but due to our old friend choux pastry, are quite difficult to make.
Red velvet cake is rich, filling, and a fantastic treat. However, we feel that for afternoon tea, having a whole red velvet cake may fill you up too much, and you won't be able to enjoy all of the other baked treats on your table.
Thankfully, we've found a mini red velvet cake recipe that solves that problem. These red velvet cupcakes come with a tangy cream cheese frosting that compliments the rich, spongy cake underneath.
These mini cakes only take around 40 minutes to make, and this recipe makes around 18 to 24 cupcakes depending on how big you want them.
We do admit that churros aren't the first thing that springs to mind when we think of an afternoon tea, but I assure you that that is about to change.
Churros are a perfect light snack that goes well with a number of dipping jams and toppings. These afternoon tea churros are served with clotted cream and jam much like the traditional scone.
They take around 15 minutes to prepare and 25 minutes to cook. Churros are cooked in a pan with oil instead of the oven so it does require some skill. However, this skill is easily learned and quite fun too! We just advise that you add a bit more mixture for practice.