Birthday pancakes are truly a special breakfast treat. There are no pancakes better to celebrate a special event or a birthday than funfetti pancakes.
These pancakes are really easy and quick to make. They don't require any special ingredients. In fact, all the ingredients that you will need to will be able to find in your kitchen pantry.
These are very colorful, buttery and fluffy pancakes, that your whole family will enjoy. In this article, we will be discussing how you can make these fluffy pancakes at home.
How To Make Sprinkle Pancakes
It is really easy to make sprinkle pancakes, as the method is essentially the same as other pancake recipes that you use.
Step 1: In a large bowl, mix together the dry ingredients. This includes flour, salt, baking soda, baking powder, and rainbow sprinkles. Whisk these ingredients together.
Step 2: In either a measuring cup or a small bowl, combine your eggs, milk, oil, and vanilla extract. You should whisk them together, using a fork, until well combined.
Step 3: After your wet ingredients are well combined, then you can pour your wet ingredients into your flour mixture. Then, using a rubber spatula, stir the mixture together. However, be careful to not over-mix the pancake batter. You want to stir it just enough until all the dry ingredients has been fully incorporated.
Step 4: Let your pancake batter rest for around 5 to 10 minutes. While the batter is resting, then you can preheat your frying pan or griddle pan over a medium heat. Remember to grease the pan using cooking spray or melted butter.
Step 5: Once your batter is ready, use a measuring cup to scoop a tablespoon of pancake batter onto your pan. Allow your pancake to cook. Once you start to see bubbles beginning to form on the surface of the pancake, this is a sign that they are ready to be flipped over. Flip the pancakes, but don't press down on them. You want both sides to become golden brown.
Step 6: Repeat this process with the remaining batter, until all the batter has been used up. The pancakes cook quite quickly, so in no time, you should have a nice stack of funfetti pancakes to enjoy.
You can easily eat your stack of funfetti pancakes by itself. However, if you want to make them an extra special treat, you could top them with a vanilla glaze, whipped cream, and more rainbow sprinkles.
What Type Of Rainbow Sprinkles Should You Use?
There are various different types of rainbow sprinkles on the market for you to choose from. In a lot of recipes, you notice that they use jimmies, which are soft cylinder sprinkles.
This is because these types of sprinkles are able to hold their shape and don't disintegrate when they get wet. In addition to that, they are also able to keep a hold of their bright colors as well.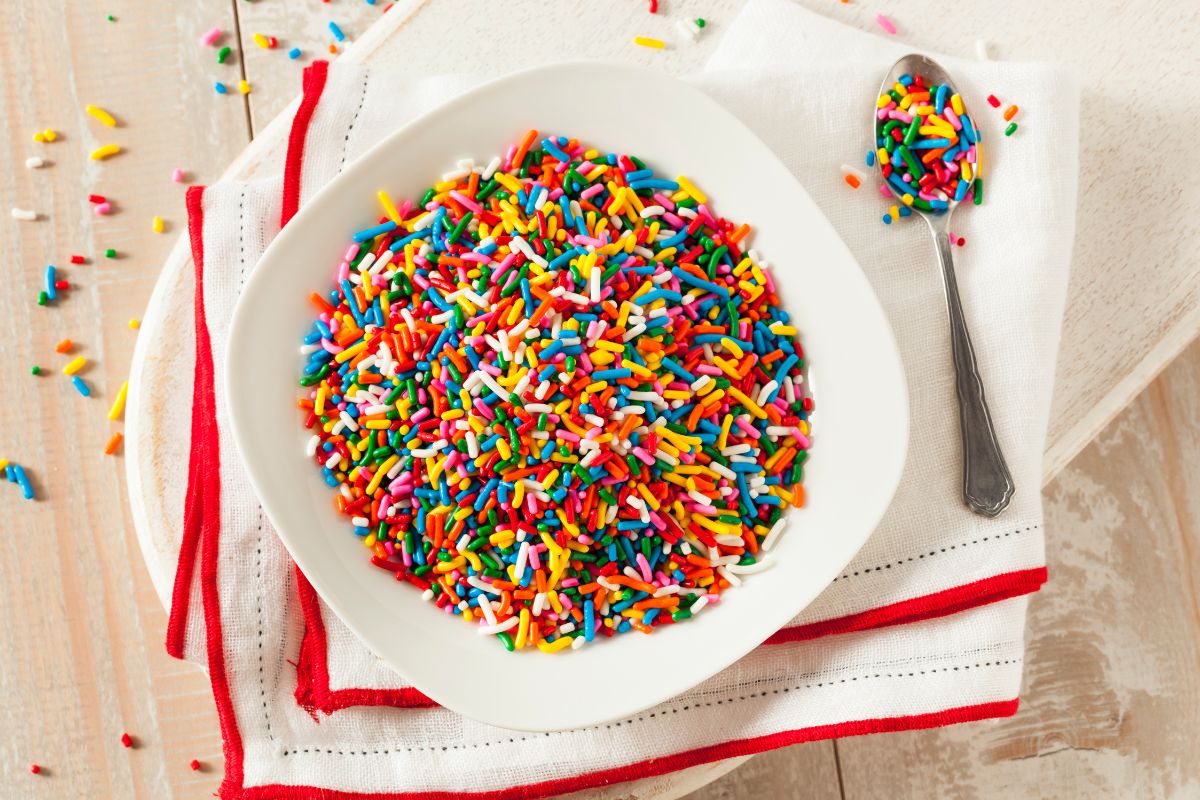 Thus, your pancakes remain looking vibrant even after they have been cooked.
We would recommend, that you stay away from using quins, nonpareils, or colored sugar. They may look really colorful, but you will find that they will bleed into your pancake batter.
However, you don't always have to stick to using rainbow sprinkles with this recipe. You can change the color of your sprinkles depending on the event that you are making them for.
Therefore, you could use orange and black sprinkles for Halloween; green and red sprinkles for Christmas; and red, white, and blue sprinkles for July 4th.
As a result, the color of your sprinkles can easily change to represent the event.
What Is Funfetti Pancake Mix?
If you don't want to make pancakes from scratch, then you can always purchase a funfetti pancake mix.
With this mix, all you are required to do is add water. Then will be able to create delicious buttermilk pancakes that contain bright sprinkles.
You can top these sprinkle pancakes with butter and maple syrup, or why not try a thinner glaze. You could even add extra sprinkles to the mix if you want as well.
Therefore, if you are stuck on time and cannot make from scratch funfetti pancakes, then a mix is a great way to go.
When Can You Have Funfetti Pancakes?
You don't have to worry about when you can make these colorful pancakes. It is up to you when you make them, but a lot of people save these pancakes for special occasions.
Here is a list of some of the most common times you may want to consider serving homemade funfetti pancakes:
Pancake Day,
Father's Day or Mother's Day,
Birthday Breakfast.
How To Store Leftovers?
If you happen to have any pancakes leftover, you can store them in the fridge in a resealable bag for up to a week. However, these pancakes freeze really well.
If you want to store them for longer, then you can freeze your funfetti pancakes in a resealable bag.
It is best to separate each pancake with a paper towel, so they don't stick to one another. This way you can get the right amount of pancakes out that you wish.
Funfetti pancakes are best served warm. To reheat these pancakes, you can microwave them or toast them in your toaster oven.
Final Thoughts
If you love pancakes, then this may become your favorite pancake recipe.
These fluffy pancakes warm taste amazing when served with whipped cream, vanilla icing, and more colorful sprinkles.
If you want to do something special for your husband's birthday, then consider making these pancakes as the perfect birthday breakfast celebration.
As you can see, funfetti pancakes are the ideal sweet treat for any event. They are so much fun to make with younger children.
Therefore, now you will consider making these pancakes, next time you want to make something different for breakfast.