While all experienced bakers will have their own favorite method of re-heating their cookies and while it can be easy to throw them back into the oven, placing them in an air fryer basket for a few minutes might just be the best way to re-use some leftover baked cookies.
Not only is it often considered one of the easiest ways to heat food, but there are actually a few other lesser-known benefits that come with re-heating your cookies in an air fryer that you need to know about next time you get a craving for some warm, crunchy and delicious cookies.
How Long Do Cookies Take To Reheat In An Air Fryer?
When heating up cookies in the air fryer, they will only take 2 to 4 minutes before they will be warm and soft, allowing you to have a quick and delicious treat to enjoy in little to no time.
The reason a batch of cookies in the air fryer takes such little time to reheat is that the quick-heating air fryer basket will warm the cookies up at a rapid rate by circulating the air around a surface area that is much smaller than an oven.
How To Reheat Cookies In An Air Fryer
Heating up some leftover cookies in an air-fryer is quick, easy, and the best way to heat up either regular cookies or even refrigerated cookie dough.
Start by warming up the air fryer to 300 degrees Fahrenheit and after about 10 minutes, start placing the cookies in the air fryer basket.
Ideally, you want to try and place as many cookies as you can at the bottom since this means they won't be exposed to too much heat which can mean the cookies cook too fast and end up becoming too crispy.
Whether you are re-heating pre-made cookies or refrigerated or frozen cookie dough, it's always worthwhile placing them on parchment paper before air-frying for just 4 minutes.
This not only prevents mess but also allows the cookies to be evenly cooked.
After they are warm, soft, and ready to eat, layer some aluminum foil, a baking sheet, or a paper towel over a plate before you carefully remove and place each warm cookie or the dough balls on the plate before then covering them again.
Let the cookies sit for 5 to 10 minutes before they are a little cooler so that you can conduct a taste test.
When refrigerated or frozen cookies are reheated, they will often be soft and delicate enough to where they break apart gradually, but not to where they fall apart with each bite.
If you find the cookies are a little too crispy or crunchy on the outside and especially in the middle, they may be a little overcooked.
Also, check to see if they have that golden brown appearance that lets you know when they are done.
Your first batch of reheated cookies will now be ready to serve.
What To Make With Reheated Cookie Dough
While you can simply reheat a few premade or freshly baked cookies in the air fryer, you can also heat up a few dough balls if you wanted to prepare a fresh batch, or to make a few other baked goods.
Cookie dough cupcakes, bars, and brownies are just a few delicious food options you can make with cookie dough, however, if you did want something to compliment a dessert cuisine, use a cookie dough dip mixed with cream cheese to make it as soft and delightful as possible.
Extra Tips For Reheating Cookies In An Air Fryer
If you like the idea of your cookies being a little crisper around the outside, providing a little more texture to crunch down on, a wire rack is an easy way to make this happen by laying the cookies over it while in the air fryer.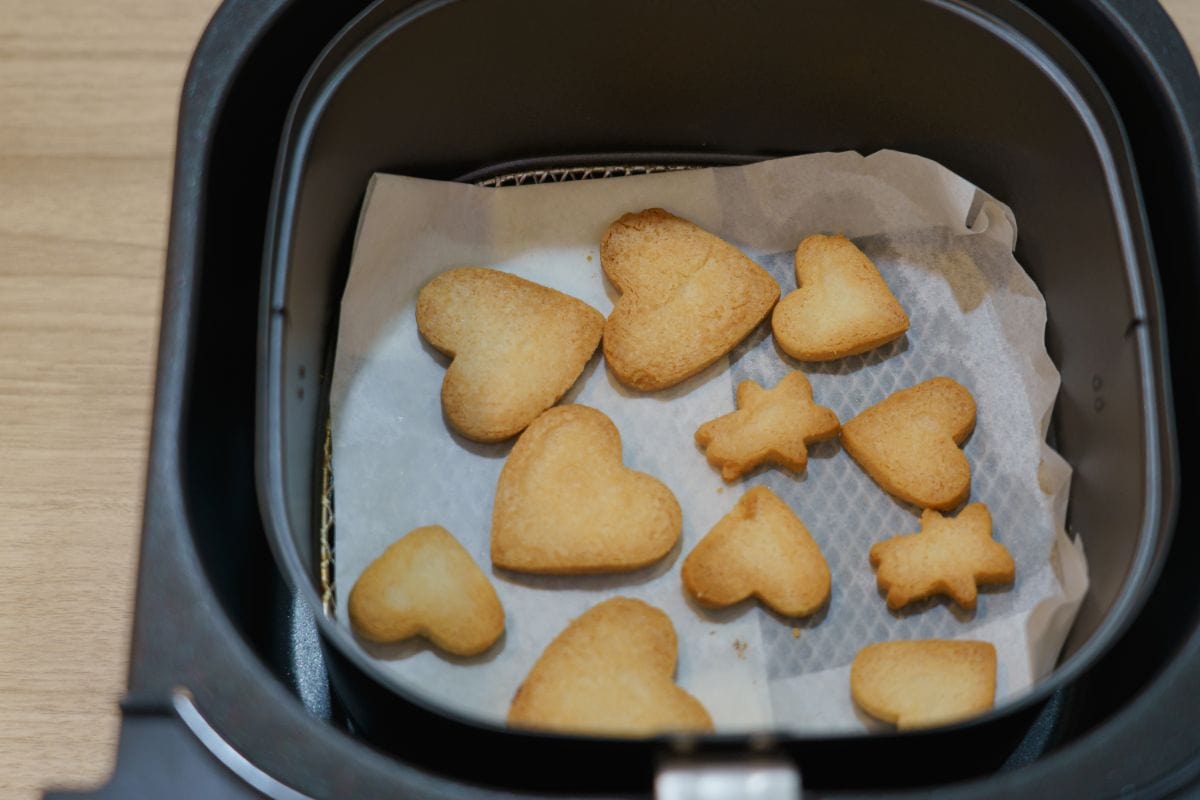 A wire rack helps to elevate the food so that hot air can circulate easier on all sides of the food, adding that slight bit of crunchiness that you get with a lot of conventional oven-homemade cookies.
They are definitely worth the extra cost, especially since you can easily use them for future air-fried recipes.
It's also important to keep in mind that if you have a lot of cookies but not much space in the air fryer basket, it's always better to heat up a small batch at a time rather than placing too many in at once.
Your second batch can be inserted straight after the first is warm and ready.
They will require the same amount of baking time and before you know it, your warm and delicious baked goods will be reheated and ready to enjoy.
Is It Healthier To Reheat Cookies In The Oven Or Air Fryer?
The primary reason it is healthier to reheat cookies in an air fryer as opposed to an oven is because you won't need to use oil when preparing the food, which can end up adding more added fat to your cookies than is necessary.
This is a big reason why air fryer recipes and air frying to reheat food has become so much more popular over recent years since your food will be ready in half the time, while also being a lot more nutritious when it's time to eat.
Extra Benefits Of Using An Air Fryer
Not only are air fryers a much quicker way to reheat cookies as opposed to many other more time-consuming methods, but it also allows you to heat up a big batch in a much shorter amount of time, especially if you buy one of the larger and higher-end air fryers such as the Cosori air fryer which will let you place numerous cookies in at a time while still providing more than enough heat.
Since air fryers will heat food so quickly, it also means you can reheat frozen dough much faster than you could normally, and while it can often take a few more minutes than refrigerated cookie dough balls, it is still the fastest way to direct the heat straight to the dough and will heat them up even faster than a toaster oven.
Summary
Whether you have a few pre-made cookies or cookie dough you want to heat up, there's no better way to do so than when using a quick and easy air fryer.