Silicone bakeware is a type of synthetic rubber bakeware that's popular with bakers of all abilities.
Silicone bakeware, such as silicone baking molds, silicone pans, and silicone cake molds are flexible, bendable, and bake your cakes just as well as traditional bakeware – with a few extra benefits…
Want to learn more about baking with silicone? Keep reading to learn how you can use silicone molds and silicone bakeware safely, and effectively.
What Is Silicone Bakeware?
If you're growing tired of disposable cupcake molds and endless rolls of parchment paper, you're not alone.
These are just a few reasons why many bakers have turned to the beauty of pure silicone.
Silicone baking molds are made from oxygen, bonded silicone, and sometimes carbon.
Although these are the most common components of silicone baking molds, they can also be made from a whole host of materials.
Silicone baking molds, silicone baking pans, and other silicone cookware are heat-resistant, oven safe, and they can even be put in the microwave oven!
However, silicone cookware can only withstand temperatures up to 428 degrees Fahrenheit.
For successful baking, always use silicone bakeware at the recommended temperature to avoid damaging your bakeware and appliances.
High temperatures can melt your silicone, and ruin your baked goods! Unfortunately, silicone bakeware is not dishwasher safe, and it isn't biodegradable, so it isn't exactly the most eco-friendly baking option out there.
When you've washed your silicone rubber in soapy water, dry it correctly before putting it back into storage.
If silicone isn't dried correctly, it can be more susceptible to discoloration, and may even start to degrade.
The Pros And Cons Of Silicone Bakeware
Baking with silicone cake pans and other molds is an appealing option. However, it doesn't come without its drawbacks.
Let's take a closer look at the pros and cons of silicone bakeware.
Pros
Non-Stick: With silicone molds, you can ditch the excess cooking spray and oil. Silicone molds are non-stick and require next to no oil to prevent sticking. You can still add a little to your empty mold, but it's not necessary!
Even Bake: Compared to metal pans and traditional pie pans, silicone molds do a much better job at giving you an even bake. Your silicone cookware will give you an evenly baked cake every time, something that isn't always guaranteed with your old metal pan.
Microwave Safe: Silicone bakeware can withstand microwaving cooking, making it a particularly popular option for cupcake papers. While your traditional paper baking cups could burst into flames, a silicone baking mold can be cooked in the microwave for as long as necessary.
Cons
Not Always Heat Resistant: Unfortunately, silicone baking mats and other silicone molds can only handle temperatures up to 428 degrees Fahrenheit. If exposed to high temperatures for too long, silicone bakeware can degrade and discolor.
Flexible Texture Can Cause Spillages: Although this flexibility can have some benefits, it doesn't come without its issues. Be careful when removing silicone bakeware from the oven – without the right care and attention, you could end up spilling your cake.
How To Use Silicone Bakeware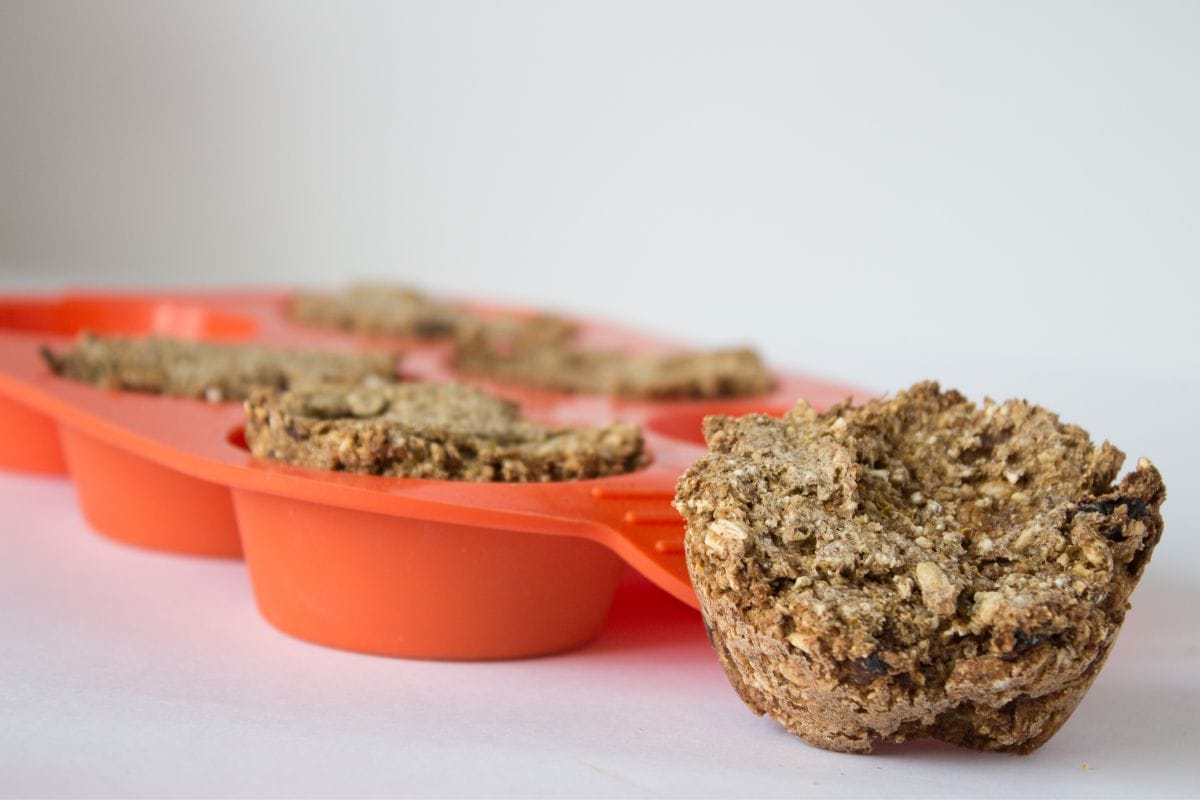 Ready to buy silicone bakeware and start cooking up a storm?
Here are a few baking tips you need to know if you want to master the art of silicone baking.
Stick to Smaller Creations: Personally, we've found that most silicone bakeware performs better when you're cooking smaller baked goods. We'd recommend sticking to silicone muffin cups or cupcake cups. Larger cakes are more susceptible to leakage and breakage in the oven.
Grease Larger Pans: If you're cooking with larger silicone bakeware, ALWAYS grease them, just as you would with other larger pans or an oven tray. Cooking sprays and extra greasing will prevent your larger cakes from cracking, and maintain a nice, even texture throughout.
Use Metal for Larger Cakes: If you're tackling a larger creation, it's best to use traditional metal pans or cake pans. Metal bakeware offers a sturdy, supportive base which is essential for larger cakes. Unfortunately, you won't find this with a silicone baking pan.
Be Mindful of Temperature: Pay close attention to the temperature ratings on your silicone bakeware. Small silicone baking molds often have different ratings to larger ones, so be mindful! To avoid melting your pan, keep it within the recommended temperature guidelines.
The Pinch Test: To ensure you're getting quality silicone bakeware, you'll need to perform the pinch test. To ensure you're getting pure silicone and nothing with added filler, you'll need to pinch your silicone pans or silicone molds, and gently twist them. If it stays the same color, you have pure silicone. If it changes or turns white, you haven't got a pure product.
Using A Silicone Baking Pan
Baking with silicone pans requires a slightly different technique to baking with other silicone molds.
Here are a few winning tips to guarantee the perfect bake with a silicone pan.
Cooking Spray: When you bake with silicone, add cooking spray to the empty mold to guarantee a completely stick-free cake.
Use a Cookie Sheet: Before you pour batter into the mold, place your silicone mold on a cookie sheet. This will avoid any spillages when you're transporting your molds to the oven, and it will help your cake retain its shape.
Cool Silicone Cake Pan After Baking: When you remove your silicone mold from the oven, leave it on a cooling rack for 30-45 minutes before removing it from your cake. Leaving it to cool will make it easier to peel the mold away from your cake, and if you've used your cooking spray, it should come out nice and clean!
Final Thoughts
Silicone bakeware has a naturally non-stick coating, it'll survive your microwave oven, and it's easy to clean, making it a popular choice in the baking world.
Silicone products come in all sorts of bright colors and different shapes, so you can have plenty of fun creating your latest batch of cupcakes, muffins, or other baked goods.
Just remember to take care of your silicone, and never exceed the recommended cooking temperature to ensure the longevity of your bakeware!