When you've got a hankering for cookies that needs to be satisfied on the double, which if you're anything like me is every day, no bake cookies are the only way to go!
Popular recipes usually include quick cooking oats ("rolled oats"), crunchy peanut butter (or regular peanut butter), milk, granulated sugar, kosher salt, chocolate chips, and flavorings such as cocoa powder.
Even the ingredients list will get you salivating! But perhaps the best thing about no bake cookies is that they're a childhood favorite that kids can actually help make.
Yet, as delicious as these cookie recipes are, it's unlikely you're going to scoff them all at once, meaning it's essential to learn how to store them correctly so they don't deteriorate before you're ready for another snack!
Method 1 – Storing No Bake Cookies At Room Temperature
Storing cookies (or any dessert cuisine for that matter) at room temperature has its limits, but by following a few simple rules, you can extend their life a great deal.
First of all, wait until your no bake cookies set, and if you've heated your no bake cookies up, you need to allow them time to cool completely, otherwise, the moisture will build up on the inside of the container, a one-way ticket to sogg-city!
With your cookies cool, grab an airtight container, line it with baking sheets, then place the first layer of no bake cookies in the tub. Tear another sheet of parchment paper and lay it on top of the first layer of no bake cookies, and, you've guessed it… place more cookies on top of that.
Repeat this process until you run out of room in the container or you run out of cookies.
At that point, secure the lid on the airtight container and store it away from direct sunlight and heat sources such as hot water radiators or kettles. If you've got space to store them in a cupboard, perfect!
How Long Will No Bake Cookies Last At Room Temperature?
When you make no bake cookies, as long as that airtight container really is locked up tight, you can expect your tasty treat to last for around 2 weeks.
Method 2 – Refrigerating No Bake Cookies
Preparing your no bake cookies for refrigeration after following a delicious recipe doesn't really differ from prepping them for room temp storage.
You'll need to let them fully cool and set before grabbing your trusty airtight container, lining it with parchment paper (wax paper will do in a pinch), and placing your cookies inside.
If you need to layer them on top of one another, separate them with more baking sheets to stop them combining into a monstrous amorphous (but tasty) blob.
When you're ready, seal your ziplock bag or if you're using a rigid container, secure the lid on and place your cookies in your fridge. If you have a tub but no lid, you can use aluminum foil.
How Long Will No Bake Cookies Last In A Refrigerator?
If you took advantage of one of the many recipes for easy no bake cookies today and got them in the fridge pronto, you can expect them to last up to a week longer than if they were kept at room temp.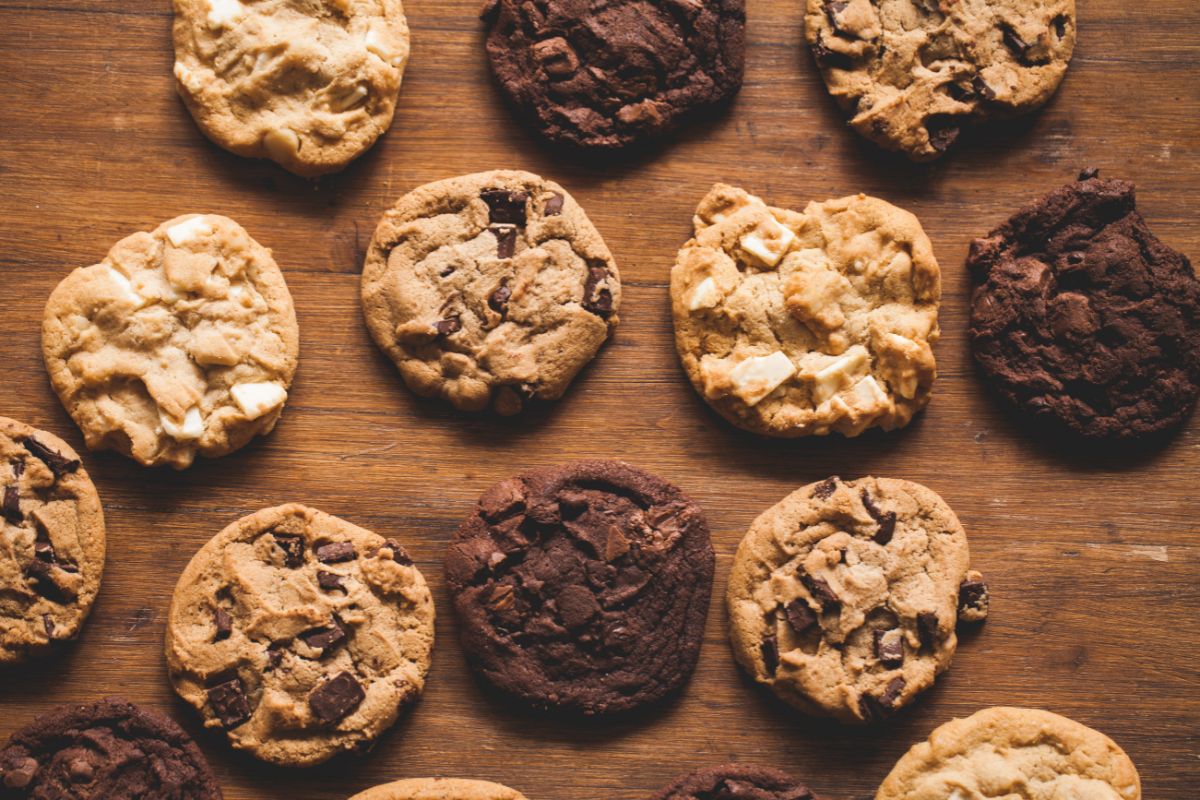 Method 3 – Freezing No Bake Cookies
If you're after a really long shelf life, you'll need to freeze your no bake cookies. To do this, follow the same steps discussed above, but make sure that the no bake cookies on the same layer aren't touching.
It's also best to soak up as much excess moisture from the cookies before placing them in your freezer in order to reduce the chances of freezer burn.
How Long Will No Bake Cookies Last In The Freezer?
You're looking at a shelf life of roughly 2 months in the freezer. They'll still be perfectly edible for another month or so (perhaps even longer), but flavor and texture will start to dip at this point.
Frequently Asked Questions
Do No Bake Cookies Last Longer Than Baked Cookies?
No bake and regular cookies last for around the same time at room temperature and when refrigerated, but baked cookies tend to hold their quality for a few months longer in the freezer.
Can A No Bake Cookie Be Made Gluten Free?
Traditionally, a no bake cookie recipe calls for oats as the primary ingredient, which are gluten free, so you may not have to alter them at all!
Should I Use Old Fashioned Oats Or Quick Cooking Oats For No Bake Cookies?
Old fashioned oats, otherwise known as old fashioned rolled oats, are fine for no bake cookies, but they take a while to cook, which is why most of these dessert recipes call for quick oats.
Can You Use Almond Butter Instead Of Peanut Butter For No Bake Cookies?
If you have a peanut allergy or you just straight-up don't like peanut butter, no need to fret, as you can replace it with almond butter.
What Are Quick Oats?
Quick oats arrive pre-steamed and rolled. Rolled oats are much thinner, helping to speed up the making of no bake oatmeal cookies.
Can You Reheat No Bake Cookies?
You can absolutely reheat no-bake oatmeal cookies. 20 seconds in the microwave should do the trick!
How Much Saturated Fat Do No Bake Cookies Contain?
Saturated fat levels in no bake cookies will differ from recipe to recipe, but, generally speaking, you can expect each cookie to contain roughly 0.4 grams.
What Are The Best Flavor Combos For No Bake Cookies?
I'm partial to simple chocolate peanut butter no bake cookies, but the sky really is the limit with these sweet treats. Most recipes involve a hearty splash of vanilla essence, which I'd stick to no matter what, but otherwise, you're free to experiment.
I've seen plenty of no bake cookie recipes that incorporate lots of tasty fruit, so if you're looking to keep things lean, you absolutely can!
Final Thoughts
There you have it – Storing your no bake cookies is easy as long as you have a suitable container, and as you can freeze them for so long, don't hesitate to batch cook these wonderful snacks. After all, it's always good to have a stash of sweet treats squirreled away for when nothing else will satisfy.