We all love a scrumptious cookie from time to time. But unfortunately, cookie recipes can become a little repetitive. Once you've made one cookie recipe, it can start to feel as though you've made them all.
This is because many recipes use the same flavorings, such as chocolate chips.
If you want to liven things up, why not make a batch of Frosted Flakes cookies?
These delicious cookies are super simple to bake. Plus, they have a delicious taste. The texture is crispy and crunchy with a slightly chewy feel at the center.
We've got all the formation that you need to know about frosted flakes cookies, including an incredible cookies recipe.
What Are Frosted Flakes Cookies?
Frosted Flakes, also known as Frosties, is a a cereal brand. In fact, they're one of our favorite cereal brands, thanks to their sweet and corny taste. The Frosted Flakes brand has been around since 1952.
As you may have guessed, frosted flake cookies are made with this popular breakfast cereal. As a result, theses delicious cookies adopt the taste and texture of Frosted Flakes.
Why Make Frosted Flakes Cookies?
The reason why we adore this recipe is that we sometimes feel like there's a lack of flavor diversity in lots of cookie recipes.
Frosted Flakes adds something a little different to the mix, since many baked cookies are simply seasoned with vanilla extract, chocolate chips, or peanut butter.
If you share this sentiment, we strongly urge you to try this unique cookie recipe. It's especially effective for bake sales. Plus, the cookies are sure to be a hit with the whole family. Everybody loves Frosted Flakes cookies.
If you enjoy sweet foods, you are going to fall in love with these cookies. They have a sugary taste that is ideal for someone with a sweet tooth.
What Do Frosted Flakes Cookies Contain?
The ingredients that you use will depend o the cookie recipe that you use. However, these cookies tend to contain Frosted Flakes, all-purpose flour, sugar, eggs, butter, or salt.
These ingredients are essential, but some recipes will use additional extras to alter the texture and flavor. For instance, though this recipe does not require baking powder or baking soda, this ingredient can be found in other recipes.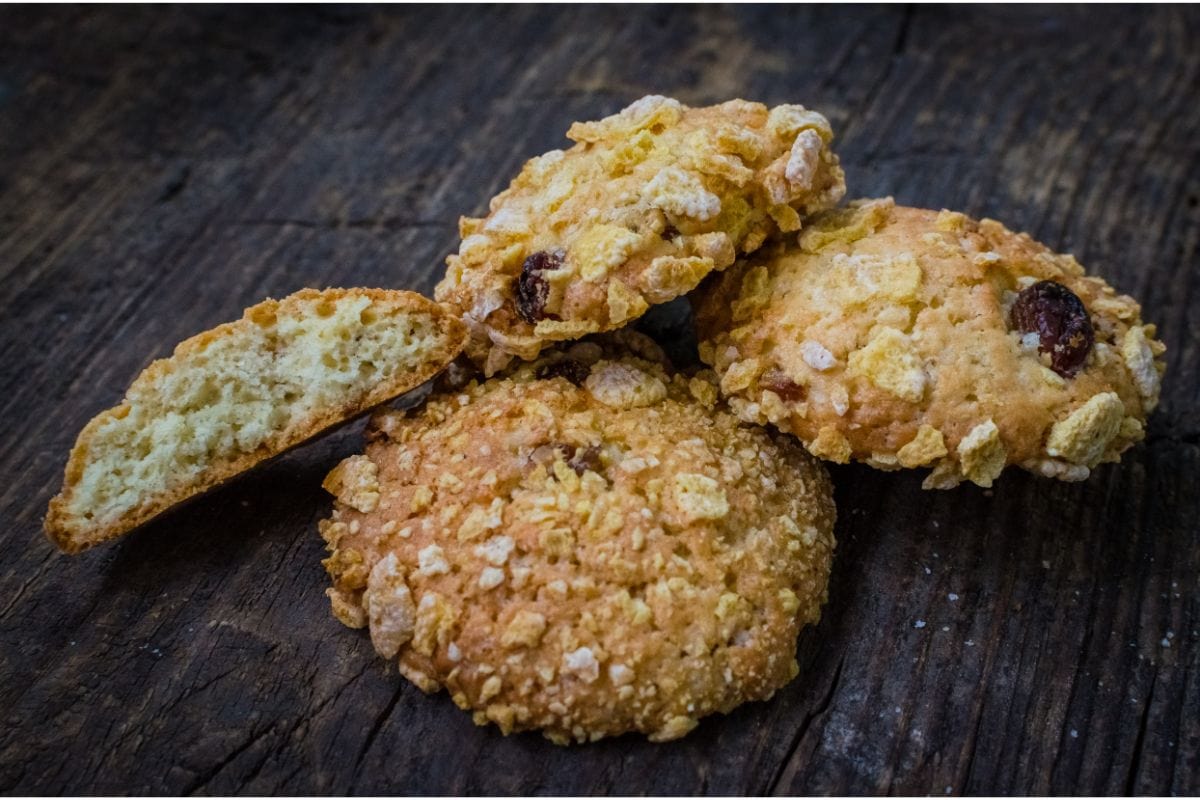 How Do You Make Frosted Flakes Cookies?
The technique for making these Frosted Flakes cookies is extremely easy. All you have to do is:
Instructions
Line a baking sheet with parchment paper to prevent them from sticking to the sheet.
Cream the butter and add sugar. To save yourself effort, you may wish to use a stand mixer. The paddle attachment is best for this job. Stop once the mixture has become fluffy.
Add egg and vanilla extract to the cookie dough and continue to mix. This should cause the mixture to become smooth and soft.
Gradually add the flour to the dough mixture, stirring after each addition. Otherwise, the mixture can clump if you add the flour all at once. Add a pinch of salt too.
Add crushed Frosted Flakes to the cookie dough. Ensure that the Frosted Flakes have been finely crushed with a rolling pin. Gently fold until they have been fully combined with the rest of the cookie dough.
Carefully scoop the cookie dough onto the prepared cookie sheets. A medium cookie scoop should suffice. Ensure that the dough is a few centimeters apart. Though these cookies are unlikely to spread, they can end up joining together.
The cookie dough requires chilling, so cover them in plastic wrap before adding them to the fridge. They should stay there for at least an hour.
Preheat oven to 350 °F. Remove the plastic wrap and put the baking sheet in the oven. Bake for roughly 10 minutes or until they have started to turn golden brown.
Once out of the oven, remove the Frosted Flakes cookies from the parchment paper and transfer to a wire rack. Leave them to cool completely. Then, you can either serve or store them in a cookie jar or another airtight container. Serve with ice cream for a delicious dessert.
Ingredients
Butter
Sugar
Egg
Vanilla
Flour
Frosted Flakes
A pinch of salt
What You'll Need
a small bowl
A stand mixer
A baking sheet or cookie sheet
Parchment paper
A rolling pin to crush the Frosted Flakes
Frosted Flake Cookies: Alternative Recipes
If you want to add something a little special to your Frosted Flakes Cookies, here are some of the optional additions you can try:
Simply mix in a handful of chocolate chips. You can use dark, milk, or white chocolate chips depending on your preference. This is an excellent choice for chocolate lovers.
Add a hint of vanilla to the recipe for extra flavor.
Consider adding peanut butter for a nutty twist.
Add oil to the cookie recipe for extra moisture.
Put ice cream in between these cereal cookies to make ice cream sandwiches.
Frequently Asked Questions
Are Frosted Flakes Healthy?
Yes, Frosted Flakes is a relatively healthy breakfast cereal brand. The nutrition information is similar to that of other types of cereal. Frosted Flakes tend to be a decent source of vitamin D, though this brand can be high in sugar.
What Are Frosted Flakes Made From?
Frosted Flakes are essentially corn flakes that have been covered with sugar. As a result, this recipe essentially makes cornflake cookies. Of course, other ingredients have also been used to produce this popular cereal.
Will Picky Eaters Like Frosted Flakes Cookies?
Yes, even people with a picky palate can appreciate these baked cookies. They have a sweet taste that is not overpowering. Not to mention, they have the perfect crunchy texture that all cookies should have.
Final Thoughts
If you are a fan of baking, we strongly suggest that you make these sweet and delicious Frosted Flakes cookies. They're sure to be a hit at any bake sale, even for people with a picky palate.
Plus, the low cook time means that you won't have to spend ages in the kitchen!