You may have pondered whether the chocolate chips that you use in your preferred cookies and sweets fit into your current gluten free diet if you enjoy baking, especially with chocolate.
If you're interested in avoiding gluten or need to restrict it for health-related reasons, whether due to an allergy, immunological problem, thyroid problem, or digestive problem – you'll want to know whether chocolate chips are actually safe for those on a gluten-free diet. 
People avoid gluten ingredients for a variety of reasons, but one thing we everyone can agree on would be that it may be difficult to determine where it is present in a number of our favorite foods.
Included in that are some of our favorite foods, such as cookies, pastries, bars, and cakes.
This article is for you if you've been wondering whether chocolate chips are okay for your gluten-free diet. 
We will discuss the ingredients used to make chocolate chips, what gluten is, and provide a solution to the question, "Are chocolate chips gluten-free?"
In order to give you peace of mind the next time you bake, we'll also discuss several chocolate chip brands that are unquestionably gluten-free. After we've covered the fundamentals of chocolate chips, you can resume preparing your favourite goodies!
Chocolate Chips: What Are They?
Chocolate chips seem to be a requirement for baking. They are tiny chocolate specks that are utilised in numerous baking and candy-making recipes.
Semi-sweet chocolate chips bits go great with ice cream, pies, cakes, cookies, and other desserts. They are frequently melted down and put to bars as well as used to cover other candy, such as marshmallows or peanut butter balls coated in chocolate.
What Are The Ingredients In Chocolate Chips?
The components in chocolate chips might differ slightly based on the brand and producer. The majority of well-known manufacturers of chocolate chip packets sold in stores, however, contain them as their main constituents.
Sugar, whole milk powder butterfat, cocoa butter, unsweetened chocolate, chocolate liquor, milk fat, vanilla extract, and soy lecithin are usually the main ingredients in chocolate chips.
What Is Gluten?
The majority of wheat products contain gluten ingredients, a protein that serves as the "glue" that keeps grains including rye, wheat, kamut, spelt, farro, bulgur, barley, and semolina together and in shape.
Since gluten is a natural component of grains, it is impossible to remove it and make it gluten free. There is no method for creating a product gluten-free if the grain already contains gluten. 
Some cereal foods contain wheat, wheat flour, malted flavors, or malted barley, all of which contain gluten. Gluten can also be found in some cereal flavorings.
Why Should Some People Avoid Gluten?
Gluten cannot be consumed by those who have celiac disease or gluten sensitivity; even a small amount of gluten may make someone on a gluten-free diet very ill. 
It's crucial to screen out celiac disease before assuming you have gluten sensitivity if you experience symptoms after consuming foods with wheat, barley, rye, or oats. 
If you are exhibiting symptoms, we do not advise starting a gluten-free diet straight away because doing so can prevent a celiac disease test from providing you with an accurate result.
Does Chocolate Include Gluten?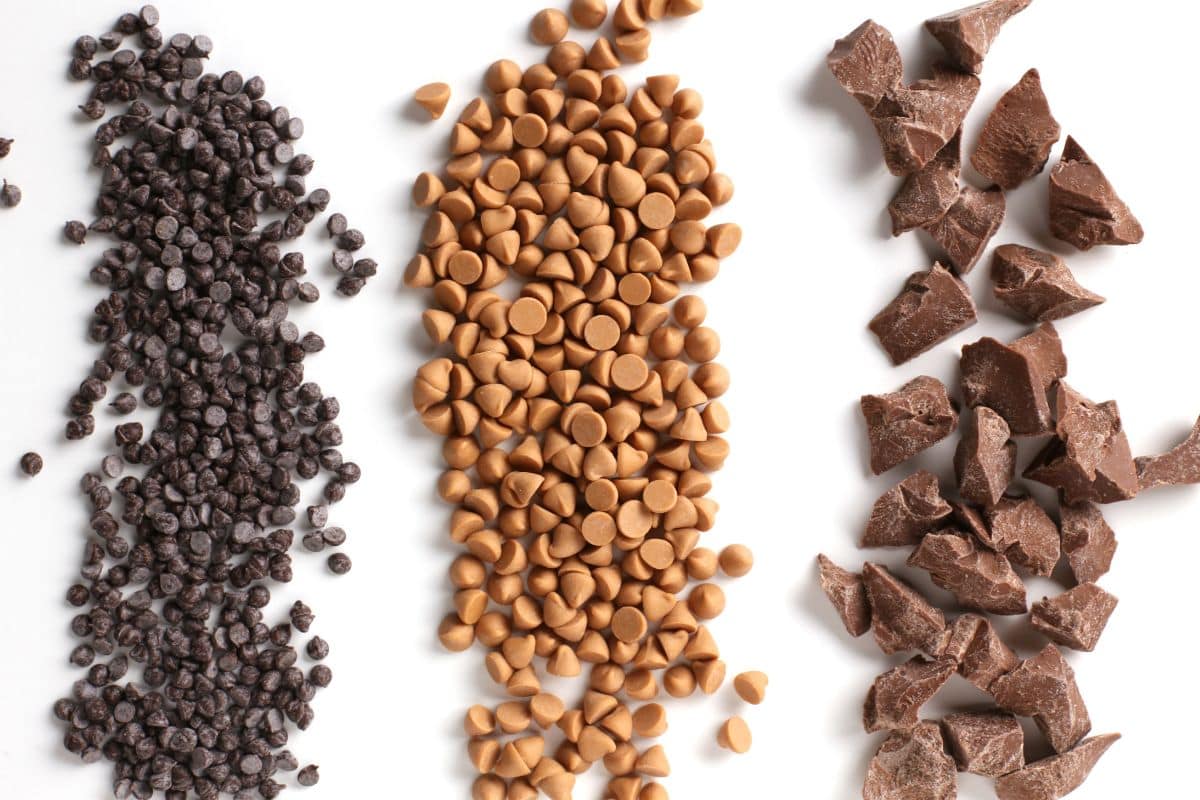 If it is just chocolate, in its most basic form, then the majority of chocolate is gluten-free. The majority of chocolate chips and bars are suitable for gluten-free diets. 
Check ingredient labels for potential hidden forms of gluten if you encounter chocolates with fillings or additional flavors or textures, such as crispy rice cereal.
Do Chocolate Chips Include Gluten?
Since they don't include any components derived from wheat, most chocolate chips are fine for a gluten free diet including milk chocolate chips, dark chocolate chips, dairy free chocolate chips, and butterscotch chips.
You may tell whether a product includes gluten by looking for the gluten-free label on some kinds of chocolate chips. Reviewing ingredient lists for any products that may contain gluten is your best course of action before choosing.
However, just because a product isn't marked as gluten-free doesn't necessarily indicate it contains gluten. It's possible that the machinery used to make the chocolate chips and products free of gluten is shared.
If you want to be sure, seek for that label if you have a severe gluten sensitivity. Owing to an intolerance, you may not need to seek for the gluten-free label if you can handle very little amounts of gluten.
Utilize your best judgment to decide whether you need to locate chocolate chips featuring gluten-free labeling or whether knowing that there are no gluten-containing ingredients in the food is sufficient for your needs depending on what you understand about your health and how you respond to gluten.
Brands Of Chocolate Chips Without Gluten
It would be hard to include every brand of chocolate chip for special diets that can be found in grocery shops and online. However, being aware that the majority of popular brands of chocolate chip cookies don't contain gluten will help you make a wise choice. 
Given that these businesses utilize gluten-free labeling or make that claim on their websites, you can shop for the following brands at the store:
Choc Zero
Enjoy Life
Great Value Organic
Lily's Baking Chips
Pascha Organics
Simple Truth Organic
Do Chocolate Chips Contain Dairy?
Due to the fact that several chocolate chips do include milkfat and other dairy products, it is crucial to check the ingredient lists and determine whether the package you are considering contains dairy. 
Understanding how to read ingredient labels is crucial for avoiding ingredients if you have a dairy or lactose intolerance. 
You can use this list as a guide while searching the market for chocolate chips because many of the products mentioned in the part above are also dairy-free.
Final Thoughts
We hope this article has answered any questions you may have had about whether you may include chocolate chips in any of your favorite dessert recipe.
The majority of chocolate chips generally are gluten-free, but if you have a severe gluten sensitivity, it's always wise to check the list of ingredients and search for gluten-free labeling.