Cookies: they're arguably the most infamous, well-loved snack of all time.
Whether they're peanut butter cookies, oatmeal raisin, chewy cookies, the classic chocolate chip cookies, or something more, we all can't seem to get enough of them.
If you're a hardcore cookie recipes lover, there's a good chance you've tried almost all of them – but have you heard of drop cookies?
You'll be pleased to know that drop cookies are just as delicious (if not more delicious) than any other cookie that might have passed your lips, and we're here to share our drop cookie recipes and help you make these incredible, timeless snacks for yourself.
Let's get baking!
What Are Drop Cookies?
First things first, let's start with the basics. What exactly is a drop cookie?
A drop cookie is simply a cookie that's made by dropping spoonfuls of a drizzly, gooey chunk of batter from your spoon directly onto a baking sheet.
Yep, it's that simple. Once they're on the baking sheet, all you need to do is bake your dough, and you're done!
Drop Cookie Recipes
Drop cookies are a classic snack that you can bake for any occasion.
They also require minimal prep and cook time, so you have no excuse not to bake these incredible chocolate chip drop cookies!
Read on to see some of our favorite variations of drop cookies, and learn how to make these timeless treats for yourself.
The recipe below takes just shy of 30 minutes, including prep and baking time!
Ingredients
1) 115g of unsalted butter or room temperature butter
2) 1 tablespoon of white sugar
3) 70g of golden brown sugar, packed
4) One teaspoon of vanilla extract
5) Half a teaspoon of baking powder
6) Half a teaspoon of salt
7) One large egg
8) 180g of all purpose flour
9) Two cups of chocolate chips, raisins, nuts, dried fruit, pretzels, or other sweet treats (optional)
10) Two cups of milk (optional)
Method
1) Start by preheating the oven to 375°F, and grease a baking sheet (or two). Alternatively, line your baking sheets with parchment paper.
2) In a large bowl, mix together your butter, white sugar and brown sugar, salt, baking soda, baking powder, and vanilla until they're completely combined.
3) Once you've created your mixture, add in your egg and mix together in your bowl until completely smooth. Now, add in your flour, and keep mixing until everything is combined.
4) If you're using milk, start to pour it into the mix and stir. Then, add in your extras, such as chocolate chunks, nuts, pretzels, fruit, or other sweets.
If you're just making plain old sticky cookies, you can leave out the milk and the extras.
5) Now, it's time to start the drop cookie process. Pick up a tablespoon of your drop cookie dough and 'drop' it onto a baking sheet.
To make larger cookies, you may need to drop up to four tablespoons of cookie scoop per cookie.
Place your cookie dough drops around 2″ apart from each other so they don't merge into a clump when you bake them in the oven.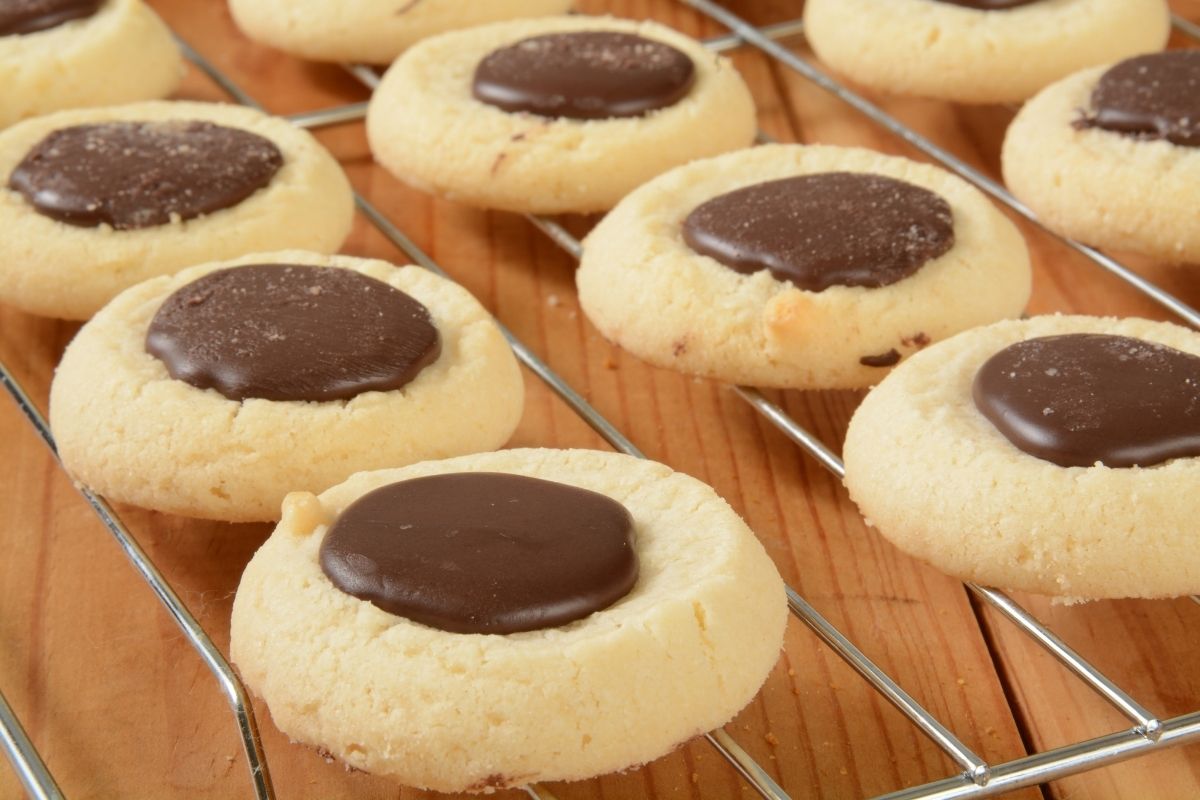 6) Once your cookies (plain or filled with chocolate chunks or other treats) are on your cookie sheets, place them in the oven and bake for approximately ten to fifteen minutes.
Once your drop cookies are golden brown and baked, with a little darkness around the edges, it's time to remove them from the oven.
If you want your cookies to be less chewy and a little tougher, leave your dough in the oven to bake for slightly longer.
7) Now they're cooked, you can remove your drop cookies from the oven and let them cool completely before eating. That's it – you've successfully made your first batch of drop cookies!
Coconut Drop Cookie Recipe
Want to make your cookies with a twist? Why not try this buttery, dreamy coconut drop cookie recipe?
1) 3/4 cups of shredded coconut
2) 250g of flour
3) 50g of sugar (white)
4) 50g of sugar (brown)
5) One teaspoon of orange zest or lime
6) Two teaspoons of baking powder
7) Half a teaspoon of salt
8) Two teaspoons of nutmeg
9) 75g of chopped butter
10) Two large eggs
11) One teaspoon of vanilla
Method
As you can imagine, the method for making these coconut cookies is almost identical to our first recipe, with a few twists. Let's take a look below.
1) Preheat your oven to 400 degrees, and start mixing your sugars, zest, nutmeg, salt, flour, and baking powder together. Add in your butter until the mix takes on a crumbly texture.
2) Now, mix together your vanilla and eggs.
3) Start folding your wet ingredients into the dry ingredients and start mixing until everything can be clumped together and holds its consistency.
4) 'Drop' your cookie dough onto a baking sheet below, and space each dough ball around 2″ apart. This recipe should create around 14 small coconut drop cookies.
5) Once your dough balls are on a baking sheet, place them in the oven and leave them to bake for around 15 minutes, or until each ball has become lightly browned.
6) When each ball has cooked to your desired texture, remove your coconut drop cookies from the oven and leave them to cool.
This may take an hour or two, depending on the temperature of your kitchen. Once the cookies have cooled down, they'll be ready to serve!
That's it! Making drop cookies is easy, fun, and exciting – especially for kids. There are also plenty of ways that you can tweak this recipe to make it your own.
You can add in all sorts of sweet treats (or omit them), to make any kind of cookie you want.
The Bottom Line
Nothing quite beats the taste and texture of a home-baked cookie, and drop cookies are no exception.
So, whether you're in a rush to bake a snack that all the family will love, or you simply want to whip up a sweet treat that everyone will love (with minimal effort), get your mixing bowl at the ready and try these delicious drop cookie recipes today!