Fudgy brownies are a great holiday baking idea, as they are the perfect dessert cuisine.
They are usually made using a combination of light brown sugar, melted butter, eggs, vanilla extract, flour, and chocolate.
They are a common thing that a lot of bakers make at home. Who doesn't love the smell of homemade and baked brownies in their home?
Yet, the most difficult thing about baking brownies is that each recipe calls for different timings.
This is because everyone likes their brownies cooked differently.
You might be the kind of person, that enjoys their brownies full cooked, with a more cake-like texture, or you may be someone who enjoys them gooier than cooked.
There is no right or wrong way to cook brownies.
However, in this article, we will be discussing the right timings on how long you should be letting your brownies bake for.
How Do You Know When Your Brownies Are Done?
Just like with cake, it is possible to overcook your brownies. If you do bake your brownies for too long, then they will become dry and crumbly.
Set yourself a timer, so that you don't forget about your brownies. However, be aware that your brownies can cook quicker than the time stated.
As a result, you should start checking on your brownies around 5 to 10 minutes before the recipe says that they will be done.
You can normally tell when your brownies are ready to come out of the oven when the edges are set.
In addition to that, insert into the center a toothpick, which should have a couple of moist crumbs on it.
You want fudgy crumbs on your toothpick, not raw batter.
It is important to note, that if you have added chocolate chips to your recipe, don't mistake the melted chocolate chips for the raw batter.
The center of the pan should still look slightly raw, compared to the set chewy edges.
Depending on your recipe, you will notice that your brownies have formed a crinkly crust. This is a sign that the brownies are close to being cooked.
However, it is important to still insert a toothpick to check the middle of the pan.
As we have mentioned, people prefer their brownies cooked differently.
If you want a more cake-like brownie, then you should take them out of the oven when the sides are beginning to pull away from the pan or when a toothpick is inserted into the center and comes out clean.
Although, for more a fudgy texture, you should follow the timings of your recipe, as most recipes are aiming for fudgy brownies.
Finally, if you lie more moist and gooey brownies, then you cook them for the minimum amount of time stated on your brownie recipe.
How Long Should Brownies Be Cooked For?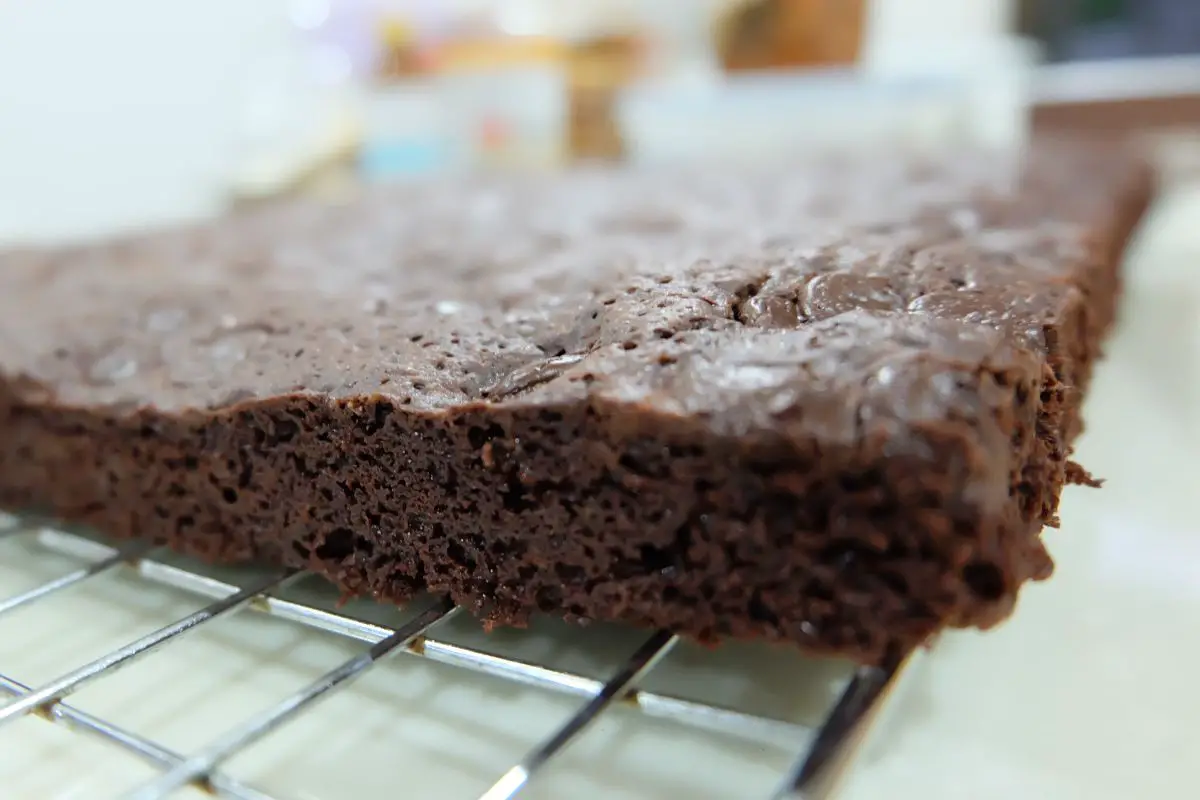 Each brownie recipe may differ in its timings. Therefore, it is best to check with your particular recipe on their suggested timings.
Yet, generally, a brownie recipe will ask you to bake your brownies for around 20 to 25 minutes.
Yet, once you reach around the 16 to 18-minute mark, you can start checking your brownies.
You should keep your eyes on the brownies near the end of the cooking time, as everyone likes their brownies finished differently.
Then, once you are happy with their doneness, you should get the brownies out of the oven. Allow the brownies to cool completely before cutting.
What Temperature Should Brownies Be Baked At?
The oven temperature that you set your oven at, will affect the overall cooking time of your brownie recipe.
Commonly, you will find that most brownie recipes will ask you to preheat the oven to 350 degrees Fahrenheit.
The lowest you may be asked to preheat the oven to is 325 degrees Fahrenheit.
Yet, the lower the cooking temperature, the longer your brownies will take to cook.
Also, you don't want to have the temperature too high either, otherwise, the edges of your brownies will burn, and the middle won't get enough time to cook properly.
It is important to remember to line the baking pan with parchment paper.
In addition to that, you may want to add cooking spray to your baking pan, to ensure that the brownie batter doesn't stick to the baking pan.
Only fill the pan halfway, otherwise, this can affect the cooking time of your brownies as well.
Tips For Baking Brownies
Good Quality Chocolate – Remember to use good quality chocolate or cocoa powder. A bar of good quality chocolate will make your brownies taste much better, and give you a deep chocolate flavor. Dark chocolate and unsweetened cocoa powder are two common choices found in most recipes. However, milk chocolate and any kind of chocolate chips are great additions as well.
Measure Your Ingredients Accurately – For the best results, you want to make sure that all your ingredients have been measured properly.
Line Your Pan – It is important to use a prepared pan. You should spread your batter evenly into a pan with baking parchment. This will prevent the batter from sticking and makes it easier for you to remove the cooked brownies once they have cooled completely.
Don't Overbaked Brownies – The baking time of brownies can differ, but don't overbake your brownies. Otherwise, they will come out dry and tough to eat.
Conclusion
It can be difficult to know when your homemade brownies are done. Generally, they can take between 20 and 25 minutes to cook.
However, the best way to know when they are done is when a toothpick inserted into the center comes out with a few moist crumbs sticking to it.
Once they are cooked, you should let the brownies cool completely before serving them with vanilla ice cream.
We hope you have found this article useful and have a better understanding of how long to bake your absolutely delicious brownies.